Mrs. Osmond: A novel (Hardcover)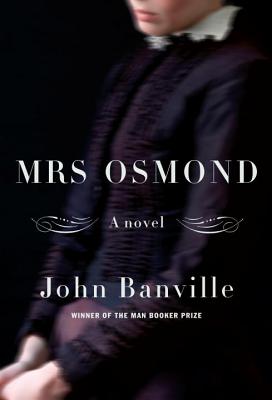 $27.95
Usually Ships in 1-5 Days
Staff Reviews
---
In this delightful piece of fan fiction, Booker Award winner Banville brilliantly channels Henry James, creating a sequel to The Portrait of A Lady. We meet up with Isabel Osmond (nee Archer) as she is taking another look at her marriage to Gilbert Osmond after some dark secrets have come to light. Banville emulates perfectly the language and style of Henry James to the extent that some readers, accustomed to today's faster-paced novels, may find Mrs. Osmond slow going. And the characters are true to James's creations, though Banville develops them a bit more (especially the spindly-shanked Mr. Osmond).  After dithering around in England for awhile, Isabel finally decides to return to Rome to confront her husband, and the action picks up a bit as the story moves toward a satisfying, but -- as in Portrait -- an open-ended denouement.
 
Banville is such an excellent writer in many styles that it's not surprising that he succeeds in taking on Henry James. Though this is a serious emulation, one can see him having fun with the language and characters, and I think I detected at least a little tongue-in-cheek in his treatment. Recommended.
— Alice
Description
---
From the Man Booker Prize-winning author of The Sea, a dazzling and audacious new novel that extends the story of Isabel Archer, the heroine of Henry James's The Portrait of a Lady, into unexpected territory.

Isabel Archer is a young American woman, swept off to Europe in the late nineteenth century by an aunt who hopes to round out the impetuous but naïve girl's experience of the world. When Isabel comes into a large, unexpected inheritance, she is finagled into a marriage with the charming, penniless, and—as Isabel finds out too late—cruel and deceitful Gilbert Osmond, whose connection to a certain Madame Merle is suspiciously intimate. On a trip to England to visit her cousin Ralph Touchett on his deathbed, Isabel is offered a chance to free herself from the marriage, but nonetheless chooses to return to Italy. Banville follows James's story line to this point, but Mrs. Osmond is thoroughly Banville's own: the narrative inventiveness; the lyrical precision and surprise of his language; the layers of emotional and psychological intensity; the subtle, dark humor. And when Isabel arrives in Italy—along with someone else!—the novel takes off in directions that James himself would be thrilled to follow.
About the Author
---
JOHN BANVILLE, the author of sixteen novels, has been the recipient of the Man Booker Prize, the James Tait Black Memorial Prize, the Guardian Fiction Award, the Franz Kafka Prize, and a Lannan Literary Award for Fiction. He lives in Dublin.
Praise For…
---
"Banville's ability to channel James's style and prose rhythms is astonishing. I can't imagine anyone who could have done it better." —Jeffrey Eugenides, The New York Times Book Review

"As impressive an act of stylistic channeling as anything I've read. . . . Like its source text, Mrs. Osmond investigates what happens when liberty runs up against those forces that would constrain it: personal history, secret plots, money, evil itself." —Anthony Domestico, The Boston Globe

"A novel that is at once an epochal act of imitation, salutation and imagination." —NPR
 
"A brilliant and beguiling novel on its own, and a reminder to us that not only does great literature endure, it engenders." —Minneapolis Star Tribune
 
"Something like a jazz improvisation on a classic song, or a new orchestration of earlier tunes and disharmonies." —London Review of Books
 
"Banville is one of the best novelists in English. . . . Mrs Osmond is both a remarkable novel in its own right and a superb pastiche." —Edmund White, The Guardian
 
"[A] modern classic . . . a striking imagined follow-up to Portrait of a Lady." —Entertainment Weekly
 
"A brilliant feat of literary ventriloquism. . . . Richly enjoyable and enthralling, this exercise in creative empathy is a sequel of very high finish." —The Sunday Times (London)
 
"An audacious sequel." —O, The Oprah Magazine
 
"Fusing the essence of James's style with his own signature wit and irony, Banville crafts a story that will delight and inspire classicists." —Harper's Bazaar
 
"Less a sequel to Portrait than a kind of recapitulation of it, a filtering of its events through a different novelistic consciousness. . . . There's something inherently fun about being reintroduced, in a changed context, to all these half-familiar characters." —Financial Times
 
"Banville does an impeccable job of re-creating James' prose style and moving his characters forward in believable ways. As Mrs. Osmond progresses, his wicked sense of humor emerges more, and he adds twists to the plot James would have cloaked in reticence." —Tampa Bay Times
 
"[Written] with wit, daring, vivid description and a sense of fun." —The Irish Times
 
"[An] act of literary ventriloquism and imagination." —The Independent
 
"A great storyteller. [Banville's] book is not only an impressive recreation of James's atmospheres and pacing, but also full of minor cliffhangers and page-turning suspenses that keep you guessing." —The Observer
 
"[Banville] pulls off [Mrs. Osmond] with vigor and style. It's hard to say no to a second helping of Isabel Archer."  —The Seattle Times
 
"So successful it felt like discovering a new Henry James novel." —Lara Feigel, The Guardian
 
"Banville's ventriloquism is word-perfect." —Vulture
Coverage from NPR