The Travelling Cat Chronicles (Hardcover)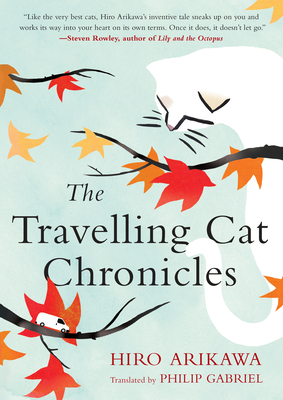 $20.00
Usually Ships in 1-5 Days
Staff Reviews
---
A cat and his master travel across Japan in an old silver van. As the narrative unfolds across changing landscapes and seasons, and the purpose of the trip is revealed, Arikawa gently works in themes of love, loss, kindness, and joy. This charming tale, told through the cat's eyes, is a paean to the extraordinary power of a loyal friendship—even those that transcend species lines. Whimsical, poignant, and occasionally quite funny, it's a book for anyone who's ever enjoyed the love of a pet. 
November 2018 Indie Next List
---
"The time comes when you've just had enough: enough bad news, enough hateful words, enough human suffering, enough gloom and doom. The perfect antidote for those times is The Travelling Cat Chronicles. This exquisitely sized book not only feels good in your hand, but its essence feels good in your brain. Satoru and his cat, Nana, travel miles and miles all over Japan looking for the perfect place for both of them. Both laughter and tears come with this book. It'll make a cat lover out of even the most ardent resister! Treat yourself to a short reprieve from the world: read this book!"
— Nancy Simpson-Brice, Book Vault, Oskaloosa, IA
Description
---
A book that "speak[s] volumes about our need for connection—human, feline or otherwise" (The San Francisco Chronicle), The Travelling Cat Chronicles is a life-affirming anthem to kindness and self-sacrifice that shows how the smallest things can provide the greatest joy—the perfect gift for cat lovers and travellers!

We take journeys to explore exotic new places and to return to the comforts of home, to visit old acquaintances and to make new friends. But the most important journey is the one that shows us how to follow our hearts...

An instant international bestseller and indie bestseller, The Travelling Cat Chronicles has charmed readers around the world. With simple yet descriptive prose, this novel gives voice to Nana the cat and his owner, Satoru, as they take to the road on a journey with no other purpose than to visit three of Satoru's longtime friends. Or so Nana is led to believe... 

With his crooked tail—a sign of good fortune—and adventurous spirit, Nana is the perfect companion for the man who took him in as a stray. And as they travel in a silver van across Japan, with its ever-changing scenery and seasons, they will learn the true meaning of courage and gratitude, of loyalty and love.

On New York Post's Required Reading List
About the Author
---
Hiro Arikawa is a renowned author from Tokyo. Her novel The Travelling Cat Chronicles is a bestseller in Japan and is due to be published around the world.

Philip Gabriel is a highly experienced translator of Japanese and is best known for his translation work with Haruki Murakami.
Praise For…
---
Praise for The Travelling Cat Chronicles

"Anyone who has ever unashamedly loved an animal will read this book with gratitude, for its understanding of an emotion that ennobles us as human beings, whether we value it or not."—Lynne Truss, The Guardian

"It's the wisdom and stoicism of the feline narrator that makes this book such an engaging read. Like Alison Jean Lester's recent Yuki Means Happiness, it provides a fascinating insight into Japanese culture and traditions, but ultimately it doesn't matter that it's about a man and a cat. Like Of Mice and Men or The Kite Runner, Arikawa's central concern is friendship and the things we'll do for the people, or animals, that we love"—The Irish Times

"Continues the Japanese tradition of folkloric tales that celebrate simple values such as self-sacrifice and friendship. It has the warmth, painterly touch, and tenderness of a Studio Ghibli film—and is a delight to read."—Financial Times

"A beautiful travelogue."—The Sunday Morning Herald

"Like the very best cats, Hiro Arikawa's inventive tale sneaks up on you and works its way into your heart on its own terms. Once it does, it doesn't let go."—Steven Rowley, author of Lily and the Octopus 

"At times comic, at times poignant, their trip is one this reader will remember with fondness for a long, long time."—Philip Gabriel, translator of the English edition of The Travelling Cat Chronicles​

"As simple as both the premise and prose of The Travelling Cat Chronicles, it's a novel that will leave your heart both comfortably full and utterly raw."—Bustle
 
"I doubt many readers—as cynical and hardened as they may—will get through it dry-eyed."—NPR
 
"[Arikawa's] book stands out within the world of cat literature...and it's a world worth exploring."—Time
 
"This touching novel of a brave cat and his gentle, wise human will resonate with lovers of animal tales, quiet stories of friendship, and travelogues alike."—Publishers Weekly
 
"Perfect. Absolutely perfect. Hiro Arikawa is a masterful storyteller."—Medium
 
"Gentle, soft-spoken, and full of wisdom."—Kirkus Reviews

"With wisdom, humor and compassion, in The Traveling Cat Chronicles, Hiro Arikawa tells the story of a powerful bond between a man and his cat."—Shelf Awareness