The Last Train to Key West (Paperback)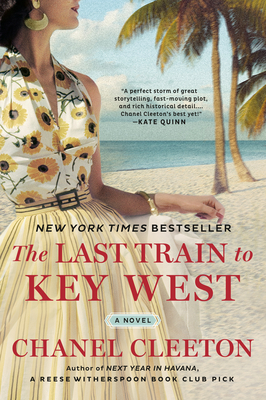 Staff Reviews
---
For fans of Chanel Cleeton, you will not be disappointed! The devastating Labor Day hurricane in 1935 laid waste to much of the Florida Keys. Three different women's stories, loosely woven together, combine to lure any romance or "clean" historical fiction fan to sit in a chair and enjoy. Helen, a Key West native is almost ready to birth her first child but she is on the run from an abusive marriage. Mirta has recently arrived in the Keys from Cuba on her honeymoon with a man who she doesn't really know but has saved her family from ruin. Elizabeth, a New York socialite is in Florida ostensibly to find her WWI veteran brother, but maybe fleeing a mobster fiance. So many threads! She weaves them all together in a very dramatic fashion as we experience the brute force of what was the worst hurricane on record at the time.
— Valerie
Description
---
Instant New York Times bestseller

One of Bustle's Most Anticipated Books of Summer 2020
 
"The perfect riveting summer read!"—BookBub
 
In 1935 three women are forever changed when one of the most powerful hurricanes in history barrels toward the Florida Keys.
 
For the tourists traveling on Henry Flagler's legendary Overseas Railroad, Labor Day weekend is an opportunity to forget the economic depression gripping the nation. But one person's paradise can be another's prison, and Key West-native Helen Berner yearns to escape.
 
After the Cuban Revolution of 1933 leaves Mirta Perez's family in a precarious position, she agrees to an arranged marriage with a notorious American. Following her wedding in Havana, Mirta arrives in the Keys on her honeymoon. While she can't deny the growing attraction to her new husband, his illicit business interests may threaten not only her relationship, but her life.
 
Elizabeth Preston's trip to Key West is a chance to save her once-wealthy family from their troubles after the Wall Street crash. Her quest takes her to the camps occupied by veterans of the Great War and pairs her with an unlikely ally on a treacherous hunt of his own.
 
Over the course of the holiday weekend, the women's paths cross unexpectedly, and the danger swirling around them is matched only by the terrifying force of the deadly storm threatening the Keys.
About the Author
---
Chanel Cleeton is the New York Times and USA Today bestselling author of When We Left Cuba and the Reese Witherspoon Book Club pick Next Year in Havana. Originally from Florida, she grew up on stories of her family's exodus from Cuba following the events of the Cuban Revolution. Her passion for politics and history continued during her years spent studying in England where she earned a bachelor's degree in international relations from Richmond, the American International University in London, and a master's degree in global politics from the London School of Economics and Political Science. Chanel also received her Juris Doctor from the University of South Carolina School of Law. She loves to travel and has lived in the Caribbean, Europe, and Asia.
Praise For…
---
"This dazzling, drama-filled tale set in 1935 follows three women to Key West, Florida."
—Woman's World

"The Last Train to Key West is a perfect storm of great storytelling, fast-moving plot, and rich historical detail. Tense, tight, and atmospheric, Chanel Cleeton's best yet!"
—Kate Quinn, New York Times bestselling author of The Huntress

"The Last Train to Key West takes you on an incredible and emotion-charged journey … [It] has everything a reader could want: not one but three incredible love stories, page-turning drama and rich historical detail. I finished the last chapter with a sigh of satisfaction that only a great book can bring about."
—Natasha Lester, New York Times bestselling author of The Paris Orphan

"A wonderfully transportive summer read!"
—Kristina McMorris, New York Times bestselling author of Sold on a Monday

"Cleeton expertly narrates her story through the eyes of all three women, giving a multilayered glimpse into the island's intertwined and sometimes conflicting communities....Cleeton's compelling, vividly described novel combines a scrappy, adventure-filled setting with plenty of action, and three heroines who will each discover their own grit and gumption during stormy times."
—Shelf Awareness

"Edge-of-your-seat storytelling is Cleeton's hallmark….The Last Train to Key West blends danger, intimacy, history, and suspense in a taut, romantic story I didn't want to end."
—NPR

"[A] dazzling, drama-filled tale….Thrilling and thought-provoking!"
—Woman's World

"Brimming with secrets, hope, and love, this is a book that you'll devour in one sitting (like I did!)."
—Yangsze Choo, New York Times bestselling author of The Night Tiger

 "Chanel Cleeton simply never disappoints! Cleverly constructed and expertly delivered, The Last Train to Key West is a feast for readers across multiple genres. This book has it all – great characters, a compelling historical backdrop, quests for love and purpose and refuge, and a fully satisfying conclusion that will have you cheering."
—Susan Meissner, Bestselling author of The Last Year of the War

"The Last Train to Key West by Chanel Cleeton is a gorgeously written, absorbing novel set against the backdrop of a real, devastating hurricane in the Florida Keys in 1935. An addictively good page-turner!"
—Jillian Cantor, USA Today bestselling author of The Lost Letter and In Another Time

"Lush, atmospheric, and suspenseful, Chanel Cleeton's latest is not to be missed!"
—Stephanie Marie Thornton, USA Today bestselling author of And They Called It Camelot

"Once again Chanel Cleeton has delivered a masterful story, filled with twists and turns as the lives of three courageous women intersect on a hurricane's destructive path…. A remarkable work of historical fiction that grabs hold of your heart and is guaranteed to keep you turning pages!"
—Renée Rosen, National bestselling author of Park Avenue Summer

"Its romance, intrigue, and suspense make it impossible to put down. Gripping!"
—Erika Robuck, National bestselling author of Hemingway's Girl

"Gripping, romantic, and packed with drama. Readers will be up late eager to find out what happens!"
—Camille Di Maio, Bestselling author of The Memory of Us

"Cleeton's depiction of the catastrophic hurricane is both gripping and terrifying, and she skillfully balances each woman's internal growth with the various romantic subplots. Fans of Cleeton's previous books, as well as readers who enjoy Beatriz Williams' historical fiction, will devour this exciting, romantic tale."
—Booklist

"Cleeton finds the right balance of historical detail and suspense, making this a riveting curl-up-on-the-couch affair."
—Publishers Weekly

"The story, the characters, the setting and the situation all lead to a thrilling climax. Cleeton does a magnificent job describing the fury of the hurricane …. it's all so vivid as we feel like we're experiencing the storm firsthand….We see the beauty of the Keys, the worst side of nature, and the fortitude of women who must stand up for themselves."
—BookReporter

"Cleeton delivers another delicious beach read just in time for summer vacation. This book we highly recommend!"
—Currents Magazine

"…a captivating story…. the hallmarks of [Cleeton's] writing and storytelling styles are there – intriguing characters, propulsive plots, and surprising connections. The Key West setting is gorgeously described, even during a treacherous hurricane. Readers will feel for the three women telling their stories and will be interested to finally understand how they are all connected, as well as how their stories will resolve."
—Fresh Fiction

"A gripping tale that showed the best and worst of humanity in a realistic way, The Last Train to Key West was a memorable story that certainly left a mark on this reader's heart."
—Harlequin Junkie

"…Chanel Cleeton writes with a clear and beautiful voice….a great book club selection…the perfect summer beach read....This is another masterwork of historical fiction."
—The Nerd Daily

Praise for When We Left Cuba

"Has sex, drama, suspense…and pairs perfectly with a mojito."
—People 

"A thrilling story about love, loss, and what we will do to go home again. Utterly unputdownable."
—PopSugar

"Both a hard-earned love story and a visceral account of history. Cleeton's writing pulsates with passion and intimacy.... She's long since established herself as a remarkable writer, but with When We Left Cuba, she's written with a sublime force that keeps us tethered to her words."
—The Washington Post

"You won't be able to put this one down."
—Cosmopolitan

"With rich historical detail, incisive dialogue and a firebrand heroine, Cleeton paints a vivid portrait of a woman caught in the currents of a turbulent time yet determined to make her own way."
—Shelf Awareness 

"An exhilarating read with a fearless heroine."
—Woman's World 


More Praise for the Novels of Chanel Cleeton

"A beautiful novel that's full of forbidden passions, family secrets and a lot of courage and sacrifice."
—Reese Witherspoon

"A sweeping love story and tale of courage and familial and patriotic legacy that spans generations."
—Entertainment Weekly

"This Cuban-set historical novel is just what you need to get that ~extra-summery~ feeling."
—Bustle

"The Ultimate Beach Read"
—Real Simple
 
"Next Year in Havana reminds us that while love is complicated and occasionally heartbreaking, it's always worth the risk."
—NPR

"Cleeton has penned an atmospheric, politically insightful, and highly hopeful homage to a lost world."
—Stephanie Dray, New York Times bestselling coauthor of America's First Daughter