Life and Other Inconveniences (Paperback)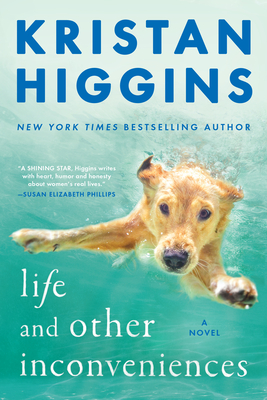 Staff Reviews
---
Through several different  voices, Higgins tells the story of Emma London and her relationship with her grandmother Genevieve London. Emma's father abandoned her to Genevieve when Emma's mother died and Genevieve summarily kicked Emma out when Emma got pregnant her senior year of high school. Emma is now an adult with a teenage daughter and both return to Genevieve's home when she calls Emma, asking for help. A story of family bonds, buried secrets and the path to forgiveness, this is a perfect summer read! 
— Cathy
Description
---
"A heart-wrenching page-turner told with warmth and humor."—People Magazine (Pick of the Week) 
 
"A rich testament to the power of second chances."—Women's World

A Publishers Weekly and USA Today Bestseller!

From the New York Times bestselling author of Good Luck with That comes a new novel about a blue-blood grandmother and her black-sheep granddaughter who discover they are truly two sides of the same coin.

Emma London never thought she had anything in common with her grandmother Genevieve London. The regal old woman came from wealthy and bluest-blood New England stock, but that didn't protect her from life's cruelest blows: the disappearance of Genevieve's young son, followed by the premature death of her husband. But Genevieve rose from those ashes of grief and built a fashion empire that was respected the world over, even when it meant neglecting her other son.

When Emma's own mother died, her father abandoned her on his mother's doorstep. Genevieve took Emma in and reluctantly raised her--until Emma got pregnant her senior year of high school. Genevieve kicked her out with nothing but the clothes on her back...but Emma took with her the most important London possession: the strength not just to survive but to thrive. And indeed, Emma has built a wonderful life for herself and her teenage daughter, Riley.

So what is Emma to do when Genevieve does the one thing Emma never expected of her and, after not speaking to her for nearly two decades, calls and asks for help?
About the Author
---
Kristan Higgins is the New York Times and USA Today bestselling author of nearly twenty novels, which have been translated into more than two dozen languages and have sold millions of copies worldwide. The mother of two lives in Connecticut with her heroic firefighter husband and several badly behaved pets.

If you want to know when Kristan's next book will be out and hear news of her appearances, subscribe to her mailing list at kristanhiggins.com. You can also find her online at facebook.com/kristanhigginsbooks, twitter.com/Kristan_Higgins and instagram.com/kristan.higgins.
Praise For…
---
Praise for Life and Other Inconveniences

"Deeply touching, real and raw, but infused with the love and hope that make life possible, despite everything."—Abbi Waxman, author of The Bookish Life of Nina Hill
 
"Master storyteller Kristan Higgins deftly balances humor and heart in this latest tale of a young woman navigating her relationship with a dying grandmother who long-ago abandoned her when she needed her most...another must-read from Higgins, who has long been an auto-buy for me."—Colleen Oakley, author of Before I Go and Close Enough to Touch

"Higgins is a mastermind of family dynamics in this poignant novel about two different generations of women struggling to find common ground. I couldn't put it down!"—Emily Liebert, author of Some Women
 
"Readers will be riveted as the well-drawn characters uncover one another's hidden depths and heal old wounds. This rich and memorable story will instantly win readers over."—Publishers Weekly (starred review)

"Higgins explores another set of deeply affecting topics using engaging characters and a full spectrum of realistic emotions: humor, anger, anguish, and pride, among others, but above all, hope.Funny, heart-wrenching, insightful, and lovely."—Kirkus Reviews

"A shining star, Higgins writes with heart, humor, and honesty about women's real lives."—Susan Elizabeth Phillips, #1 New York Times bestselling author of First Star I See Tonight

"Higgins brings hope and humor to intensely personal dramas and makes them everyone's story."—#1 New York Times bestselling author Robyn Carr

"Kristan Higgins's New Book Life and Other Inconveniences Already Has Us Hooked."—PopSugar

"A heart-wrenching page-turner told with warmth and humor."—People Magazine, Pick of the Week

"…a rich testament to the power of second chances."—Woman's World

"Thoughtful, sweet and with a gentle undercurrent of humor, this is summer reading at its finest."—Shelf Awareness