Seafire (Hardcover)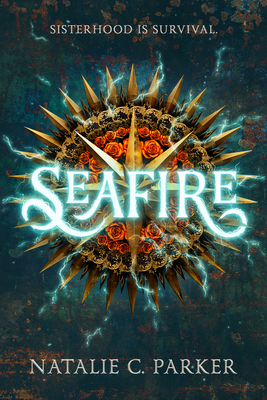 $18.99
Usually Ships in 1-5 Days
Staff Reviews
---
Caledonia Styx, captain of the Mors Navis and its all-female crew, has one mission: to destroy Aric Athair and his regime. Years ago, Athair murdered Cala's family and everyone else aboard their ship but her and her second, Pisces. Now they have sworn revenge. Athair has built an empire, living at sea with his army of men and Bullets--stolen children taken, along with food and resources, under his harsh tax policy--controlling everything that happens on land or at sea. After a defective Bullet saves Pisces's life and informs her that her brother is still alive, Cala and her crew must decide if they can trust him enough to let him help them in their mission, or if he belongs with all of the other Bullets they have crossed swords with--at the bottom of the sea. 
— Madeline
Description
---
A warlord killed Caledonia's parents and kidnapped her brother. Now, on the deadly Bullet seas, Captain Caledonia Styx and her all-female crew are ready for revenge.

"This is Mad Max by way of Davy Jones, a high-energy, breathless adventure [about] a group of damaged girls who find home in one another." --Booklist

"The pace of the book is fast and relentless, and the action sequences tense and believable, but the best moments are the ones in which the female relationships shine." --NPR

"One of the most spell-binding adventures of the year. This is female piracy at its best." --The San Francisco Chronicle

"The best kind of fantasy. . . . impossible to put down." --Paste

After her family is killed by corrupt warlord Aric Athair and his bloodthirsty army of Bullets, Caledonia Styx is left to chart her own course on the dangerous and deadly seas. She captains her ship, the Mors Navis, with a crew of girls and women just like her, who have lost their families and homes because of Aric and his men. The crew has one mission: stay alive, and take down Aric's armed and armored fleet.

But when Caledonia's best friend and second-in-command barely survives an attack thanks to help from a Bullet looking to defect, Caledonia finds herself questioning whether to let him join their crew. Is this boy the key to taking down Aric Athair once and for all...or will he threaten everything the women of the Mors Navis have worked for?

The first in a heart-stopping trilogy that recalls the undeniable feminine power of Wonder Woman and the powder-keg action of Mad Max: Fury Road, Seafire reminds us of the importance of sisterhood and unity in the face of oppression and tyranny.
About the Author
---
Natalie C. Parker is the author of the Beware the Wild duology, the Seafire trilogy, and the editor of Three Sides of a Heart. She earned her BA in English literature from the University of Southern Mississippi and her MA in gender studies from the University of Cincinnati. She grew up in a Navy family finding home in coastal cities from Virginia to Japan. Now, she lives surprisingly far from any ocean on the Kansas prairie where she runs Madcap Retreats with her wife. She tweets @nataliecparker.
Praise For…
---
"One of the most spell-binding adventures of the year. This is female piracy at its best." —San Francisco Chronicle

"A fast-paced, thrilling tale." —BuzzFeed

"One of the year's most anticipated new fantasies." —Entertainment Weekly

"Incredible." —SyFy Wire

"The pace of the book is fast and relentless and the action sequences tense and believable, but the best moments are the ones in which the female relationships shine." —NPR

"Full of nonstop action, adventure, and surprising turns of events, this fast-paced, feminist tale is suspenseful and thrilling." —School Library Connection, starred review

"An exciting, action-packed tale....this adventure never loses its pace." —Publishers Weekly

"This is sure to appeal to readers looking for strong female characters and fans of Song of the Current by Sarah Tolcser and The Girl from Everywhere by Heidi Heilig." —School Library Journal

"A gutsy tale of sisterhood, courage, and unshakeable trust. You don't want to miss this book!" —Julie Murphy, #1 New York Times bestselling author of Dumplin'
 
"In these turbulent times, Seafire gives teens just what they need: A reminder that with unity and courage, they can rise up and ultimately change the world." —Dhonielle Clayton, New York Times bestselling author of The Belles series
 
"Mastering high seas, high stakes, and high emotions, Natalie Parker gives us a whole host of girls who get the job done and kicks off an adventure to remember." —#1 New York Times bestselling author E.K. Johnston

"As smart, ferocious, and uncompromising as its crew, Seafire is the adventure you're looking for. I have such a crush on this book!" —Kiersten White, New York Times bestselling author of And I Darken

"Absolutely enthralling. Seafire is a relentless adventure about friendship and found family, trust and betrayal, and a vow for vengeance as unstoppable as the sea." —Heidi Heilig, author of The Girl from Everywhere and The Ship Beyond Time
 
"Parker has crafted a thrilling, empowering tale of doing what is right, not what is easy. Any reader who's dreamed of the high seas, adventure, and freedom will be clamoring to join the crew of the Mors Navis. An emotional and pulse-pounding read." —Tess Sharpe, author of Far From You and Barbed Wire Heart

"A brilliant story that shows the strength and bravery of girls against the world. Natalie C. Parker has given me a book I wish I'd had when I was younger." —Zoraida Córdova, award-winning author of the Brooklyn Brujas series

"A stunning and powerful book about choosing to fight in the face of vicious odds. Seafire will stay with you long after you finish reading." —Brendan Reichs, New York Times bestselling author of Nemesis