What Remains of Heaven: A Sebastian St. Cyr Mystery (Hardcover)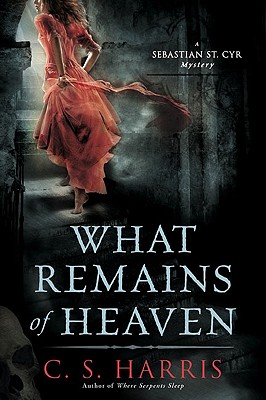 Description
---
Another gripping mystery in the series that has won six starred reviews, set in the glittering yet dangerous world of 1812 London, where nobleman and former spy Sebastian St. Cyr courts personal disaster in his effort to expose a murderer.

The latest request for help from Sebastian St. Cyr, Viscount Devlin--from the Archbishop of Canterbury, no less--is undeniably intriguing: The bodies of two men have been found in an ancient crypt, their violent deaths separated by decades. One is the Bishop of London, the elderly Archbishop's favored but controversial successor. The identity of the other seems lost in time, although his faded velvet attire marks him as gentleman of the eighteenth century.

To Sebastian's consternation, the last person to see the Bishop alive was Miss Hero Jarvis, a woman whose already strained relationship with St. Cyr has been complicated by a brief, unexpectedly passionate encounter. It also soon becomes obvious that her powerful father has reasons of his own for wanting the Bishop out of the way. In an investigation that leads from the back alleys of Smithfield to the power corridors of whitehall, Sebastian amasses a list of suspects that ranges from some of the Prince Regent's closest cronies to William Franklin, embittered son of famous American patriot Ben Franklin. Each step Sebastian takes toward the killer brings him closer to a devastating truth that could ultimately force him to question who--and what--he really is.
About the Author
---
C.S. Harris graduated with a degree in Classics before earning a Ph.D. in European history. A scholar of the French Revolution and 19th-century Europe, she has lived in Europe and various far-flung parts of the old British Empire. She now lives in New Orleans with her husband, a retired Army Intelligence Officer, and two daughters.