The Holdout: A Novel (Paperback)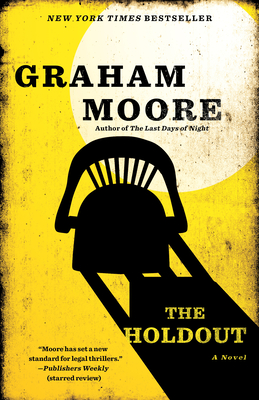 Staff Reviews
---
Anyone who has sat on a jury knows that deciding guilt or innocence is a complex and burdensome process, and that the actions of defense and prosecution attorneys are not always straightforward. If you haven't served on a jury but have watched a lot of Law and Order episodes, you probably know the same things. Graham Moore's new novel (after The Last Days of Night) is a dissection of a murder trial that took place ten years earlier than the time of the current story. The jurors from that contentious trial have gathered for a reunion at the same hotel where they were sequestered for four months. One of the jurors is found dead, presumably murdered, and another juror is arrested for the murder. The accused happens to be a defense attorney who, in the earlier trial, as a young woman recently out of college, was able to persuade all eleven other jurors to return a not guilty verdict. In order to exonerate herself, she has to try to figure out not only who killed her fellow juror but if she was wrong or right in the earlier trial. There's a lot of legal and moral strategizing along with some nicely handled plot twists that make for a gripping read.
— Alice
Description
---
NEW YORK TIMES BESTSELLER • One juror changed the verdict. What if she was wrong? From the Academy Award–winning screenwriter of The Imitation Game and bestselling author of The Last Days of Night. . . .
 
An ID Book Club Selection • "Exhilarating . . . a fiendishly slippery game of cat-and-mouse suspense and a provocative, urgent inquiry into American justice (and injustice) in the twenty-first century."—A. J. Finn, #1 New York Times bestselling author of The Woman in the Window

It's the most sensational case of the decade. Fifteen-year-old Jessica Silver, heiress to a billion-dollar real estate fortune, vanishes on her way home from school, and her teacher, Bobby Nock, a twenty-five-year-old African American man, is the prime suspect. The subsequent trial taps straight into America's most pressing preoccupations: race, class, sex, law enforcement, and the lurid sins of the rich and famous. It's an open-and-shut case for the prosecution, and a quick conviction seems all but guaranteed—until Maya Seale, a young woman on the jury, convinced of Nock's innocence, persuades the rest of the jurors to return the verdict of not guilty, a controversial decision that will change all their lives forever.

Flash forward ten years. A true-crime docuseries reassembles the jury, with particular focus on Maya, now a defense attorney herself. When one of the jurors is found dead in Maya's hotel room, all evidence points to her as the killer. Now, she must prove her own innocence—by getting to the bottom of a case that is far from closed.

As the present-day murder investigation entwines with the story of what really happened during their deliberation, told by each of the jurors in turn, the secrets they have all been keeping threaten to come out—with drastic consequences for all involved.
About the Author
---
Graham Moore is the New York Times bestselling author of The Last Days of Night and The Sherlockian, and the Academy Award–winning screenwriter of The Imitation Game, which also won a Writers Guild of America Award for best adapted screenplay and was nominated for a BAFTA and a Golden Globe. Moore was born in Chicago, received a BA in religious history from Columbia University in 2003, and now lives in Los Angeles.
Praise For…
---
"A spicy stew of intrigue replete with buried secrets and unexpected motives."—The New York Times Book Review

"Wow! I loved The Holdout, in which author Graham Moore does the impossible, creating a page-turning legal thriller with a twisty and absolutely riveting plot, as well as raising profound and thought-provoking questions about the jury system and modern justice. All that, plus a strong and compelling female heroine in lawyer Maya Seale, whom you'll root for as the tables turn against her and she finds herself behind bars, with everything on the line. You won't be able to put this one down!"—Lisa Scottoline, #1 bestselling author of Someone Knows
 
"Graham Moore's heart beats on every page of The Holdout, a murder trial as only he could have written it: secrets and lies, mysteries upon mysteries, and a cast of characters each with their own dubious motives. This is a tense, emotionally charged, scary-good, standout read that hooked me till the last page."—Caroline Kepnes, author of You
 
"The most gripping and satisfying thriller I've read in more than a decade."—Sophie Hannah, New York Times bestselling author of The Monogram Murders
 
"This stellar novel from bestseller [Graham] Moore takes a searing look at the U.S. justice system, media scrutiny, and racism. . . . Moore has set a new standard for legal thrillers."—Publishers Weekly (starred review)

"The twists are sharp and the flashbacks that uncover what each juror knows are placed for maximum impact in this rollicking legal thriller. . . . Moore expertly combines deft character work with mounting bombshell revelations in a story that will attract new readers and also seems primed for the big screen."—Library Journal (starred review)

"[A] stemwinder of a murder mystery wrapped in a legal thriller . . . The story is gripping, and the pace is furious."—Booklist
 
"Quite the tour de force! Twelve Angry Men meets Chinatown and creates something of its own."—Sarah Pinborough, New York Times bestselling author of Behind Her Eyes
 
"Clever, well-written, and twistier than a can of Silly String. You absolutely need to read The Holdout! I could not put it down."—Emma Kavanagh, author of To Catch a Killer

"Plunge a syringe filled with adrenaline into the heart of Twelve Angry Men and you've got The Holdout."—A. J. Finn, #1 New York Times bestselling author of The Woman in the Window