The After Party: A Novel (Paperback)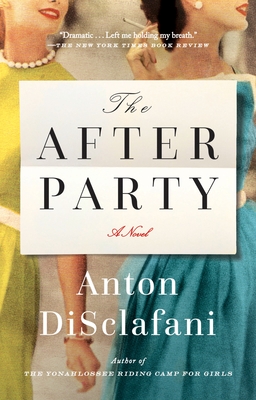 $16.00
Usually Ships in 1-5 Days
Staff Reviews
---
Set in Houston in the 1950's, The After Party concerns two childhood friends, Joan and Cece. Joan and Cece have done everything together since their days at River Oaks Elementary, and by the time they are attending Lamar High School, they are known about town. Nights of partying ensue, mainly at the Cork Club in the legendary Shamrock Hotel. Joan is exceptionally beautiful, but it's more than that. She exudes charisma, and Cece just wants to be in her sphere--part sidekick, part chaperone, as it turns out. Though she appears to have all she could ever need, Joan is constantly restless and runs away during her senior year. Joan's parents say she's gone to Hollywood to be a star, but when Joan returns later, she is sadder and wilder than ever. Even once Cece is married to kindhearted Ray and has a son, she is devoted to (obsessed with?) Joan and rushes out to be with her whenever called.
Disclafani, author of The Yonahlossee Riding School for Girls, weaves a tale of friendship, secrets, and self-discovery. Those of us from Houston will love the many references to familiar locales and, yes, even the heat at five o'clock in the morning!
— Cynthia
June 2016 Indie Next List
---
"The real star of The After Party is the novel's setting: 1950s Texas, where wealthy housewives and Junior League debutantes rule the social landscape. At the center is Joan Fortier, an unconventional bachelorette who is not content to sit on the sidelines -- or to stay in Houston. Joan's attitude causes conflict with her childhood best friend, CeCe Buchanan, and their relationship falters, exposing insecurities in both women. Fans of DiSclafani's first novel, The Yonahlossee Riding Camp for Girls, will not be disappointed by this well-written, engaging new work."
— Annie B. Jones (W), The Bookshelf, Thomasville, GA
Description
---
"A vintage version of 'Gossip Girl' meets bigger hair." —The Skimm

"DiSclafani's story sparkles like the jumbo diamonds her characters wear to one-up each other. Historical fiction lovers will linger over every lush detail." —People

From the bestselling author of The Yonahlossee Riding Camp for Girls comes a story of lifelong female friendship – in all its intimate agony and joy – set within a world of wealth, beauty, and expectation. 

Joan Fortier is the epitome of Texas glamour and the center of the 1950s Houston social scene. Tall, blonde, beautiful, and strong, she dominates the room and the gossip columns. Every man wants her; every woman wants to be her. Devoted to Joan since childhood, Cece Buchanan is either her chaperone or her partner in crime, depending on whom you ask. But when Joan's radical behavior escalates the summer they are twenty-five, Cece considers it her responsibility to bring her back to the fold, ultimately forcing one provocative choice to appear the only one there is. 
 
A thrilling glimpse into the sphere of the rich and beautiful at a memorable moment in history, The After Party unfurls a story of friendship as obsessive, euphoric, consuming, and complicated as any romance.
About the Author
---
Anton DiSclafani is the author of the nationally bestselling novel, The Yonahlossee Riding Camp for Girls. She was raised in northern Florida.
Praise For…
---
"DiScafani excels at building suspense and has a gift for revealing private worlds through unexpected, telling details. . .  Dramatic. . . Left me holding my breath." —The New York Times Book Review 

"DiSclafani's story sparkles like the jumbo diamonds her characters wear to one-up each other. Historical fiction lovers will linger over every lush detail." —People

"The After Party explores female desire that threatens the status quo. . . Joan, much-loved and much-criticized by Cece, emerges as a spectacularly tragic figure. The After Party reads like a postmortem of more than just two women's lives." —The Washington Post

"A tale of lavish balls, garden clubs, and enduring female friendship." —O, The Oprah Magazine

"Glamorous." —Good Housekeeping

"[The After Party] offers total immersion into gaudy, glamorous midcentury Houston. . .  The story plunges us deep into a dazzling, decadent time and place— a world in which a Texas wildcatter could spend his millions to build a towering hotel and decorate it in 63 shades of green, and the city's elite would come to bask in its gaudy splendor." —The Houston Chronicle

"DiSclafani gorgeously evokes Party's mid-century setting." —Entertainment Weekly

"This hot read goes down just as easy [as a daiquiri]." —Cosmopolitan

"Painting the landscape of Texas in exquisite detail, the acclaimed author of The Yonahlossee Riding Camp for Girls returns with a thoughtful reflection on female friendship and learning to let go of the one you love." —Real Simple

"Two women take on the Texas social scene in the 1950s and all its attendant glamor and scandals. You'll just have to imagine the accents for yourself." —Boston Magazine

"A vintage version of 'Gossip Girl' meets bigger hair." —The Skimm

"A smart, thoughtful must read." —PopSugar 

"Gripping and glamorous. . . Consider it the perfect escapist read for your next poolside afternoon. (With or without a martini in hand.)" —PureWow

"[Houston] makes the perfect backdrop for the tale, which is rich with sex, lies, side-eyes and cocktail parties." —Houstonia Magazine

"Nestled inside this gilded egg is a story about life, love and friendship." –Houston Press

"A clear and frightening look at life for Texas socialites in the 1950s. . . as beautiful and generous as Joan is, she's also a rebel who questions the confining rules of her socialite life." —St. Louis Post-Dispatch

"Anton DiSclafani is such a bewitching creator of character and mood, it's easy to follow her beckoning lead." —Dallas Morning News

"A little Mad Men, a little Carol and a lot of steamy atmosphere." —Tampa Bay Times

"A deft examination of the intricacies, imbalances and often confusing complications of friendships between young girls and also a compelling romp into Texas society." —Fort Worth Star Telegram

"DiSclafani repaints sepia-toned historical periods in vivid, sultry colors." —Departures Magazine

"DiSclafani writes the hell out of the interior lives of women and the sticky trap of their friendships, like a less self-serious Elena Ferrante. . . I enjoyed every minute of it." —The Frisky

"The After Party is a puzzle with carefully modulated tension. . . Characterization, strong sense of place and the painful riddle of friendship form a novel that is vibrant, sensitive and suspenseful."  —Shelf Awareness 

"The After Party is a literary gin and tonic, brisk, intense and delicious. Anton DiSclafani paints the landscape of 1950's Texas in glorious detail. You feel the heat, hear the rustle of the party dresses as you tumble headfirst into the complex friendship of Joan and Cece. The author takes you full gallop into the world of two women as they navigate their dreams, hide their secrets and struggle to survive in a world where their roles are inescapable. This is a novel with a heart and a secret as big as Texas." —Adriana Trigiani, author of The Shoemaker's Wife

"In her tale of a fraught lifelong friendship, DiSclafani again investigates the power and perils of female sexuality. . . DiSclafani paints a rich portrait of a cloistered society and its damaged inhabitants in a consistently absorbing narrative. . .  this talented newcomer's gifts for characterization and atmosphere are as sharp as ever." —Kirkus