Just Our Luck (Hardcover)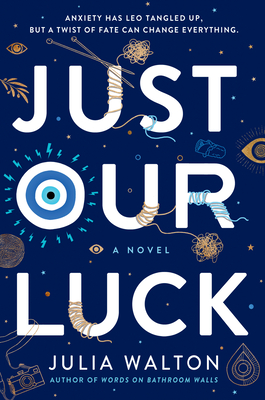 Staff Reviews
---
Meet Leo, a quiet high school loner on the day his social life takes an even-deeper nose dive when Drake, the jock he has just insulted, punches him in the face and knocks him out cold. Cringe. Leo's dad is horrified that his son went down so easily and signs him up for a military-style self-defense class at the local gym. Knowing there is no way he can possibly walk into that room, Leo convinces the girl at the front desk to switch him into any other class that meets at the same time, which happens to be hot yoga teacher training. Sigh. Then, he realizes that the girl at the front desk is Evey Paros. His Greek grandmother had always impressed upon him two life truths: 1) Bad luck follows lies. 2) Leave the Paros family alone. Now, he must either face the consequences of a multi-generational curse or have a heart-to-heart with his dad about his life's troubles. Naturally, Leo goes with the first option. After all, he and his dad merely coexist most days since first Leo's mother and then his Yia Yia died. On top of this, Leo and Drake must meet regularly with the school counselor to try to resolve their differences, a time slot Leo fills by knitting or crocheting and pondering his life's course in relative silence. Meanwhile, the ruthless Evey has secretive plans that require Leo's crafting and photography skills. Being a teenager has never been easy.
— Jennifer K
Description
---
From the author of Words on Bathroom Walls—now a major motion picture—comes a romance in the spirit of Dear Evan Hansen about overcoming anxiety—and about finding love and friendship in unlikely places.

★ "A masterpiece" —Kirkus, starred review

"Bad luck follows lies." That was the first rule for life that Leo's Greek grandmother, Yia Yia, gave him before she died. But Leo's anxiety just caused a fight at school, and though he didn't lie, he wasn't exactly honest about how it all went down . . . how he went down. Now Leo's father thinks a self-defense class is exactly what his son needs to "man up."

"Leave the Paros family alone." That was Yia Yia's second rule for life. But who does Leo see sitting at the front desk of the local gym? Evey Paros, whose family supposedly cursed Leo's with bad luck. Seeing that Leo is desperate to enroll in anything but self-defense class, Evey cuts him a deal: she'll secretly enroll him in hot yoga instead—for a price. But what could the brilliant, ruthless, forbidden Evey Paros want from Leo?

Sharp, honest, and compulsively readable, Just Our Luck is as funny as it is heartwarming.

"A feel-good story, with shades of Holes and The Karate Kid" —Bulletin
About the Author
---
JULIA WALTON is the author of the award-winning Words on Bathroom Walls. She received an MFA in creative writing from Chapman University and BA in History from UC Irvine. Julia lives with her husband and children in Huntington Beach, California. Follow her on Twitter and Instagram at @JWaltonwrites and visit her website JuliaWalton.com.
Praise For…
---
Praise for Just Our Luck

★ "Leo's singular voice keeps pages turning and chuckles coming but also communicates a wealth of insight on topics from mental health stigma to toxic masculinity. . . . A masterpiece and a delight." —Kirkus Reviews, starred review

"A feel-good story, with shades of Holes and The Karate Kid, useful for readers who appreciate tales of an awkward outsider-turned-hero with acknowledged weaknesses and unexpected strengths." —Bulletin

"Walton's personal story focuses on the internal life of Leo, whose voice and character prove to be completely endearing. . . . [A] character-driven exploration of mental health through friendship, family, and art." —Booklist

"A heartwarming story about masculinity and finding yourself." —Bitch Media 

"Leo is a relatable character. . . . Readers will root for Leo as he finds his place in the world." —School Library Journal