The Madness Underneath (Hardcover)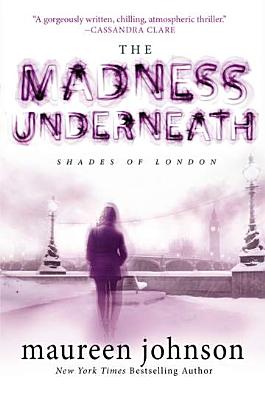 Staff Reviews
---
The Madness Underneath picks up shortly after The Name of the Star. I can say fans of Maureen Johnson will not be disappointed. Rory is sort of floating through everyday life. She's back with her parents after the Ripper attack. Rory is wasting her days away watching t.v. and sleeping. The only time Rory leaves is when she goes to see her therapist. Rory's parents are concerned, but don't know how to approach the subject without pushing her. When at home Rory discovers that the Ripper attack left her with a unique gift.
That gift sets her life back into motion. Rory returns to Wexford Prep and hopes life can go back to normal. Only with so many secrets Rory finds herself lying to everyone around her.
Rory really seems most at ease around Steven, Boo, and Callum. Steven, the serious one, really wants Rory to consider a normal life. He tries to make her see that choosing to do what he does means never telling anyone about your job. Also with Rory's gift she is a valuable asset and can be used by others.
Johnson keeps some of the creepy factor in The Madness Underneath with the mysterious deaths around town, but the story is more focused on Rory's state of mind and where her future is headed. There are some things I never saw coming and can't wait to discuss with everyone. In the mean time I'm ready for book 3!
— Maria
Description
---
Don't miss this New York Times bestselling sequel to the Edgar Award-nominated THE NAME OF THE STAR
After her near-fatal run-in with the Jack the Ripper copycat, Rory Devereaux has been living in Bristol under the close watch of her parents. So when her therapist suddenly suggests she return to Wexford, Rory jumps at the chance to get back to her friends.But Rory's brush with the Ripper touched her more than she thought possible: she's become a human terminus, with the power to eliminate ghosts on contact. She soon finds out that the Shades the city's secret ghost-fighting police are responsible for her return. The Ripper may be gone, but now there is a string of new inexplicable deaths threatening London. Rory has evidence that the deaths are no coincidence. Something much more sinister is going on, and now she must convince the squad to listen to her before it's too late.
In this follow-up to the Edgar Award-nominated THE NAME OF THE STAR, Maureen Johnson adds another layer of spectacularly gruesome details to the streets of London that will keep you on the edge of your seat until the very end.
About the Author
---
Maureen Johnson (www.maureenjohnsonbooks.com) is the author of nine young adult novels, and is contributor to two short story collections, including the New York Times bestselling Let It Snow. Maureen lives in New York City."
Praise For…
---
Praise for THE MADNESS UNDERNEATH (Book Two in the Shades of London series):
 
A New York Times Bestseller!

 
FROM KIRKUS REVIEWS:
"Creepy, clever and ambiguous second volume in the Shades of London series . . . As always, Johnson wields words with a supple facility that keeps those pages turning. The London minutiae are utterly engaging, the villains satisfyingly weird and numerous. And there is kissing."
 
 
FROM PUBLISHERS WEEKLY: 
"Rory's internal monologue sparkles with the wit that Johnson's fans (and most of Twitter) will recognize, which is plenty entertaining. The second half will satisfy readers' craving for what they came for—Rory's investigation of London's latest ghost crimes—while laying tragic groundwork for the next book."
 
 
FROM SCHOOL LIBRARY JOURNAL:
"Johnson's sharp wit is ever-present, and her heroine is the perfect blend of snark and teen anxiety."
 
 -------------------------------------------------------------------------------------------  
 
Praise for THE NAME OF THE STAR (Book One in the Shades of London series):
 
Nominated for the Edgar Award!
 
 
"A gorgeously written, chilling, atmospheric thriller. The streets of London have never been so sinister or so romantic."
—CASSANDRA CLARE, #1 New York Times bestselling author of The Infernal Devices and The Mortal Instruments series
 
 
"This book made me want to give up everything, move to London, and fight ghosts."
—HOLLY BLACK, New York Times bestselling author of the Curse Workers series
 
 
"An unputdownable thrill ride that will leave you gasping, laughing and dreaming of London."
—ALLY CARTER, New York Times bestselling author of the Gallagher Girls series and Heist Society
 
 
FROM SCHOOL LIBRARY JOURNAL:
"Johnson uses a deft hand, applying the right amount of romance and teen snarkiness to relieve the story's building tension. Departing from her previous works, she turns paranormal on its head, mocking vampires and werewolves while creating ghosts that are both realistic and creepy. A real page-turner." 
 

FROM PUBLISHERS WEEKLY:
"Readers looking for nonstop fun, action, and a little gore have come to the right place."
 
 
FROM KIRKUS REVIEWS:
"Johnson fearlessly takes readers from . . . a cool innocent-abroad-with-iPod story to supernatural thriller. The tension ramps up exquisitely among cups of tea, library visits and the London Underground. The explosive ending is genuinely terrifying but never loses the wit, verve and humor that Rory carries with her throughout."