The Mothers: A Novel (Paperback)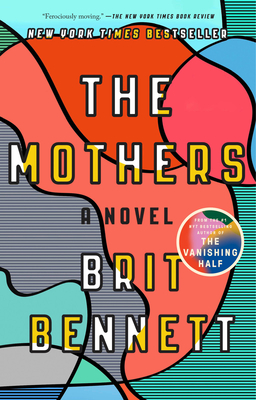 Staff Reviews
---
In a realistic, and therefore sobering, look at how the decisions of youth have life-long ramifications, Bennett tells the story of Nadia Turner, who, in the summer before she begins a scholarship college career, deals with her mother's suicide and her own unwanted pregnancy. The Mothers of the title are the Greek chorus of elderly women in the church of The Upper Room, a black community church in Southern California, who comment on the morality of youth today, and specifically that of Nadia Turner. The fact that Luke, the young man who impregnated Nadia, is the son of the pastor, means that Nadia and Luke have to keep their secret long after they go their separate ways and Luke marries Nadia's best friend, Aubrey. Nadia returns home after law school to care for her injured father and finds that there is a lot of unfinished business she must deal with. First love, disappointment, friendship, forbidden love, trust and betrayal are brilliantly illustrated in the lives of these three young people in ways that will make readers find at least a few parallels in their own lives. Isn't this what we hope for when we read fiction? Highly recommended.
— Alice
October 2016 Indie Next List
---
"The 'mothers' of this book's title refers to the gaggle of elderly churchgoing women who comment on the congregation around them, especially the trio of Nadia, Luke, and Aubrey. But The Mothers is about more than that -- it refers to the concept of motherhood, whether real, lost, aborted, adoptive, or conflicted. The three young people at the heart of this story are all flawed, but their portrayals are realistic and they are easy for readers to support. This is a book about salvation -- not the spiritual salvation that the gossiping, but well-intentioned mothers seek, but the kind that comes with self-acceptance and growth. The Mothers is an honest, modern, and triumphant book."
— Jamie Thomas (E), Women & Children First, Chicago, IL
Description
---
NEW YORK TIMES BESTSELLER 

"Bittersweet, sexy, morally fraught." –The New York Times Book Review

"Fantastic… a book that feels alive on the page." –The Washington Post

From the New York-Times bestselling author of The Vanishing Half, the beloved novel about young love and a big secret in a small community. 

Set within a contemporary black community in Southern California, Brit Bennett's mesmerizing first novel is an emotionally perceptive story about community, love, and ambition. It begins with a secret.

"All good secrets have a taste before you tell them, and if we'd taken a moment to swish this one around our mouths, we might have noticed the sourness of an unripe secret, plucked too soon, stolen and passed around before its season."

It is the last season of high school life for Nadia Turner, a rebellious, grief-stricken, seventeen-year-old beauty. Mourning her own mother's recent suicide, she takes up with the local pastor's son. Luke Sheppard is twenty-one, a former football star whose injury has reduced him to waiting tables at a diner. They are young; it's not serious. But the pregnancy that results from this teen romance—and the subsequent cover-up—will have an impact that goes far beyond their youth. As Nadia hides her secret from everyone, including Aubrey, her God-fearing best friend, the years move quickly. Soon, Nadia, Luke, and Aubrey are full-fledged adults and still living in debt to the choices they made that one seaside summer, caught in a love triangle they must carefully maneuver, and dogged by the constant, nagging question: What if they had chosen differently? The possibilities of the road not taken are a relentless haunt.

In entrancing, lyrical prose, The Mothers asks whether a "what if" can be more powerful than an experience itself. If, as time passes, we must always live in servitude to the decisions of our younger selves, to the communities that have parented us, and to the decisions we make that shape our lives forever.
About the Author
---
Born and raised in Southern California, Brit Bennett graduated from Stanford University and later earned her MFA in fiction at the University of Michigan, where she won a Hopwood Award in Graduate Short Fiction as well as the 2014 Hurston/Wright Award for College Writers. Her work is featured in The New Yorker, The New York Times Magazine, The Paris Review, and Jezebel. She is one of the National Book Foundation's 2016 5 Under 35 honorees.
Praise For…
---
A New York Times bestseller, a finalist for the NBCC John Leonard First Novel Prize, a finalist for the PEN/Robert W. Bingham Prize for Debut Fiction, a finalist for the New York Public Library Young Lions Award, and named a Best Book of 2016 by NPR, Entertainment Weekly, Vogue, and others.

"Ferociously moving. . .a lush book, a book of so many secrets, betrayal. . .Despite Bennett's thrumming plot, despite the snap of her pacing, it's the always deepening complexity of her characters that provides the book's urgency. . . I found myself reading not to find out what happens to the characters, but to find out who they are." –The New York Times Book Review

"Ms. Bennett allows her characters to follow their worst impulses, and she handles provocative issues with intelligence, empathy and dark humor. Her risk-taking pays off." –The New York Times

"[A] compelling debut." –The New Yorker

"Delivers lines that you'll want to savor and read out loud — because it's a story about secrets and betrayals, and part of the pleasure is your own sighs and gasps. It's both intimate and epic in scope. . .It hums along at a brisk, emotional pace — the kind of story that feels like it's moving fast, but really, it's moving deep." –NPR

"[Bennett's] storytelling does what all truly good fiction does: it draws you in and, on a universal level, connects with you and makes you think. . .The Mothers is a thought-provoking novel that will resonate long after it is read." –USA Today

"A fantastic debut novel. . .Some novels take place as you read them, while others grow more complicated as you think back on them. Bennett has written that rare combination: a book that feels alive on the page and rich for later consideration. . .Bennett is a writer to watch." –The Washington Post

"One of the most exciting debuts of the fall." –LA Times

"Luminous. . .engrossing and poignant, this is one not to miss." –People 

"[A] striking debut. . .America needs more books like The Mothers, which quietly, but critically, deepens our appreciation of the black experience, and expands our collective understanding of what it means now to be growing up and grasping for direction and affection." –O Magazine 

"With echoes of James Baldwin's Go Tell It on the Mountain, The Mothers is not your typical coming-of-age novel: It begins with Nadia's abortion, an experience often absent from our culture's stories, and goes on to look at how women step in to nurture – and sometimes betray – one another." –Vogue

"Brit Bennett comes charging out of Oceanside, California, with her stunning debut, The Mothers, a refreshingly fast-paced story of young love, race, and religious hypocrisy." –Vanity Fair

"Bennett's hypnotic writing hooks you from the very beginning and never lets you go in this spine-tingling study of destiny." –Essence

"The Mothers isn't about the consequences of decisions, but the repercussions of keeping secrets. . .funny, generous, and brightly written." –GQ

"The Mothers is a beautifully written, sad and lingering book – an impressive debut for such a young writer." –The Guardian 

"A magical and startlingly realistic account of how powerfully our pasts can haunt us into adulthood—no matter how far we try to run from home." –Harper's Bazaar

"Gripping. . .the twenty-first century answer to Toni Morrison's Sula. . .displays the same complexity in its portrayal of a pair of girlfriends as they grow together, and then apart, in a tight-knit African American community." –Elle 

"As much as The Mothers is steeped in black culture, it's also pointedly, poignantly universal in its depiction of young love and friendship and hard choices. Maybe that qualifies as revolutionary, or maybe it's just a really good novel, one that makes all the mess and magic of being young feel both new and familiar in the best kind of way." –Entertainment Weekly

"Stunning… this heartbreaking coming of age tale takes a brutally honest look at how the decisions of our past can haunt us well into adulthood, no matter how far we try to distance ourselves." – Real Simple

"As her flawed, lovable characters make decisions they regret and deal with the consequences, Bennett unravels their tangled lives with a devastating elegance." –The Houston Chronicle

"[An] extraordinary novel, which mines human relationships so deeply and with such empathy… powerful." –The Boston Globe

"A bracing, heartfelt debut about family, motherhood and friendship, grief and healing and how all of these elements and our own shaky decisions constantly reshape our lives." –The Miami Herald

"Shows remarkable confidence, flair and wisdom." –Seattle Times  

"Don't keep this beautifully written coming-of-age story to yourself." —Newsday

"Bennett's evocation of the way her characters are haunted by their families' pasts, her depiction of unbridled, damaging passion, and her masterful orchestration of different voices are techniques reminiscent of the great Toni Morrison." –Dallas Morning News

"What [Bennett] has done is fulfill the both simple and impossibly difficult mandate of any storyteller: to create a world her readers believe in and care about and draw meaning from…Extraordinary…You should be reading it." –Brooklyn Magazine

"The book tells its biggest secret right away. But what happens after is more interesting. Think: the small-town drama of "Friday Night Lights" and the 'what ifs' of "Sliding Doors."–The Skimm

"Amid roiling arguments about privilege, appropriation, and race, the 26-year-old writer — author of essays on all of the above — has written a first novel exactly for its time." –Vulture

"A smart, insightful story about the unique ways in which women need one another, the ways only women are capable of hurting each other, and how a decision you make when you're young can ripple like a bullet through the rest of your life — whether you regret it, or not." –Refinery29 

"The sad beauty of. . .The Mothers [is that] the characters' pasts and deeper desires may be obfuscated by time. . . The Mothers brims with psychological insight and thoughtful commentary on the pain of loss and what motivates us to take actions maligned with our beliefs." –Huffington Post

"Brit Bennett is so bracingly talented on the page. . . [The Mothers is] astute and absorbing and urgent." –Jezebel

"A masterwork of modern fiction." –Fusion

"Gorgeous." –PopSugar

"Bennett's masterful first novel takes the reader on a multidimensional exploration of the things we desire and the things we settle for, what cements loyalties and what justifies betrayal." –Blavity

"Brilliant. . .poignant, yet lovely. . .The Mothers is one of those novels you truly don't want to put down." –LitHub

"Bennett illuminates [her characters'] psychologies with the same delicate sense of economy, probing for the ways that their experiences produce complex emotional states only a fraction of which are known to one another — or even to themselves." – The Millions

"Extraordinary. . .Bennett broke my heart with this novel, with her investigation of friendship, secrets, love, choice and forgiveness." –Electric Literature

"The Mothers is a quiet, beautiful text. . .As a reader, it is easy to trust where Bennett is taking you. Surrender is necessary, but with someone who can craft stories as skillfully as she can, it isn't painful." –The Rumpus

"Brit Bennett is the real thing. The Mothers is a stellar novel — moving, thoughtful. Stunning. I couldn't put it down. I'm so excited to have this brilliant new voice in the world."  –Jacqueline Woodson, National Book Award-winning author of Brown Girl Dreaming  and Another Brooklyn

"Brit Bennett's debut novel The Mothers has stayed with me since I first read it, the words and the intimacy of the prose seeping into my pores… There is a real tenderness to how Bennett tells this story and to how she writes these characters who are so richly fleshed out, so unbearably human." –Roxane Gay, author of Bad Feminist and An Untamed State

 "What haunted me the most about this novel was the way it made a presence out of absence. It gave nothingness teeth and weaponized shadows. I thought I was escaping the current political climate, but I wasn't. Part of what makes The Mothers a stunning novel is its exploration of kinship and primary bonds. Our relationship to country is as fraught as our relationship to kin." –Carrie Brownstein, author of Hunger Makes Me a Modern Girl 

"Brit Bennett's masterful debut is brimming with unforgettable scenes and the sort of keenly-observed, precise language that makes you look at your own relationships anew. Told with the wisdom of a seasoned, compassionate storyteller, The Mothers is a novel about community, friendship, grief and growth. The two women at the center of this novel are characters you will find yourself thinking about long after you've turned the last page-- they pull you in close and never let you go. Bennett is a brilliant and much-needed new voice in literature." –Angela Flournoy, author of National Book Award-finalist The Turner House

"Brit Bennett's The Mothers is a brilliant exploration of friendship, desire, inheritance, the love we seek, and the love we settle for. It is the kind of book that from its first page seduces you into knowing that the heartbreak coming will be worth it." –Danielle Evans, author of Before You Suffocate Your Own Fool Self

"Brit Bennett's The Mothers is an engaging and assured debut novel of depth, and introspective power. It succeeds as a brilliant study of a modern black woman, and as a lyrical and majestic portrait of her place in society." –Chigozie Obioma, author of The Fishermen

"Wonderful – warm and tender and necessary." –Yaa Gyasi, author of Homegoing 

"Conveys the complexities and challenges of young love with refreshing honesty and beautiful sentences. I cared about Brit Bennett's characters, and the choices they made, and couldn't stop reading this remarkable debut." –Vendela Vida, author of The Diver's Clothes Lie Empty 

"How do I start to describe The Mothers? Visceral? Riveting? Heart-wrenching? In the end this novel is all three and then some… Each line that Bennett produces cracks open with more intensity in order to ask over and over again: What if? The past and the present converge with each blossoming subplot until you begin to wonder what "mistakes" you've made in the past that changed your future, and whether or not you will have to grapple with them. The Mothers is a rollercoaster ride that picks up very quickly even while maintaining its complexity as it moves through the interwoven journeys of Brit Bennett's unforgettable characters." –Morgan Jerkins, Book of the Month