The Husband's Secret (Hardcover)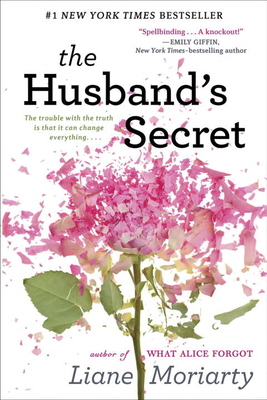 $27.00

Usually Ships in 4-7 Days
Staff Reviews
---
For anyone who has ever harbored a secret or been devastated by one, this pageturner is for you. When uber organized Cecelia finds a handwritten letter in the attic written by her wonderful husband John Paul after the birth of their first child and clearly marked not to be opened until after his death, she resists but finally must open this Pandora's box. And it's a doozy. Lives wrapped around secrets, betrayals, loves, and the ultimate sadness keep you wishing that everyone could just go back for a do-over. Slip away for the weekend and treat yourself to this one.
— Valerie
Description
---
THE #1 NEW YORK TIMES BESTSELLER FROM THE AUTHOR OF BIG LITTLE LIES.
 
One of the Best Books of the Year—Entertainment Weekly
One of the Top Ten Books of the Year—People
 
At the heart of The Husband's Secret is a letter that's not meant to be read…
 
My darling Cecilia,
If you're reading this, then I've died…
 
Imagine your husband wrote you a letter, to be opened after his death. Imagine, too, that the letter contains his deepest, darkest secret—something with the potential to destroy not only the life you built together, but the lives of others as well. And then imagine that you stumble across that letter while your husband is still very much alive…
 
Cecilia Fitzpatrick has achieved it all—she's an incredibly successful businesswoman, a pillar of her small community, and a devoted wife and mother. But that letter is about to change everything—and not just for her. There are other women who barely know Cecilia—or each other—but they, too, are about to feel the earth-shattering repercussions of her husband's secret.
 
READERS GUIDE INCLUDED
About the Author
---
Liane Moriarty is the #1 New York Times bestselling author of Nine Perfect Strangers, Three Wishes, Truly Madly Guilty, Big Little Lies, The Husband's Secret, The Hypnotist's Love Story, and What Alice Forgot. She lives in Sydney, Australia, with her husband and two children.
Praise For…
---
Praise for The Husband's Secret

"Spellbinding...A knockout!"—Emily Giffin, New York Times bestselling author
 
"The Husband's Secret is so good, you won't be able to keep it to yourself."—USA Today
 
"What a wonderful writer—smart, wise, funny."—Anne Lamott, New York Times bestselling author
 
"Brilliant."—Sophie Hannah, New York Times bestselling author
 
"Lip-smacking and sharply intelligent."—Entertainment Weekly
 
"Perfect for vacation reading: There's humor, suspense, a circle of appealing women."—People
 
"Secrets can be sinister; they can eat you alive. But they can also set you free. The Husband's Secret demonstrates this power with one of the most entertaining stories I have read in ages. Perfect for book clubs—lots to debate in these pages. I just loved it."—Dorothea Benton Frank, New York Times bestselling author
 
"Simultaneously a page-turner and a book one has to put down occasionally to think about and absorb, Moriarty's novel challenges the reader as well as her characters, but in the best possible way."—Publishers Weekly
 
"Reading groups rejoice. This meaty novel from the bestselling author will probably land on many must-read lists."—Fort Worth Star-Telegram
 
"Moriarty may be an edgier, more provocative, and bolder successor to Maeve Binchy."—Kirkus Reviews (starred review)