Defining a Nation: India on the Eve of Independence, 1945 (Reacting to the Past) (Paperback)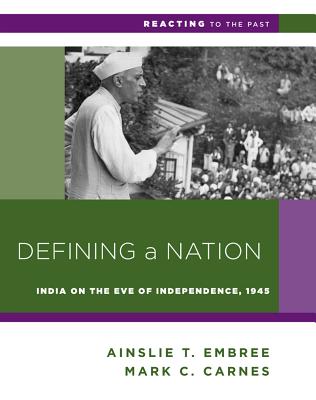 Description
---
Part of the Reacting to the Past series, Defining a Nation plunges students into India's struggle for sovereignty and identity.
Defining a Nation
is set at Simla, in the foothills of the Himalayas, where the British viceroy has invited leaders of various religious and political constituencies to work out the future of Britain's largest colony. Will the British transfer power to the Indian National Congress, which claims to speak for all Indians? Or will a separate Muslim state—Pakistan—be carved out of India to be ruled by Muslims, as the Muslim League proposes? And what will happen to the vulnerable minorities—such as the Sikhs and untouchables—or the hundreds of princely states? As British authority wanes, tensions among Hindus, Muslims, and Sikhs smolder and increasingly flare into violent riots that threaten to ignite all India. Towering above it all is the frail but formidable figure of Gandhi, whom some revere as an apostle of nonviolence and others regard as a conniving Hindu politician. Students struggle to reconcile religious identity with nation building—perhaps the most intractable and important issue of the modern world. Texts include the literature of Hindu revival (Chatterjee, Tagore, and Tilak); the Koran and the literature of Islamic nationalism (Iqbal); and the writings of Ambedkar, Nehru, Jinnah, and Gandhi.
Reacting to the Past
is a series of historical role-playing games that explore important ideas by re-creating the contexts that shaped them. Students are assigned roles, informed by classic texts, set in particular moments of intellectual and social ferment.
An award-winning active-learning pedagogy,
Reacting to the Past
improves speaking, writing, and leadership skills, promotes engagement with classic texts and history, and builds learning communities.
Reacting
can be used across the curriculum, from the first-year general education class to "capstone" experiences. A
Reacting
game can also function as the discussion component of lecture classes, or it can be enlisted for intersession courses, honors programs, and other specialized curricular purposes.
About the Author
---
Ainslie T. Embree is professor of history emeritus at Columbia University and former president of the American Institute of Asian Studies and of the Association of Asian Studies. He also served as Counselor for Cultural Affairs at the American Embassy in Delhi. His books include India's Search for National Identity, Imagining India, and Utopias in Conflict: Religion and Nationalism in India. He was also editor-in-chief of the Encyclopedia of Asian History.

Mark C. Carnes is professor of history at Barnard College and creator of Reacting to the Past. He is the author of many books in American history and general editor of the 26-volume American National Biography, published by the ACLS and Oxford University Press.
Praise For…
---
Reacting to the Past is the most absorbing and engaging teaching I have ever done. . . . Students engage each other with a passion I have rarely seen in a classroom.

— Elizabeth Robertson, Drake University

Combines the student instinct for competitive gaming with the academic values of critical thinking and persuasive speaking.
— Craig Caldwell, Appalachian State University

It is one of the best ways I know of engaging students in great books and significant moments in history.
— Larry Carver, University of Texas at Austin