The Doctors Blackwell: How Two Pioneering Sisters Brought Medicine to Women and Women to Medicine (Hardcover)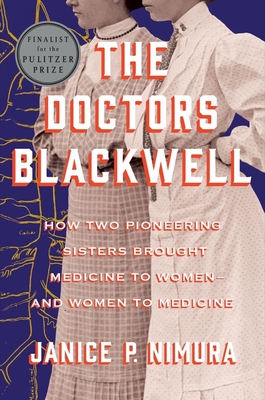 Staff Reviews
---
This is a fascinating story of a pair of idealistic and determined sisters who led the way to opening up the medical profession to women. Up through the end of the 19th century (and beyond), Americans and Europeans considered the only acceptable health care work for women to be nursing and midwifery. In the 1840s and 1950s a few women set out to change this thinking. One of nine children in a family who immigrated to the U.S., Elizabeth was rejected numerous times from medical schools before finally gaining admission at a small school in upstate New York. Both she and her younger sister Emily, who followed Elizabeth's lead, graduated with M.D. degrees at the top of their classes, and won enough respect from the male medical establishment to open their own dispensary first, then a hospital, and finally a medical school, but only for women. All of the Blackwells were prolific letter writers and journal keepers, so this biographer's task was considerably enhanced by the availability of her subjects' words as she tells their unusual story.
— Alice
Description
---
New York Times Bestseller



"Janice P. Nimura has resurrected Elizabeth and Emily Blackwell in all their feisty, thrilling, trailblazing splendor." —Stacy Schiff
Elizabeth Blackwell believed from an early age that she was destined for a mission beyond the scope of "ordinary" womanhood. Though the world at first recoiled at the notion of a woman studying medicine, her intelligence and intensity ultimately won her the acceptance of the male medical establishment. In 1849, she became the first woman in America to receive an M.D. She was soon joined in her iconic achievement by her younger sister, Emily, who was actually the more brilliant physician.
Exploring the sisters' allies, enemies, and enduring partnership, Janice P. Nimura presents a story of trial and triumph. Together, the Blackwells founded the New York Infirmary for Indigent Women and Children, the first hospital staffed entirely by women. Both sisters were tenacious and visionary, but their convictions did not always align with the emergence of women's rights—or with each other. From Bristol, Paris, and Edinburgh to the rising cities of antebellum America, this richly researched new biography celebrates two complicated pioneers who exploded the limits of possibility for women in medicine. As Elizabeth herself predicted, "a hundred years hence, women will not be what they are now."
About the Author
---
Janice P. Nimura is the winner of a 2017 Public Scholar award from the National Endowment for the Humanities and the author of Daughters of the Samurai: A Journey from East to West and Back, a New York Times Notable Book. She lives in New York City.
Praise For…
---
Nimura writes fluidly, and her book is an engaging and meticulously documented guide not only to the sisters' lives but also to the medical practices of their time. We hear about obsolete medical treatments (intravaginal leeches), student ingenuity (stuffing medical textbooks under clothes to avoid paying taxes) and New York trivia (the Blackwell's infirmary on Bleecker Street was a former Roosevelt residence). But the greater part of Nimura's achievement lies in how she brings new life to the story of two extraordinary and idiosyncratic physicians who forever changed the medical profession.
— Danielle Ofri - American Scholar

This nonfiction story of the first hospital staffed entirely by women could not be more timely.
— Seija Rankin - Entertainment Weekly

A riveting dual biography of America's first female physicians...A compellingly portrayed and vividly realized biography of triumph and trailblazing.
— Kirkus (starred review)

Janice P. Nimura has gifted us with more than a splendid history of the Blackwell sisters. Gripping, vividly written, and moving, it is also a surprisingly timely history of the misogynist, limited, still evolving Anglo-American medical profession.
— Blanche Wiesen Cook, author of Eleanor Roosevelt: Volumes 1–3

Nimura shocks and enthralls with her blunt, vivid storytelling. She draws on the writings of Elizabeth and Emily in an intimate way that makes it feel like she knew the sisters personally. Alongside glaring descriptions of culturally ingrained sexism and discrimination, the biography also touches on how our standards of medicine have changed over the decades, showing how even the most scientific of professions are subject to major culture shifts.
— Jennifer Walter - Discover Magazine

Ms. Nimura's portrait of the Blackwells' America blazes with hallucinatory energy. It's a rough-hewn, gaudy, carnival-barking America, with only the thinnest veneer of gentility overlaying cruelty and a simmering violence. It's an America yearning for relief from disease, besotted with séances and spiritualism, quack cures and phrenology; a deeply divided America, with bloody fissures between rich and poor, North and South, city and countryside.
— Donna Rifkind - Wall Street Journal

The Doctors Blackwell should be required reading in all medical schools, indeed for anyone who has ever consulted a doctor. This rousing story of two brilliant and determined nineteenth-century sisters is also a history of American medicine—how it was practiced and by whom. That the Blackwells arrived in the United States during a cholera epidemic and made it their mission to provide medical care to the underserved, while also promoting the twin causes of women's rights and abolition, brings this narrative hurtling into the twenty-first century, demanding our attention today.

— Megan Marshall, Pulitzer Prize–winning author of Margaret Fuller: A New American Life

A captivating biography...In recounting the lives of two ambitious figures who opened doors for many who came after them, Nimura casts a thoughtful and revelatory new light onto women's and medical history.
— Publisher's Weekly (starred review)

All doctors and all patients owe a debt to these eccentric, determined, brilliant characters, Elizabeth and Emily Blackwell, who found their way across the strange and bloody landscape of nineteenth-century medicine and transformed it forever, all brilliantly conjured in Janice P. Nimura's wonderful book.
— Perri Klass, author of A Good Time to Be Born

Even if you know who Elizabeth Blackwell is — the first woman to receive an MD in the United States — you may not know her sister Emily's name. Nimura (Daughters of the Samurai) examines Emily Blackwell's brilliance, and how the sisters' achievements and (at times contentious) partnership changed the landscape of American medicine for good.

— Bethanne Patrick - Washington Post

The Blackwell sisters took on the medical establishment and won. They are heroines, not just of their time, but for every age. Their incredible story has been crying out to be told, and in Janice P. Nimura they have the ideal biographer. The Blackwells live and triumph again.
— Amanda Foreman, author of A World on Fire

With the fiercely intelligent, prickly sisters at the center, Nimura's engrossing and enlightening group biography is highly recommended.
— Sara Jorgensen - Booklist (starred review)

Nimura has done extensive research on her subjects, using archives, letters, contemporary writings, and secondary materials to bring their stories to life... This book is an excellent read for those interested in the history of medicine and those who enjoy a well-written biography.
— Library Journal (starred review)