Shadowlands: A Journey Through Britain's Lost Cities and Vanished Villages (Hardcover)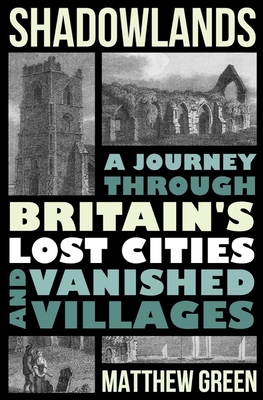 $27.95

Usually Ships in 4-7 Days
Staff Reviews
---
Historian Matthew Green has written a documentary of his research into several towns that are in ruins or that have vanished completely in Great Britain: one town that fell off a cliff, into the sea, one that was apparently vacated by the plague, another that was evacuated for military reasons then abandoned, and several others. As he plods on foot over many miles, he gives a running and highly entertaining narrative of the natural and political histories of the areas where the remains of the towns are located. Reading this is like watching a PBS documentary, his descriptions are good enough to transport you to the towns, to imagine the people who lived in them, and to get a really good sense of the passage of time and how the earth has changed over the centuries. Recommended to history buffs especially those interested in ancient and medieval history.
— Alice
Description
---
One of Literary Hub's Most Anticipated Books of 2022



A "brilliant London historian" (BBC Radio) tells the story of Britain as never before—through its abandoned villages and towns.
Drowned. Buried by sand. Decimated by plague. Plunged off a cliff. This is the extraordinary tale of Britain's eerie and remarkable ghost towns and villages; shadowlands that once hummed with life. Peering through the cracks of history, we find Dunwich, a medieval city plunged off a cliff by sea storms; the abandoned village of Wharram Percy, wiped out by the Black Death; the lost city of Trellech unearthed by moles in 2002; and a Norfolk village zombified by the military and turned into a Nazi, Soviet, and Afghan village for training.
Matthew Green, a British historian and broadcaster, tells the astonishing tales of the rise and demise of these places, animating the people who lived, worked, dreamed, and died there. Traveling across Britain to explore their haunting and often-beautiful remains, Green transports the reader to these lost towns and cities as they teeter on the brink of oblivion, vividly capturing the sounds of the sea clawing away row upon row of houses, the taste of medieval wine, or the sights of puffin hunting on the tallest cliffs in the country. We experience them in their prime, look on at their destruction, and revisit their lingering remains as they are mourned by evictees and reimagined by artists, writers, and mavericks.
A stunning and original excavation of Britain's untold history, Shadowlands gives us a truer sense of the progress and ravages of time, in a moment when many of our own settlements are threatened as never before.
About the Author
---
Matthew Green is a historian and broadcaster with a doctorate from the University of Oxford. He writes for national newspapers, has appeared in many television documentaries, and is the author of London: A Travel Guide Through Time. He lives in London.
Praise For…
---
Beguiling…Shadowlands is not just a travelogue of scenic obsolescence. En route, the book offers us a gripping overview of humankind's seemingly unstoppable evolution from primitive but harmless nomad to the rapacious bureaucrat in charge of civic planning in your neighborhood today.

— Elizabeth Lowry - Wall Street Journal

[Green] visits eight ruined British settlements…[S]uch lost places are not mere historical curios…they provide cautionary tales about sustainability.
— New Yorker

If you told me that British historian Matthew Green was some kind of delightful English Calvino who'd conjured up an odd fictional encyclopedia of disappeared cities, lost towns, and ghostly villages, I'd still want to read this book…[I]t is worth spending a little time with history's stark examples of time's dominion over us all.
— Jonny Diamond - Literary Hub

Through these slices of British history, Green has woven a moving exploration of impermanence, memory, and the hypnotic allure of the past.
— Sara Shreve - Library Journal (starred review)

Full of evocative imagery and fascinating lore, this vibrant account eulogizes the past and issues a stark warning for the future.
— Publishers Weekly

Shadowlands is so well researched, beautifully written, and packed with interesting detail. Matthew Green is both historian and prophet, offering a warning we need to pay attention to.… Alarming and valuable.

— Claire Tomalin, author of Charles Dickens: A Life

Superb. A beautifully written atlas of Ghost Britain, a summoning of places lost to memory, and a deft excavation of the void underlying myths of national identity.
— William Atkins, author of The Immeasurable World

A haunting, lyrical tour around the lost places of Britain.
— Charlotte Higgins, author of Under Another Sky

An exquisitely written, moving, and elegiac exploration of the dead ends and lost causes of history—a book to savor and cherish.
— Suzannah Lipscomb, author of The King Is Dead: The Last Will and Testament of Henry VIII

A beautiful book, truly original. Shadowlands is poetic history written with great literary flair, inqusitiveness, soul-searching and humanity…It is a marvelous achievement.

— Ian Mortimer, author of The Time Traveller's Guide to Medieval England

A haunting work of resurrection, stinging in a perpetual present. Shamanic consciousness for the borderlands of memory.
— Iain Sinclair, author of The Last London