The Wok: Recipes and Techniques (Hardcover)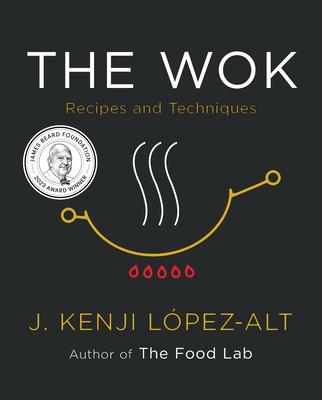 Staff Reviews
---
One of our most favored cookbooks has been Food Lab by the respected (revered) Kenji. (We go by first names because we all know him, or at least feel like we do.) The Wok is his latest, and it joins the ranks on Greg's shelf of favorite cookbooks. As he writes in his book, a good wok should be able to handle almost everything. The recipes and advice make this an invaluable resource for the cook who likes inspiration. You may not follow each recipe precisely, but you will come to understand the science and thought behind it. This is one to read while thinking about what to cook next and why.
— Valerie
Description
---
#1 New York Times Bestseller • #1 Washington Post Bestseller • One of Time's 10 Most Anticipated Cookbooks of 2022 • One of Bon Appetit's Best Cookbooks of 2022



From J. Kenji López-Alt, the author of the best-selling cookbook The Food Lab: the definitive guide to the science and technique of cooking in a wok.
J. Kenji López-Alt's debut cookbook, The Food Lab, revolutionized home cooking, selling more than half a million copies with its science-based approach to everyday foods. And for fast, fresh cooking for his family, there's one pan López-Alt reaches for more than any other: the wok.
Whether stir-frying, deep frying, steaming, simmering, or braising, the wok is the most versatile pan in the kitchen. Once you master the basics—the mechanics of a stir-fry, and how to get smoky wok hei at home—you're ready to cook home-style and restaurant-style dishes from across Asia and the United States, including Kung Pao Chicken, Pad Thai, and San Francisco–Style Garlic Noodles. López-Alt also breaks down the science behind beloved Beef Chow Fun, fried rice, dumplings, tempura vegetables or seafood, and dashi-simmered dishes.
Featuring more than 200 recipes—including simple no-cook sides—explanations of knife skills and how to stock a pantry, and more than 1,000 color photographs, The Wok provides endless ideas for brightening up dinner.
About the Author
---
J. Kenji López-Alt is a chef, parent, and New York Times best-selling author of The Food Lab and Every Night Is Pizza Night. He is a wildly popular New York Times food columnist; the chief culinary advisor for Serious Eats; and the host of Kenji's Cooking Show, which has more than a million subscribers on YouTube. He lives in Seattle, Washington.
Praise For…
---
The Wok offers a new approach to mastery of this ancient and venerated culinary workhorse. López-Alt's groundbreaking kitchen science is an unprecedented contribution to our understanding of wok cooking. This book will inspire a new generation of home cooks to embrace the wok.

— Grace Young, author of Stir-Frying to the Sky's Edge and The Breath of a Wok

As a chef, father and scientist, Kenji teaches from multiple perspectives, always prioritizing the pursuit of deliciousness. The Wok showcases the techniques of wok cooking and Kenji sprinkles in his contemporary ingenuities throughout the recipes. Do yourself a favor, get this book, get a great wok and start adding wok cooking to your repertoire.

— Brandon Jew, author of Mister Jiu's in Chinatown

Comprehensive and well-researched. Few but Kenji can effortlessly navigate from authentic Sichuan cooking, to American-Chinese takeout, to Thai curries, to Bacon and Cheese Congee.
— Christopher Thomas and Stephanie Li, creators of Chinese Cooking Demystified

A great compendium of science and culinary techniques, written with Kenji's characteristic curiosity and verve, that addresses the hows and whys of cooking with a wok, from stir-frying to steaming and smoking. The wealth of information, systematic recipes and plentiful photographs make this both a fascinating read and an invaluable kitchen tool.
— Fuchsia Dunlop, author of The Food of Sichuan, Land of Fish and Rice, and Every Grain of Rice

We should all be thanking Kenji for this book, his recipes, and the education on the greatness of wok cookery. This is not just an amazing book about how to make delicious food with a wok, Kenji has written one of the best cookbooks of all time. No hyperbole!
— David Chang, restaurateur, author, and host of "Ugly Delicious"

You've probably heard that the wok is the most versatile pan in any kitchen. Well, in classic Kenji fashion, The Wok shows not just the hows and whys of wok cooking, but why you want the wok to be your favorite pan even if, like me, you've got just a regular-old apartment stove. I'm going to be cooking from, learning from, and being inspired by this book for a long, long time.

— Francis Lam, cookbook editor, author, and host of The Splendid Table

Kenji is a perfect blend of scientist, scholar and chef. The Wok has clear explanations on which wok to buy and its care, succinct staples to stock your pantry, easy-to-follow wok techniques and the most beautiful, achievable and tasty recipes. If you ever wanted to learn how to use the best pan in the world, The Wok is the definitive tome on wok cooking, period.

— Ming Tsai, restaurateur, author, and creator of Simply Ming

For people who find wok cooking intimidating or mysterious, this book will answer all of the questions you had, and didn't know you had, all in the typical Kenji fashion of full-on food nerdery. You can follow the recipes, or use the new knowledge you'll learn as a guide for your own stir-frying adventure. If a culinary deep-dive is your thing, you will lose yourself in this book.
— Pailin Chongchitnant, chef, author, host, and creator of Hot Thai Kitchen

With captivating writing and humor as a loom, Kenji weaves the threads of science, culinary art, cultural knowledge, and his discerning taste in food into one seamless tapestry of a book—exquisite and practical. I can't think of anyone else who can pull this off.
— Leela Punyarathabandhu, author of Simple Thai Food, Bangkok, and Flavors of the Southeast Asian Grill

Thank you, Kenji, for giving us not just great recipes, but the hows and whys of wok cooking in this new book. Anyone—no matter if they're an old hand or brand new at the wok—will gain a deeper understanding and appreciation of it. I know I did. So deliciously.
— Pim Techamuanvivit, chef, author, and creator of Chez Pim

I've known Kenji as an incredibly talented and multifaceted cook who provides well-researched and tested recommendations that I could always trust and incorporate into my cooking. He's also approachable, funny, and passionate, which shines through in the knowledge he shares with others. In The Wok, you will thoroughly enjoy learning everything you need to know about this most versatile pan and how to best use it in your home cooking.

— Namiko H Chen, author and creator of Just One Cookbook

In this masterful book lies the answers to just about any question you could ask about one of the most ubiquitous useful and yet misunderstood tools of the Asian kitchen. My wok is used so frequently it never leaves the stove, but Kenji's scientific approach will benefit beginners and professionals alike.
— Adam Liaw, author and host of Destination Flavor

Kenji has taken on the Herculean task of bringing together techniques and recipes that highlight the versatility of the most important tool in our kitchen: the wok. And he's done it all with his signature ability to translate scientific analysis and thoughtful research into easy-to-follow recipes for the home cook—plus a few choice wok puns!
— Bill, Judy, Sarah and Kaitlin Leung, creators of The Woks of Life

In The Wok, Kenji starts with the basics and goes on to detail all the science and techniques necessary for this versatile pan. The wok is an essential tool in the kitchens of virtually all Asian restaurants. While it took me many years of grueling hard work in professional kitchens to really learn it, in The Wok, you are graciously given all the knowledge you need to master it at home.

— Hooni Kim, chef and author of My Korea

There are chefs and there are super chefs. Kenji is a super chef, his knowledge of food and how it's cooked is unparalleled. I remember being a young cook, I would spend my days off reading a lot his culinary findings and practicing his techniques. Never once has he failed me. Knowing that he's now solved all thing cooked in a wok, I'm sure the level of wok cookery will be elevated in homes across the globe. Kenji's culinary authority is next level, I've been fortunate to watch his genius in action and I'm proud to be is friend. Enjoy this book and everything this man says because we are witnessing culinary greatness.
— Alvin Cailan, chef, author, and host of The Burger Show

I have been a fan of Kenji Lopez-Alt and his recipes since his time on Serious Eats. His recipes expertly highlight the details of each dish as well as their history. The Wok I believe goes beyond the recipes, which are amazing, into teaching techniques that chefs/home cooks can apply beyond this book. His detail about selecting the right wok, how to treat the wok, will give readers a new appreciation for just how versatile this one piece of kitchen equipment is and why everyone should have one in their home. This is a must have book for cooks of every level. 

— Leah Cohen, author of Lemongrass and Lime

For a while I wanted to cook everything in my beloved wok, and the 200 recipes in López-Alt's book made that easy… [The Wok] taught me tricks and techniques that I will use for years to come, long after I've moved on to other books.

— Jennifer Reese - New York Times Book Review

An invaluable guide to using one of the most versatile stovetop implements in the world
— New York Times Cooking

The intricacies of wok culture are brilliantly explored in this definitive offering from chef and New York Times cooking columnist López-Alt... Readers will be cooking with gas thanks to this fiery and insightful work.

— Publishers Weekly (starred review)

J. Kenji López-Alt's new book, The Wok, is so expansive, so compendious, and so obsessively detailed (and I mean that in a good way) that it is frankly impossible to give a full enough account of it without running a review of several thousand words!

— Nigella Lawson

The Wok is this year's biggest cookbook release...Lopez-Alt makes a compelling case that the wok is a versatile vessel that deserves prime real estate on your stove top…Seattle has never had a food celebrity on the scale of Lopez-Alt.

— Tan Vinh - Seattle Times

Lopez-Alt keeps things accessible and humorous...An essential guide for all those who own a wok or wish to give one a try.
— Nataya Culler - Booklist

Lopez-Alt is an essential addition to any cookbook collection, providing both insights and inspiration for cooking.
— Rebecca Brody - Library Journal

[ is] a codex, a bible, a master's program in how to stir-fry, pan-fry, deep-fry, cook rice and noodles, simmer and braise, and properly maintain what he rightfully calls 'the most versatile pan in your kitchen.' And yes, recipes abound, from complex dishes to condiments and pickles that will become an essential part of your pantry. This one's a keeper.
— Food & Wine

For any modern gourmand worth their weight in cookbooks, the name Kenji is a familiar one.
— Leah Bhabha - Vogue

In The Wok, [Lopez-Alt] employs the expertise he's acquired over the years by applying the scientific method to the art of cooking. The end goal is to create a delicious meal with wok hei, what the Cantonese call 'The Breath of the Wok'…With Lopez-Alt's guidance, that's within reach of any cook.

— Fine Cooking Magazine

Lopez-Alt is the ultimate teacher...The Wok is a goldmine.

— Alex Beggs - Bon Appetit