Random Acts of Medicine: The Hidden Forces That Sway Doctors, Impact Patients, and Shape Our Health (Hardcover)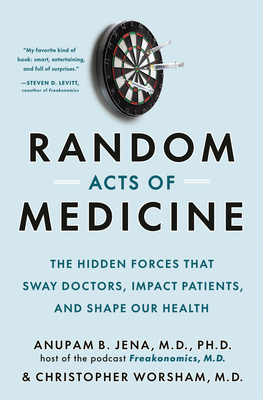 $30.00

Usually Ships in 4-7 Days
Staff Reviews
---
An informational and thought-provoking look into the data collected in various studies that help explain why certain groups/individuals are more likely to catch the flu, the chances of surviving a heart attack during annual heart conferences, and much more.
— Ayah
Description
---
Does timing, circumstance, or luck impact your health care? This groundbreaking book reveals the hidden side of medicine and how unexpected—but predictable—events can profoundly affect our health. • Is there ever a good time to have a heart attack? Why do kids born in the summer get diagnosed more often with A.D.H.D.? How are marathons harmful for your health, even when you're not running?

"Fantastically entertaining and deeply thought-provoking." —Emily Oster, New York Times bestselling author of The Family Firm, Cribsheet, and Expecting Better

"Random Acts of Medicine shows that the ingenious use of natural experiments can improve medicine and save lives." —Wall Street Journal

As a University of Chicago–trained economist and Harvard medical school professor and doctor, Anupam Jena is uniquely equipped to answer these questions. And as a critical care doctor at Massachusetts General who researches health care policy, Christopher Worsham confronts their impact on the hospital's sickest patients. In this singular work of science and medicine, Jena and Worsham show us how medicine really works, and its effect on all of us.

Relying on ingeniously devised natural experiments—random events that unknowingly turn us into experimental subjects—Jena and Worsham do more than offer readers colorful stories. They help us see the way our health is shaped by forces invisible to the untrained eye. Is there ever a good time to have a heart attack? Do you choose the veteran doctor or the rookie?  Do you really need the surgery your doctor recommends? These questions are rife with significance; their impact can be life changing. Addressing them in a style that's both animated and enlightening, Random Acts of Medicine empowers you to see past the white coat and find out what really makes medicine work—and how it could work better.
About the Author
---
ANUPAM B. JENA, MD, PhD, is an economist, physician, and the Joseph P. Newhouse Professor at Harvard. Jena hosts the Freakonomics, MD podcast, which explores the hidden side of health care. CHRISTOPHER M. WORSHAM, MD, MPH, is a researcher, pulmonologist, and critical care physician at Harvard. Jena and Worsham practice medicine at Massachusetts General Hospital. Their research and writing have been published by the New England Journal of Medicine, JAMA, New York Times, Wall Street Journal, and Washington Post.
Praise For…
---
"Random Acts of Medicine is my favorite kind of book: smart, entertaining, and full of surprises. The field of medicine has been slow to appreciate the immense power of natural experiments. Jena and Worsham are on a crusade to change that. Read this book, and you'll be a believer."
—Steven D. Levitt, #1 New York Times bestselling co-author of Freakonomics

"What a brilliant book! Random Acts of Medicine is science, but it is much more than that. It offers a set of profound lessons about learning, life, and health."
 —Cass R. Sunstein, New York Times bestselling co-author of Nudge and Noise

"Jena and Worsham are the Freakonomicists of the medical realm... [They] are serious researchers who skillfully navigate the world of medicine and natural experiments.  Random Acts of Medicine follows the successful formula of popular-science authors like Malcolm Gladwell, Stephen Dubner and Steven Levitt, and Emily Oster, combining relatable human stories, statistical exploration and scientific explanations. But don't be fooled by the fun read; Random Acts of Medicine shows that the ingenious use of natural experiments can improve medicine and save lives."
—Wall Street Journal

"It is a rare book that manages to be both fantastically entertaining and deeply thought-provoking. This is such a book."
—Emily Oster, New York Times bestselling author of The Family Firm, Cribsheet, and Expecting Better

"Random Acts of Medicine accomplishes the rare feat of delivering important science in page-turning fashion. There's something fascinating on every page. You'll never think about healthcare quite the same way again." 
—David Epstein, New York Times bestselling author of Range and The Sports Gene

"This is a wonderful book for anyone with a curious mind.  Random Acts of Medicine will dazzle you as it reveals ingenious ways that data sleuths have answered questions that can improve your health and health care.  Stimulating, creative, and smart, this book is a treasure."
—Katy Milkman, bestselling author of How to Change

"A charming and informative look at the role of randomness in patients' and doctors' lives—and how natural experiments can turn this randomness into fascinating insights."
—Joshua Angrist, winner of the 2021 Nobel Prize in economics
 
"Revealing… Though their tone is occasionally lighthearted, [Jena] and Worsham repeatedly drive home a serious point: The American health care system is failing to deliver optimal care, often due to the unquestioned assumptions and inherent biases of its providers. If this provocative book can spark conversations about how to examine these persistent problems with fresh eyes, its authors have accomplished something truly important."
—BookPage

"Ingenious. . . [Full of] intriguing and surprising facts and trends. . . A well-documented, unnerving, fascinating study for anyone adrift in the American health care system."
—Kirkus Reviews (starred review)