Kiss Me in the Coral Lounge: Intimate Confessions from a Happy Marriage (Hardcover)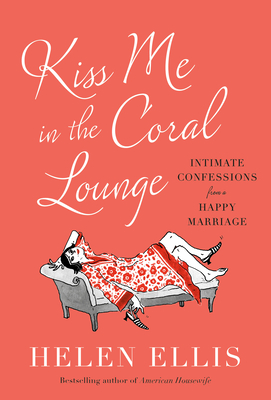 Staff Reviews
---
Classic Helen Ellis humor in her new book of essays covering some of the more hilarious moments from her marriage, from its beginnings through its flourishing during the pandemic lockdowns, where she and her husband painted their TV room a bright coral and declared it the Coral Lounge. Laugh-out-loud funny and not to be missed! Personal favorites: the (hilariously long) email to the cat-sitter and "Woman under the Influence of Joan Collins' Dynasty."
— Aerie
Description
---
Even twenty years into marriage, Helen Ellis's husband still makes her heart pitter patter. The New York Times bestselling author paints a portrait of true romance for our times in these surprising, sexy, and hilariously frank essays about love, marriage, and her last first kiss.

"Ellis is one of our greatest living humorists, in the same league as Sedaris and Irby...A fascinating portrait of middle-aged love." —Ann Napolitano, New York Times bestselling author of Dear Edward

Welcome to the Coral Lounge, a room in Helen Ellis's New York City apartment painted such an exuberant shade that a Peeping Tom left a sticky note asking for the color. It is in the Coral Lounge where all the parties happen: A game called "What's in the box?" makes its uproarious debut, the Puzzle Posse pounces on a 500-piece jigsaw of a beheaded priest, and guests don blindfolds for a raucous bridal shower.

When the pandemic shuts down the city, the Coral Lounge becomes a place of refuge, where Helen and her husband binge-watch Joan Collins's Dynasty, dote on two spoiled cats, and where Helen discovers that even twenty years into marriage, her husband still makes her heart pitter patter.
About the Author
---
HELEN ELLIS is the author of Bring Your Baggage and Don't Pack Light, Southern Lady Code, American Housewife and Eating the Cheshire Cat. Raised in Alabama, she lives with her husband in New York City. She is a poker player and a plant lady. You can find her on Twitter @WhatIDoAllDay and Instagram @HelenEllisAuthor.
Praise For…
---
"Now this is something new: open, honest, funny essays from a wife who is still in love with her husband after 20 years of marriage. (Yes, it's possible.)...But don't worry: She is hilarious, not sanctimonious about it! These essays are Ellis at her writerly best."
—Zibby Owens, Good Morning America

"Whether it's instructions for the pet sitter, a report on the joys of Viagra, or a deep dive into spousal snoring, Ellis has made herself, her Mr., and their two cats into irresistible characters. Their domestic adventures have a timeless quality that makes them not only funny but somehow soothing—and even more so when read with a background of ticking sprinklers."
—Oprah Daily

"Few writers delight me like Helen Ellis does… She turns her gimlet eye on marriage. When reading her essays… I inevitably end up texting my best friends the lines that make me literally LOL."
—CJ Lotz, Garden and Gun

"Ellis is one of our greatest living humorists, in the same league as Sedaris and Irby, and Kiss Me in the Coral Lounge is her best book. These hilarious and poignant essays are a  fascinating portrait of middle-aged love, and I can't recommend it highly enough."
—Ann Napolitano, New York Times bestselling author of Dear Edward

"Helen Ellis may live in New York City now, but her Southern bona fides hold true… She displays the gift for gab and superior storytelling skills… Epic tales of hilarity involving a colorful cast of family and friends."
—Atlanta Journal Constitution

"Helen Ellis' collection of humorous essays, Kiss Me in the Coral Lounge, celebrates life with her loving husband as they navigate the COVID-19 lockdown in New York City. The hilarious essay "An Email To Our Cat Sitter" is worth the price of the book alone. Give this one to your favorite couple celebrating an anniversary."
—AuburnPub.com
 
"Helen Ellis is back with a funny and unabashedly romantic collection of essays about love, marriage and her last first kiss. The Coral Lounge is a room in Ellis's New York City apartment where all the parties happen. When the pandemic shuts down the city, the Coral Lounge becomes a place of refuge, where Helen and her husband binge-watch TV shows, dote on their cats and where Ellis discovers that even twenty years into marriage, her husband still makes her heart pitter patter. In these surprising, sexy and hilariously frank essays she explains why."
—PureWow