The Frozen River: A Novel (Hardcover)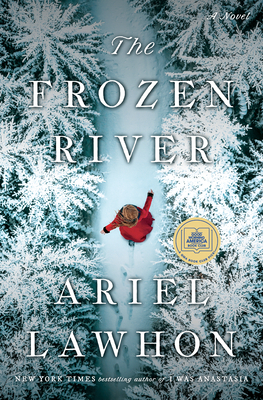 $28.00

Usually Ships in 4-7 Days
Staff Reviews
---
Set in Hallowell, Maine in 1789, the story follows midwife Martha Ballard. A local woman has accused 2 men of raping her and has brought charges against them, when one of the men is found frozen in the river. The story follows Martha through the investigation and trial, as she deals with the harsh reality of being a woman during that period of time and attempts to get to the truth of what happened. Based on the true story of Martha Ballard, a midwife who delivered over one thousand babies, kept a daily diary for 27 years and preserved a snapshot of medical history that should have been lost forever. Every character in the book is real, although the events around them were altered to condense the timeline and for narrative clarity. An excellent and gripping read.
— Aerie
December 2023 Indie Next List
---
"Based on the life of Martha Ballard, an 18th-century midwife in Maine, The Frozen River is mesmerizing. Martha is brilliant and strong in a period when women were lucky to read. Throw in a murder mystery with vivid characters? Heaven."
— Mary Hembree, House of Books, Kent, CT
Description
---
GMA BOOK CLUB PICK • AN NPR BOOK OF THE YEAR • From the New York Times bestselling author of I Was Anastasia and Code Name Hélène comes a gripping historical mystery inspired by the life and diary of Martha Ballard, a renowned 18th-century midwife who defied the legal system and wrote herself into American history.

"Fans of Outlander's Claire Fraser will enjoy Lawhon's Martha, who is brave and outspoken when it comes to protecting the innocent. . . impressive."—The Washington Post

"Once again, Lawhon works storytelling magic with a real-life heroine." —People Magazine

Maine, 1789: When the Kennebec River freezes, entombing a man in the ice, Martha Ballard is summoned to examine the body and determine cause of death. As a midwife and healer, she is privy to much of what goes on behind closed doors in Hallowell. Her diary is a record of every birth and death, crime and debacle that unfolds in the close-knit community. Months earlier, Martha documented the details of an alleged rape committed by two of the town's most respected gentlemen—one of whom has now been found dead in the ice. But when a local physician undermines her conclusion, declaring the death to be an accident, Martha is forced to investigate the shocking murder on her own.

Over the course of one winter, as the trial nears, and whispers and prejudices mount, Martha doggedly pursues the truth. Her diary soon lands at the center of the scandal, implicating those she loves, and compelling Martha to decide where her own loyalties lie.

Clever, layered, and subversive, Ariel Lawhon's newest offering introduces an unsung heroine who refused to accept anything less than justice at a time when women were considered best seen and not heard. The Frozen River is a thrilling, tense, and tender story about a remarkable woman who left an unparalleled legacy yet remains nearly forgotten to this day.
About the Author
---
ARIEL LAWHON is a critically acclaimed, New York Times bestselling author of historical fiction. Her books have been translated in numerous languages and have been Library Reads, One Book One County, Indie Next, Costco, Amazon Spotlight, and Book of the Month Club selections. She lives in the rolling hills outside Nashville, Tennessee, with her husband and four sons. Ariel splits her time between the grocery store and the baseball field.
Praise For…
---
An NPR Best Book of 2023

"The narrator of Ariel Lawhon's The Frozen River is another stalwart heroine. . .detailed descriptions of the routines of village life give this narrative its intimate sense of connection — and set [the narrator] up for a pivotal confrontation." –-The New York Times Book Review

"Fans of 'Outlander's' Claire Fraser will enjoy Lawhon's Martha, who is brave and outspoken when it comes to protecting the innocent. . . impressive."
--The Washington Post

"Compelling . . .a most uncozy mystery that addresses the unbalanced power dynamics of men and women, rich and poor." --NPR, Weekend Edition

"Martha Ballard is not just a Maine midwife who's never lost a patient. She's also a truth speaker and a justice seeker in an era when women can't even testify in court. . .Once again, Lawhon works storytelling magic with a real-life heroine." --People Magazine, Book of the Week

"Part murder mystery, part historical fiction . . . this novel has a gothic, wintry feel that makes it an ideal fireside read."
--Real Simple

"A richly satisfying drama . . . A vivid, exciting page-turner from one of our most interesting authors of historical fiction."
--Kirkus, starred review

"Outstanding. . . Martha is an extraordinary character. . . Lawhon's first-rate tale should entrance readers passionate about early America and women's history."
--Booklist, starred review

"Atmospheric, unique and elegantly written, The Frozen River will satisfy mystery lovers and historical fiction enthusiasts alike."
--BookPage, starred review

"The stirring story of one woman's quest for justice. . . Lawhon combines modern prose with the immediacy of her source material, making for an accessible and textured narrative. This accomplished historical powerfully speaks to centuries-old inequities that remain in the present day."
--Publishers Weekly

"A thoroughly engaging, rich story with a murder mystery; secrets, gossip, and hypocrisy; a corrupt judge; a tightly knit community of villagers; women at the mercy of a patriarchal society; and the early stages of a developing justice system following the Revolutionary War. . . Turn the last page, and you will want more of this world she has created."
--Historical Novel Society

"The Frozen River is so vivid, so textured and multilayered, that I felt I'd opened a door and entered post-revolutionary America, walking beside Lawhon's compelling characters in a time and place riven by hardship, disease, and misogyny, but also intense love and searing natural beauty. This novel was unlike anything I'd read before, and it left me awe-struck."
--Lauren Belfer, New York Times bestselling author of City of Light and Ashton Hall

Praise for Code Name Helene
 
"A compulsively readable account of a little-known yet extraordinary historical figure—Lawhon's best book to date." —Kirkus, starred review
 
"Magnificent. . . Lawhon carries us into the heart of the French resistance [and] into the mind of a badass heroine with uncanny instincts who takes on the Nazis and men's arrogant sexism with uncommon bravado. . . Even long after the last page is turned, this astonishing story of Wake's accomplishments will hold readers in its grip." —Booklist, starred review

"Readers will be transfixed by the story of a woman who should be a household name." —Library Journal, starred review
 
Praise for I Was Anastasia

"Effortless, eloquent prose transports the reader via a dramatic, suspenseful and satisfying work of historical fiction." —USA Today
 
"Told with masterful intensity and moments of true human compassion." —Helen Simonson, New York Times bestselling author of The Summer Before the War
 
"Ariel Lawhon is a masterful storyteller; I Was Anastasia is a wild ride, extravagant with its vivid sensory experiences and page turning suspense. Inspired by history, and infused with imagination and intrigue, this novel satisfies with every twist and turn." —Patti Callahan Henry, New York Times bestselling author of Becoming Mrs. Lewis and Surviving Savannah
 
"Was Anna Anderson really the only survivor of the Romanovs or was she a persistent fraud? Somehow, Lawhon, a masterly writer, not only leads her readers to ponder this riddle, but to care about it as well. This is a deft and deeply moving saga." —Jacquelyn Mitchard, New York Times bestselling author of The Deep End of the Ocean
 
"I don't know what's most impressive about I Was Anastasia: the wildly inventive structure, the ferocious heroine (or is it two?), or the dark, twisted questions it raises about the stories we tell—both to others and to ourselves. Ariel Lawhon has written a gorgeous, haunting puzzle of a book that will grip you until the final page." —Abbott Kahler, New York Times bestselling author of Sin in the Second City and Liar Temptress Soldier Spy

"Simultaneously a mystery, a manifesto, and a memoir, The Frozen River resurrects both Martha's story and the stories of those she fought for." —Chapter 16