Fruit of the Drunken Tree: A Novel (Hardcover)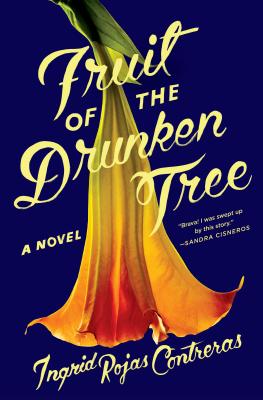 $26.95
Usually Ships in 1-5 Days
Staff Reviews
---
Chula Santiago, seven, and her sister Cassandra, nine, live with their parents in an upper-class neighborhood in Bogota, Colombia. Their father is often away working for an oil company, and so the other three family members are mostly left to their own devices. When Petrona, a thirteen-year-old girl from the slums, comes to work for them, Chula is fascinated by her. Petrona is hardworking but is extremely private and seems to harbor many secrets. For good reason: her mother is a widow and suffers from asthma, her father is dead, her younger brother is missing and probably dead, and her sister Aurora, at the age of nine, has had to take over many of the housekeeping and feeding chores for the family now that Petrona has gone to work. And then there's the young man Gorrion, who thrills Petrona in spite of the fact that he may be in with a really bad crowd. As political assassinations and tensions increase in Bogota, tensions in the Santiago household increase as well. Where is Papa? Will he be coming home soon to help them deal with so many frightening problems? Told in alternating chapters by the narrators Chula and Petrona, the novel spins a harrowing tale of two young girls who are forced to face adult issues way, way before they should, with sometimes heartbreaking but sometimes inspiring results.
— Cynthia
Description
---
"One of the most dazzling and devastating novels I've read in a long time...Readers of Fruit of the Drunken Tree will surely be transformed."
--San Francisco Chronicle

"Simultaneously propulsive and poetic, reminiscent of Isabel Allende...Listen to this new author's voice — she has something powerful to say."
--Entertainment Weekly

A mesmerizing debut set in Colombia at the height Pablo Escobar's violent reign about a sheltered young girl and a teenage maid who strike an unlikely friendship that threatens to undo them both

Seven-year-old Chula and her older sister Cassandra enjoy carefree lives thanks to their gated community in Bogotá, but the threat of kidnappings, car bombs, and assassinations hover just outside the neighborhood walls, where the godlike drug lord Pablo Escobar continues to elude authorities and capture the attention of the nation.
     When their mother hires Petrona, a live-in-maid from the city's guerrilla-occupied slum, Chula makes it her mission to understand Petrona's mysterious ways. But Petrona's unusual behavior belies more than shyness. She is a young woman crumbling under the burden of providing for her family as the rip tide of first love pulls her in the opposite direction. As both girls' families scramble to maintain stability amidst the rapidly escalating conflict, Petrona and Chula find themselves entangled in a web of secrecy that will force them both to choose between sacrifice and betrayal.
     Inspired by the author's own life, and told through the alternating perspectives of the willful Chula and the achingly hopeful Petrona, Fruit of the Drunken Tree contrasts two very different, but inextricably linked coming-of-age stories. In lush prose, Rojas Contreras has written a powerful testament to the impossible choices women are often forced to make in the face of violence and the unexpected connections that can blossom out of desperation.
About the Author
---
Ingrid Rojas Contreras was born and raised in Bogotá, Colombia. Her essays and short stories have appeared in the Los Angeles Review of Books, Electric Literature, Guernica, and Huffington Post, among others. She has received fellowships and awards from The Missouri Review, Bread Loaf Writer's Conference, VONA, Hedgebrook, The Camargo Foundation, Djerassi Resident Artists Program, and the National Association of Latino Arts and Cultures. She is the book columnist for KQED Arts, the Bay Area's NPR affiliate.
Praise For…
---
NOW A NATIONAL BESTSELLER

"A beautifully rendered novel of an Escobar-era Colombian childhood...You don't need to have grown up in Bogota to be taken in by Contreras's simple but memorable prose and absorbing storyline…I can't help wondering what novels about Colombia 25 years from now will have to say about this current period. I can only hope they'll be as sensitive and thoughtful as this one."
--THE NEW YORK TIMES BOOK REVIEW

"One of the most dazzling and devastating novels I've read in a long time…An exquisitely intimate double portrait of two young women....Unforgettable...Readers of Fruit of the Drunken Tree will surely be transformed."
--SAN FRANCSICO CHRONICLE
 
"Simultaneously propulsive and poetic, reminiscent of Isabel Allende...Fruit of the Drunken Tree offers a wake-up call for many. An eye-opening story of survival in a place history books and crime sagas (see: "Narcos") would have us think we know better than we do...Listen to this new author's voice — she has something powerful to say."
--ENTERTAINMENT WEEKLY

"Original, politically daring, and passionately written--Fruit of the Drunken Tree is the coming-of-age female empowerment story we need in 2018."
--VOGUE

"When women tell stories, they are finally at the center of the page. When women of color write history, we see the world as we have never seen it before. In Fruit of the Drunken Tree, Ingrid Rojas Contreras honors the lives of girls who witness war. Brava! I was swept up by this story."
--SANDRA CISNEROS, author of THE HOUSE ON MANGO STREET

"A coming of age story, an immigrant story, a thrilling mystery novel, thoroughly lived and felt—this is an exciting debut novel that showcases a writer already in full command of her powers.  Make room on your shelves for a writer whose impressive debut promises many more."
--JULIA ALVAREZ, author of IN THE TIME OF THE BUTTERFLIES and HOW THE GARCÍA GIRLS LOST THEIR ACCENTS

"Set against the backdrop of Pablo Escobar's stranglehold on the fate of a nation, Fruit of the Drunken Tree is a spellbinding story of two girls whose realities collide and who are forced to make nearly unbearable choices in the name of survival. The thrum of mystery and danger haunts every page, and you won't be able to look away until you turn the last one."
--CRISTINA HENRÍQUEZ, author of THE BOOK OF UNKNOWN AMERICANS

"From its unforgettable opening image to its heartbreakingly perfect final line, Fruit of the Drunken Tree casts an irresistible spell, summoning us into the fierce, perilous world of two young girls in a nation on the brink. Ingrid Rojas Contreras's lush language finds hidden beauty in even the ugliest pain. A stunning debut."
--ROBIN WASSERMAN, author of GIRLS ON FIRE

"This is storytelling as a heroic act, and Ingrid Rojas Contreras is a heroine that literature desperately needs—her every page feels born, urgent, and blazingly true."
--AFFINITY KONAR, author of MISCHLING
Coverage from NPR