Les Miserables [With Ribbon Marker] (Everyman's Library Classics & Contemporary Classics) (Hardcover)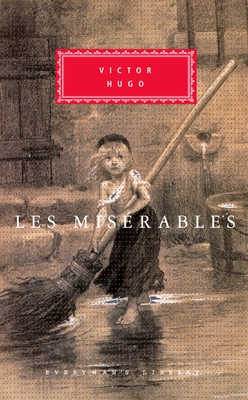 Description
---
It has been said that Victor Hugo has a street named after him in virtually every town in France. A major reason for the singular celebrity of this most popular and versatile of the great French writers is Les Mis rables (1862). In this story of the trials of the peasant Jean Valjean--a man unjustly imprisoned, baffled by destiny, and hounded by his nemesis, the magnificently realized, ambiguously malevolent police detective Javert--Hugo achieves the sort of rare imaginative resonance that allows a work of art to transcend its genre.

Les Mis rables is at once a tense thriller that contains one of the most compelling chase scenes in all literature, an epic portrayal of the nineteenth-century French citizenry, and a vital drama--highly particularized and poetic in its rendition but universal in its implications--of the redemption of one human being.
(Book Jacket Status: Jacketed)
About the Author
---
Victor Hugo (1802-85), novelist, poet, playwright, and French national icon, is best known for two of today's most popular world classics: Les Misérables and The Hunchback of Notre-Dame, as well as other works, including The Toilers of the Sea and The Man Who Laughs. Hugo was elected to the Académie Française in 1841. As a statesman, he was named a Peer of France in 1845. He served in France's National Assemblies in the Second Republic formed after the 1848 revolution, and in 1851 went into self-imposed exile upon the ascendance of Napoleon III, who restored France's government to authoritarian rule. Hugo returned to France in 1870 after the proclamation of the Third Republic. Julie Rose's acclaimed translations include Alexandre Dumas's The Knight of Maison-Rouge and Racine's Phèdre, as well as works by Paul Virilio, Jacques Rancière, Chantal Thomas, and many others. She is a recipient of the PEN medallion for translation and the New South Wales Premier's Translation Prize. Adam Gopnik is the author of Paris to the Moon and Through the Children's Gate, and editor of the Library of America anthology Americans in Paris. He writes on various subjects for The New Yorker and has recently written introductions to works by Maupassant, Balzac, Proust, and Alain-Fournier.
Praise For…
---
"Hugo's genius was for the creation of simple and recognizable myth. The huge success of Les Misérables as a didactic work on behalf of the poor and oppressed is due to his poetic and myth-enlarged view of human nature." —V. S. Pritchett
"It was Tolstoy who vindicated [Hugo's] early ambition by judging Les Misérables one of the world's great novels, if not the greatest… [His] ability to present the extremes of experience 'as they are' is, in the end, Hugo's great gift." —From the Introduction by Peter Washington