The Bee Sting: A Novel (Hardcover)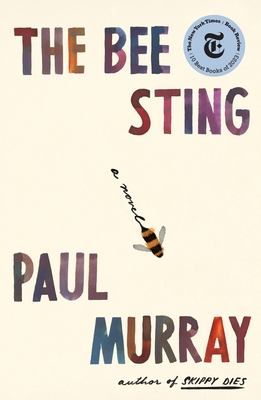 $30.00

Usually Ships in 4-7 Days
Staff Reviews
---
Although one reviewer has described this novel as a tragicomedy, it seems to me to be rather a series of little tragedies that show the disintegration of a family in present-day Ireland. Told from the perspectives of the four family members: Imelda, who grew up poor but married into a well-to-do family; Dickie, her husband, who has failed to make a success of the family's car sale and repair business; Cass, their eldest child, an aspiring college student who can't wait to get away from home; and PJ, their 12-year old son who likes gaming and worries about his father. As Imelda and Dickie try, with varying success, to deal with post-recession economic woes, we learn about their pasts and the tragedy that brought them together 18 years ago. The 600+ pages of this novel fly by as things go from bad to worse with increasing tension. With this worthy addition to the 2023 Man Booker Award long list, Murray joins the company of other wonderful Irish writers such as John Boyne, Sebastian Barry, and Maggie O'Farrell. Recommended.
— Alice
Description
---
Shortlisted for the 2023 Booker Prize

From the author of Skippy Dies comes Paul Murray's The Bee Sting, an irresistibly funny, wise, and thought-provoking tour de force about family, fortune, and the struggle to be a good person when the world is falling apart.

The Barnes family is in trouble. Dickie's once-lucrative car business is going under—but Dickie is spending his days in the woods, building an apocalypse-proof bunker with a renegade handyman. His wife, Imelda, is selling off her jewelry on eBay and half-heartedly dodging the attention of fast-talking cattle farmer Big Mike, while their teenage daughter, Cass, formerly top of her class, seems determined to binge drink her way through her final exams. As for twelve-year-old PJ, he's on the brink of running away.

If you wanted to change this story, how far back would you have to go? To the infamous bee sting that ruined Imelda's wedding day? To the car crash one year before Cass was born? All the way back to Dickie at ten years old, standing in the summer garden with his father, learning how to be a real man?

The Bee Sting, Paul Murray's exuberantly entertaining new novel, is a tour de force: a portrait of postcrash Ireland, a tragicomic family saga, and a dazzling story about the struggle to be good at the end of the world.
About the Author
---
Paul Murray was born in 1975 in Dublin. He is the author of three novels, including An Evening of Long Goodbyes, which was short-listed for the Whitbread First Novel Award and the Kerry Group Irish Fiction Award. Skippy Dies (2010) was long-listed for the Booker Prize and was a finalist for the National Book Critics Circle Award. The Mark and the Void (2015) was the joint winner of the Bollinger Everyman Wodehouse Prize and was named one of Time's Top 10 Fiction Books of the year.
Praise For…
---
"Every escalation in the novel's relentless series of unfortunate events is the outcome of intimate circumstances and world-historical ones in equal measure . . . A tragedy of middle-class decline and self-annihilation, The Bee Sting's accomplishment—a major one—is to bring together the family and the economy as truly intertwined subjects, into a double helix of oikos and oikonomia that twists toward dread."
—Lisa Borst, Bookforum

"Anyone who starts The Bee Sting will be immediately absorbed by this extraordinary story. Although Murray is a fantastically witty writer, his empathy with these characters is so deep that he can convey the comedy of their foibles without the condescending bitterness of satire . . . The Bee Sting never fails to dazzle with its colliding coincidences, the great sprawling randomness of life all somehow brought to glamorously choreographed climaxes . . . Considering the impressive length of The Bee Sting, it's remarkable to witness its sentence-by-sentence elegance. Every paragraph is marked by Murray's stylistic brilliance — and daring."
—Ron Charles, The Washington Post

"Murray shows off his formidable range, immersing us in worlds so distinct and textured that they seem to blot one another out—subjectivity and how its wonderful thickness can lead people astray being one of this author's preoccupations."
—Katy Waldman, The New Yorker

"Layered, beguiling . . . Murray is unsparing in vivisecting his characters. But even as the Barneses spiral downward, his prose pops from the page, precise and piquant, biting in its gallows humor. He's astonishingly versatile, tapping internet influences, stream-of-consciousness technique and social realism. Fulfilling the promise of his lauded Skippy Dies, The Bee Sting elevates Murray to the leading rank of his generation, alongside Colin Barrett, Kevin Barry and Claire Keegan."
—Hamilton Cain, Minneapolis Star Tribune

"Murray's writing is pure joy — propulsive, insightful and seeded with hilarious observations . . . Through the Barneses' countless personal dramas, Murray explores humanity's endless contradictions: How brutal and beautiful life is. How broken and also full of potential. How endlessly fraught and persistently promising. Whether or not we can ever truly change our course, the hapless Barneses will keep you hoping, even after you turn the novel's last page."
—Jen Doll, The New York Times Book Review

"Stylistically it's outstanding, defined by supple, engaging prose and a preternatural sense for storytelling . . . Mr. Murray has always been able to dazzle and entertain, but he has never before developed characters with this much depth or capacity for tragedy . . . In the faltering mixture of candor and deception, helplessness and desperate prevention, Mr. Murray creates a heightened but truthful portrait of family love."
—Sam Sacks, The Wall Street Journal

"Fans of Jonathan Franzen will devour this epic, darkly ironic family drama."
—Kate Tuttle, People (Best New Books)

"[The Bee Sting] ought to cement Murray's already high standing . . . A triumph of realist fiction, a big, sprawling social novel in the vein of Jonathan Franzen's Freedom. The agility with which Murray structures the narrative around the family at its heart is virtuosic and sure-footed, evidence of a writer at the height of his power deftly shifting perspectives, style and syntax to maximize emotional impact. Hilarious and sardonic, heartbreaking and beautiful—there's just no other way to put it: The Bee Sting is a masterpiece."
—Jonathan Russell Clark, Los Angeles Times

"It's heartening to have a writer with Murray's energy devoting such attention to contemporary life. The Bee Sting is 645 pages of close observation, encouraging readers to identify the disconnections and miscommunications that plague us all, the small personal disasters that our fear and dishonesty transform into apocalypses."
—Dan Kois, Slate

"Paul Murray's previous novel, Skippy Dies, basked in the glories and devastations of teenage years, and The Bee Sting builds on that promise, offering a portrait of how family—as a collective and as individual members—reacts to the stings of life, whether perceptible (say, financial ruin or climate change) or the unseen kind (the pains that lead to self-sabotage, the staticky moments of jealousy between siblings and spouses). This novel is deeply rewarding because it does not shy away from the melancholy, the humor, and the truth of life."
—Erin Kodicek, Amazon Book Review (Editor's Picks)

"With dark humor and unflinching honesty, Murray paints an arresting portrait of a family that can't catch a break—but won't go down without putting up a fight."
—Cady Lang, TIME

"Murray's latest is a comedy of errors, emphasis on both the comedy and the errors. The novel follows the reversal of fortunes of the Barnes family, a decline sparked by the Irish financial crash, yes, but perhaps set in motion by fateful moments in the family's past."
—The New York Times

"A tragicomedy that expertly shifts between the four members of the family, The Bee Sting provides an ominous and empathetic view of the human condition, from the acclaimed author of Skippy Dies."
—Brittany Bunzey, B&N Reads

"One of the best books I've ever read in my life . . . It's when you read a book and you just think--how perfect . . . It's so authentically done that I still feel these people are real . . . I feel about this book the way I felt about The Secret History when I first read it . . . I am in awe of this writer."
–Róisín Ingle, The Irish Times "Women's Podcast"

"A triumph from Irish writer Paul Murray, even better than his 2010 cult story of school life, Skippy Dies . . . Murray excels at the confusions and comedy of young adulthood, and the intensity of teenage friendship. We see that again here . . . The Bee Sting deserves all the praise I am heaping on it. It is generous, immersive, sharp-witted and devastating; the sort of novel that becomes a friend for life."
—John Self, Financial Times

"Murray breathes life into these characters, they sing on the page . . . [The Bee Sting] is one of the best books I have read in years . . . This is the real deal. I don't care what kind of book you're looking to read this summer, whether it's a beach read, pure escapism, or something a bit meatier, whatever the case may be . . . all of human life is in this. It reminds me why I love books."
–Mary McGill, RTE Radio 1, "Arena" (Ireland)

"This is a big, multilayered book full of secrets and surprises. But not a word is wasted in this unsettling, character-rich, devilishly plotted page-turner."
—Barbara Love, Library Journal (starred)

"Paul Murray's patter is so fluid, funny and clever that you'd be forgiven for pausing, from time to time, to double-check that quality of what you're being sold. For most of The Bee Sting, Murray seems capable of doing anything a novelist might reasonably want to do. There's laughter in every other line, but there's also a compassion and a midlife wisdom at work that suggest we aren't merely in the company of a gag merchant."
—Paul Genders, Literary Review

"An immersive, brilliantly structured, beautifully written mega-tome that is as laugh-out-loud funny as it is deeply disturbing . . . Paul Murray, the undisputed reigning champion of epic Irish tragicomedy, has done it again . . . This is too short a review to describe a book so dense yet so compelling. I began with an ovation. I'll end abruptly, and in awe."
—Ian Sansom, Spectator (UK)

"The narrative turns, carefully paced, brilliantly convincing and helped along by plenty of subtle satire . . . It perfectly encapsulates Murray's skill for swings from gentle comedy to deadliest seriousness . . . An immensely enjoyable piece of craftsmanship with an expert pair of hands on the tiller."
—James Riding, The Times (UK)

"Paul Murray is consistently inventive, observant and funny."
—Nicholas Clee, Times Literary Supplement

"Murray is a natural storyteller who knows when to withhold, to indulge, to surprise."
—Irish Times

"It can't be overstated how purely pleasurable The Bee Sting is to read. Murray's observational gifts and A-game phrase-making render almost every page – every line, it sometimes seems – abuzz with fresh and funny insights, but always in the service of advancing the story . . . At its core this is a novel concerned with the oldest cliches: the ties that bind, secrets and lies, love and loss. They're all here, brought to life with captivating vigour in a first-class performance to cherish."
—Anthony Cummins, Observer

"This delightfully rackety novel achieves its profundity through sheer passion."
—Irish Independent

"Murray is exploring the way families can always sense the emotional temperature, even if they don't know where the fire is coming from. He is brilliant on fathers and sons, sibling rivalry, grief, self-sabotage and self-denial, as well as the terrible weakness humans have for magical thinking, not least in regard to the climate crisis. He can also create a laugh-out-loud moment . . . You won't read a sadder, truer, funnier novel this year."
—Justine Jordan, The Guardian

"[The Bee Sting] furthers his reputation as a writer of tragicomedy without peer . . . Stories are relayed over successive chapters, often in exquisite detail, and brought to vivid life, each with their own distinctive cadence, along with an amalgam of attendant eccentricities and gripes . . . The Bee Sting is both brilliant entertainment and a penetrating look at the human condition, as heavy with pathos as it is rich with humour. And if 650 pages asks a lot of the reader, in this case it more than delivers."
—Nick Duerden, The I (UK)

"Trust Paul Murray to make 650 pages feel too short. Seriously . . . Murray unspools the lives of four relatively ordinary people with such brilliant specificity and extravagant empathy, in cool-water prose mixed with his trademark wry darkness, that it's difficult to let them go at the end."
—Emily Temple, Literary Hub

"Murray is a master of the darkly ominous, limning these four seemingly demon-driven lives in granular detail. The novel moves expertly among them, switching from one point of view to another while offering both present circumstances and characters' back stories. Like Murray's Skippy Dies (2010), this is a tour de force, beautifully written . . . and perfectly apposite in its tone. It is, in sum, utterly fascinating and unforgettable."
—Michael Cart, Booklist (starred)

"No moment or episode is implausible . . . carried by Murray's fine, measured prose and uncanny plotting . . . Irresistible."
—Kirkus Reviews (starred)