Shelf Life: Chronicles of a Cairo Bookseller (Hardcover)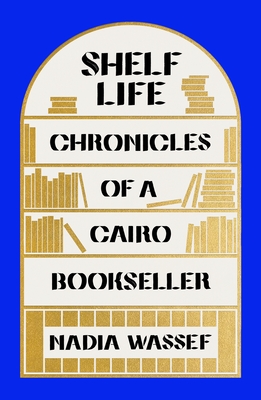 Staff Reviews
---
In 2002, the author and two other woman opened a bookstore, Diwan, in central Cairo. With a vision rather than business experience, and apparently no shortage of capital to invest, their venture had its ups and downs. The bookstore carried books in Arabic, English, French and German and catered to mostly those Cairenes who could afford what many considered to be a luxury. The author describes the different strengths of the three founders and how they worked together in buying, marketing and handling employees and customers. Within ten years, Diwan expanded to ten stores in Cairo and beyond. Although the author gave up her involvement in the business operations of the bookstore and moved to London, the company continues to exist. There are very good descriptions of contemporary Cairo and the Egyptian ways of doing business, which the bookstore owners as women found challenging. The author writes engagingly, and includes lots of good stories.
— Alice
Description
---
"As a bookseller, I loved Shelf Life for the chance to peer behind the curtain of Diwan, Nadia Wassef's Egyptian bookstore—the way that the personal is inextricable from the professional, the way that failure and success are often lovers, the relationship between neighborhoods and books and life. Nadia's story is for every business owner who has ever jumped without a net, and for every reader who has found solace in the aisles of a bookstore."
—Emma Straub, author of All Adults Here

"Shelf Life is such a unique memoir about career, life, love, friendship, motherhood, and the impossibility of succeeding at all of them at the same time. It is the story of Diwan, the first modern bookstore in Cairo, which was opened by three women, one of whom penned this book. As a bookstore owner I found this fascinating. As a reader I found it fascinating. Blunt, honest, funny."
—Jenny Lawson, author of Broken (in the best possible way)

The warm and winning story of opening a modern bookstore where there were none, Shelf Life: Chronicles of a Cairo Bookseller recounts Nadia Wassef's troubles and triumphs as a founder and manager of Cairo-based Diwan

The streets of Cairo make strange music. The echoing calls to prayer; the raging insults hurled between drivers; the steady crescendo of horns honking; the shouts of street vendors; the television sets and radios blaring from every sidewalk. Nadia Wassef knows this song by heart.

In 2002, with her sister, Hind, and their friend, Nihal, she founded Diwan, a fiercely independent bookstore. They were three young women with no business degrees, no formal training, and nothing to lose. At the time, nothing like Diwan existed in Egypt. Culture was languishing under government mismanagement, and books were considered a luxury, not a necessity. Ten years later, Diwan had become a rousing success, with ten locations, 150 employees, and a fervent fan base.

Frank, fresh, and very funny, Nadia Wassef's memoir tells the story of this journey. Its eclectic cast of characters features Diwan's impassioned regulars, like the demanding Dr. Medhat; Samir, the driver with CEO aspirations; meditative and mythical Nihal; silent but deadly Hind; dictatorial and exacting Nadia, a self-proclaimed bitch to work with—and the many people, mostly men, who said Diwan would never work.

Shelf Life is a portrait of a country hurtling toward revolution, a feminist rallying cry, and an unapologetic crash course in running a business under the law of entropy. Above all, it is a celebration of the power of words to bring us home.
About the Author
---
Nadia Wassef is an owner of Diwan, Egypt's first modern bookstore, which she co-founded in 2002 with her sister, Hind. She received an MFA from Birkbeck College at the University of London; a Master in Social Anthropology from the University of London; and a Master in English from American University in Cairo. Before Diwan, she worked in research and advocacy for the Female Genital Mutilation Taskforce and in the Women and Memory Forum. Featured on the Forbes List of the 100 Most Powerful Women in the Middle East in 2014, 2015, and 2016, Wassef's work has been covered in Time, Monocle, Business Monthly, and elsewhere. She lives in London with her two daughters.