One Day in the Life of Ivan Denisovich: A Novel (FSG Classics) (Paperback)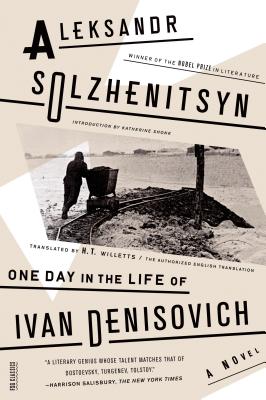 $17.00

Usually Ships in 4-7 Days
Description
---
For the centenary of the Russian Revolution, a new edition of the Russian Nobel Prize-winning author's most accessible novel

One Day in the Life of Ivan Denisovich is an undisputed classic of contemporary literature. First published (in censored form) in the Soviet journal Novy Mir in 1962, it is the story of labor-camp inmate Ivan Denisovich Shukhov as he struggles to maintain his dignity in the face of communist oppression. On every page of this graphic depiction of Ivan Denisovich's struggles, the pain of Aleksandr Solzhenitsyn's own decade-long experience in the gulag is apparent—which makes its ultimate tribute to one man's will to triumph over relentless dehumanization all the more moving.

An unforgettable portrait of the entire world of Stalin's forced-work camps, One Day in the Life of Ivan Denisovich is one of the most extraordinary literary works to have emerged from the Soviet Union. The first of Solzhenitsyn's novels to be published, it forced both the Soviet Union and the West to confront the Soviet's human rights record, and the novel was specifically mentioned in the presentation speech when Solzhenitsyn was awarded the Nobel Prize in Literature in 1970. Above all, One Day in the Life of Ivan Denisovich establishes Solzhenitsyn's stature as "a literary genius whose talent matches that of Dostoevsky, Turgenev, Tolstoy" (Harrison Salisbury, The New York Times).

This unexpurgated, widely acclaimed translation by H. T. Willetts is the only translation authorized by Solzhenitsyn himself.
About the Author
---
Aleksandr Solzhenitsyn, winner of the 1970 Nobel Prize in Literature, was born in 1918. In February 1945, while he was captain of a reconnaissance battery of the Soviet Army, he was arrested and sentenced to an eight-year term in a labor camp and permanent internal exile, which was cut short by Khrushchev's reforms, allowing him to return from Kazakhstan to Central Russia in 1956. Although permitted to publish One Day in the Life of Ivan Denisovich in 1962—which remained his only full-length work to have appeared in his homeland until 1990—Solzhenitsyn was by 1969 expelled from the Writers' Union. The publication in the West of his other novels and, in particular, of The Gulag Archipelago, brought retaliation from the authorities. In 1974, Solzhenitsyn was arrested, stripped of his Soviet citizenship, and forcibly flown to Frankfurt. Solzhenitsyn and his wife and children moved to the United States in 1976. In September 1991, the Soviet government dismissed treason charges against him; Solzhenitsyn returned to Russia in 1994. He died in Moscow in 2008.
Praise For…
---
"One Day in the Life of Ivan Denisovich yields, more than anything else, a beautiful sense of its author as a Chekhovian figure: simple, free of literary affectation, wholly serious." —The New Republic