Northwind (Hardcover)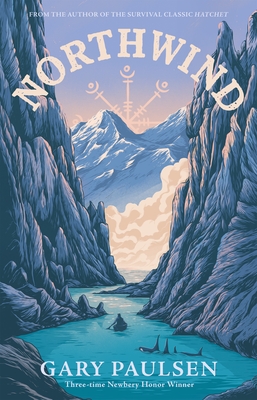 Staff Reviews
---
What a absolute gift Gary Paulsen left us with in his last book! This book will be loved by all, especially those fans of Hatchet. The story of an orphan Leif, alone after a plague wiped out his fishing village. He escapes in a canoe with a small boy running from this mysterious death heading north. Similar to Hatchet in a young boy's quest to survive in the wilderness, Leif tries to navigate the waters and runs into many adventures along the way. This is best for grades 5 and up.
— Christina
Description
---
This stunning New York Times Bestseller from the survival story master, set along a rugged coastline centuries ago, does for the ocean what Hatchet does for the woods, as it relates the story of a young person's battle to stay alive against the odds, where the high seas meet a coastal wilderness.

When a deadly plague reaches the small fish camp where he lives, an orphan named Leif is forced to take to the water in a cedar canoe. He flees northward, following a wild, fjord-riven shore, navigating from one danger to the next, unsure of his destination. Yet the deeper into his journey he paddles, the closer he comes to his truest self as he connects to "the heartbeat of the ocean . . . the pulse of the sea." With hints of Nordic mythology and an irresistible narrative pull, Northwind is Gary Paulsen at his captivating, adventuresome best.
About the Author
---
Gary Paulsen (1939–2021) wrote more than two hundred books for children and adults, including the father-son comedy How to Train Your Dad, and the survival adventure Northwind. Three of his novels—Hatchet, Dogsong, and The Winter Room—were Newbery Honor books. In 1997, he received the ALA's Margaret A. Edwards Award for his contribution to young adult literature. His books have sold over 35 million copies around the world.
Praise For…
---
"Paulsen . . . was not only a master storyteller, but also a master world-builder . . . Wondrous . . . A grand and worthy journey." —Neal Shusterman/The New York Times Book Review

"A voyage both singular and universal, marked by sharply felt risks and rewards and deep waters beneath." —Kirkus Reviews, starred review

"Spare, survival-oriented prose keeps the reader immersed in scenes difficult and wondrous, offering a glimpse of the sheer awesomeness of nature, showcasing the beauty of the sea and its inhabitants, and regaling readers with a timeless and irresistible adventure that has resilience at its heart." —Publishers Weekly, starred review

"Call this posthumously published novel The Young Man and the Sea . . . [A] splendid story . . . Beautifully written, it's classic Paulsen at his best." —Booklist, starred review

"[A] mesmerizing modern-day epic . . . The tale of man versus nature is as old as time, but Paulsen, who died in 2021, goes beyond the genre by exploring the complex perspectives of animals . . . Narrative devices like kennings and repetitious phrasing hark back to epic sagas such as Beowulf and the Poetic Eddas: tides become moon-currents, silence becomes non-sound and memories become thought-pictures. But possibly the most compelling aspect of the work is the lesson Leif learns along his journey: 'Don't go to a place. Go to be. Just to be.'" —Shelf Awareness, starred review

"What a gem . . . This accessible, captivating adventure story is destined to become another Paulsen classic . . . An essential purchase for libraries serving middle grade and YA readers." —School Library Journal, starred review