Hazy Bloom and the Tomorrow Power (Hardcover)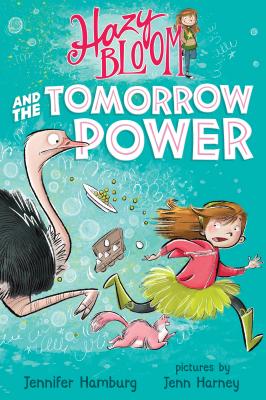 Other Books in Series
This is book number 1 in the Hazy Bloom series.
Description
---
One perfectly ordinary afternoon, a vision flashes through third-grader Hazel "Hazy" Bloom's mind—of flying peas. The next day in the school cafeteria, a food fight erupts that involves the very same airborne veggie. After one or two more seemingly silly visions come true in unexpected ways, Hazy realizes she has a strange new power to foresee a visual clue about trouble that's on its way within twenty-four hours. But seeing is not always understanding, and headstrong Hazy quickly discovers that "tomorrow power" sometimes only gives her the ability to make a hilarious mess of things instead of saving the day.
About the Author
---
Jennifer Hamburg is an Emmy-winning children's television writer who has worked on hit shows such as Doc McStuffins, Daniel Tiger's Neighborhood, and Super Why! She is currently at work on another Hazy Bloom adventure, and lives with her family in Houston, Texas.

Jenn Harney is an illustrator and toy designer whose work has been featured in Highlights for Children magazine. Jenn lives in Cleveland, Ohio, with her husband, her daughter, a dog named Steve, and a fish with nine lives. She is the author of the Hazy Bloom series, including Hazy Bloom and The Tomorrow Power and Hazy Bloom and The Pet Project.
Praise For…
---
"Hazy's irrepressible, hilarious narration (punctuated with exclamation points and spelling vocabulary words she likes and dislikes) proves fast-paced and amusing . . . Likely to engage the primary school set with its madcap humor and unpredictable heroine." —Kirkus Reviews
"This series starter strikes a nice balance between drama and levity . . . Hazy may well be a match for Beverly Cleary's spunky Ramona Quimby." —Booklist
"This quickly paced tale features a well-developed main character and lots of funny scenes . . . Hazy's voice is unique, and her quirky personality is showcased on every page . . . Harney's pictures are charming and add to the humor of the story." —School Library Journal