Jack (Oprah's Book Club): A Novel (Hardcover)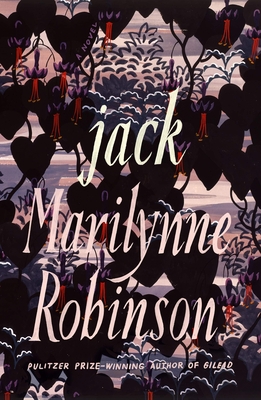 Staff Reviews
---
The Prodigal Son meets Romeo and Juliet in this graceful and elegant story of forbidden interracial love. Jack Ames Boughton is the son of a Presbyterian minister in Gilead, Iowa, who has spent his entire life lying, stealing, and being a well-read bum, relying on regular financial support from a brother. Della Miles is the daughter of a Methodist (AME) bishop in Memphis, a smart and headstrong high school English teacher. They meet by chance and fall in love in a time when miscegenation is a prisonable crime. There's a lot of lovely dialog in this somewhat slow-moving but compelling story of a meeting of minds. And, as she does in all her novels, Robinson manages to present a fully-fleshed out philosophy of life that makes you copy out sentence after sentence so you can remember them.
— Alice
Description
---
A New York Times bestseller

Named a Best Book of 2020 by the Australian Book Review, AV Club, Books-a-Million, Electric Literature, Esquire, the Financial Times, Good Housekeeping (UK), The Guardian, Kirkus Reviews, Literary Hub, the New Statesman, the New York Public Library, NPR, the Star Tribune, and TIME

Marilynne Robinson, winner of the Pulitzer Prize and the National Humanities Medal, returns to the world of Gilead with Jack, the latest novel in one of the great works of contemporary American fiction

Marilynne Robinson's mythical world of Gilead, Iowa—the setting of her novels Gilead, Home, and Lila, and now Jack—and its beloved characters have illuminated and interrogated the complexities of American history, the power of our emotions, and the wonders of a sacred world. Jack is Robinson's fourth novel in this now-classic series. In it, Robinson tells the story of John Ames Boughton, the prodigal son of Gilead's Presbyterian minister, and his romance with Della Miles, a high school teacher who is also the child of a preacher. Their deeply felt, tormented, star-crossed interracial romance resonates with all the paradoxes of American life, then and now.

Robinson's Gilead novels, which have won one Pulitzer Prize and two National Book Critics Circle Awards, are a vital contribution to contemporary American literature and a revelation of our national character and humanity.
About the Author
---
Marilynne Robinson is the recipient of a 2012 National Humanities Medal, awarded by President Barack Obama, for "her grace and intelligence in writing." She is the author of Gilead, winner of the 2005 Pulitzer Prize for Fiction and the National Book Critics Circle Award; Home, winner of the Orange Prize and the Los Angeles Times Book Prize; and Lila, winner of the National Book Critics Circle Award. Her first novel, Housekeeping, won the Hemingway Foundation/PEN Award. Robinson's nonfiction books include The Givenness of Things, When I Was a Child I Read Books, Absence of Mind, The Death of Adam, and Mother Country. She lives in Iowa City, Iowa.
Praise For…
---
"For Marilynne Robinson's devotees, John Ames Boughton, the titular Jack of the fourth volume of her award-winning Gilead novels, is one of the most eagerly awaited literary figures since Godot. . . Robinson is acclaimed for her numinous accounts of faith, forgiveness and hope, but read in this electrifying year of national crisis, the Gilead books are unified as well by her unsparing indictment of the American history of racism and inequality, and Christianity's uneven will to fight them . . . I am looking forward to a fifth volume that will fill in their saga, and I hope it will be called Della." —Elaine Showalter, The New York Times Book Review

"Jack is the fourth novel in Robinson's Gilead series, an intergenerational saga of race, religion, family, and forgiveness centered on a small Iowa town. But it is not accurate to call it a sequel or a prequel. Rather, this book and the others—Gilead, Home, and Lila—are more like the Gospels, telling the same story four different ways." —Casey Cep, The New Yorker

"In Gilead, the first volume, the Rev. John Ames writes that 'a good sermon is one side of a passionate conversation,' and Ms. Robinson's novels work that way, too, replying to one another, querying, clarifying or rebutting, but always sustaining a dialogue that feels as grand and as inexhaustible as the mysteries they explore . . . These novels honor creation by affording us something we only occasionally find in the vastness of existence: a glimpse of eternity, such as it is." —Sam Sacks, The Wall Street Journal

"With the sublime Jack, [Marilynne Robinson] resumes and deepens her quest, extending it to the contemplation of race . . . Robinson masterfully allows her protagonists to do the heavy lifting of the storytelling and employs deceptively simple dialogue as her primary tool. But make no mistake—there is richness and depth at every turn." —De'Shawn Charles Winsolw, O, the Oprah Magazine

"Each of [Robinson's] novels has celebrated the fact that the ineffable is inseparable from the quotidian, and rendered the ineffable, quotidian world back to us, peculiar, luminous, and precise . . . There are passages when Jack's eye glimmers so clearly on the moment, when his dream logic feels so apt, that the whole world Robinson has illuminated with such care and attention reappears, and we are returned to the prophetic everyday." —Jordan Kisner, The Atlantic

"'Contemporary classics' is the oft-used descriptor of Marilynne Robinson's Gilead series, the correct method of describing these lasting and constant books . . . [Jack is] a love story with the highest stakes . . . Jack poignantly shows us the messy, complex, heartbreaking side to getting everything you ever wanted." —Emily Temple, Literary Hub

"Not just a meditation on faith and human suffering but a singular portrait of the divine." —Leah Greenblatt, Entertainment Weekly

"As each new book appears, the world that Marilynne Robinson first created in Gilead becomes more textured and complex . . . What emerges at the end of Jack is the extent of Marilynne Robinson's command. She shares with George Eliot an interest in large questions and also a fascination with a wildness in the soul, with a sensuality and a spiritual striving that cannot be easily calmed, and can be captured only by the rarest talent." —Colm Tóibín, 4Columns

"Can love save a man from perdition? That question, braided with romance and religion, is at the heart of Marilynne Robinson's new novel . . .Robinson cradles [Jack's] love for Della with the tenderness of a gracious creator." —Ron Charles, The Washington Post

"A sometimes tender, sometimes fraught story of interracial love in a time of trouble . . . The story flows swiftly—and without a hint of inevitability —as Robinson explores a favorite theme, 'guilt and grace met together.' An elegantly written proof of the thesis that love conquers all—but not without considerable pain." —Kirkus (Starred review)

"Robinson's latest glorious work of metaphysical and moral inquiry, nuanced feelings, intricate imagination, and exquisite sensuousness . . .Myriad manifestations of pain are evoked, but here, too, are beauty, mystery, and joy as Robinson holds us rapt with the exactitude of her perceptions and the exhilaration of her hymnal cadence, and so gracefully elucidates the complex sorrows and wonders of life and spirit." —Booklist (Starred review)

"Languidly page through a new Marilynne Robinson novel and forget that any world exists outside her rippling cornfields and creaky country kitchens, where slow-building crises of faith and reason are talked through by well-meaning, if troubled, people . . . Prepare to be sucked in by our country's most thoughtful novelist." —Vulture

"Robinson's stellar, revelatory fourth entry in her Gilead cycle . . . is a beautiful, superbly crafted meditation on the redemption and transcendence that love affords." —Publishers Weekly (Starred Review)

"A meditation on human decency and the capacity for redemption." —Joumana Khatib, The New York Times

"Marilynne Robinson returns once more to the lovely, soulful world of Gilead, Iowa, for another evocative novel about the questions of religion and how we understand our place in the world. The author's spare, poetic style has already conjured up her near-mythic setting in previous books Gilead, Home, and Lila, and to this near-unimpeachable trifecta she now adds Jack, which focuses its attention on John Ames Boughton, a supporting player in those previous stories. The son of Gilead's Presbyterian minister, his interracial romance with high school teacher Della is traced from its awkward beginnings to heartfelt (and heartbreaking) later days, with all of Robinson's signature explorations of the strange power of belief—and the lack thereof." —AV Club