The Lights: Poems (Hardcover)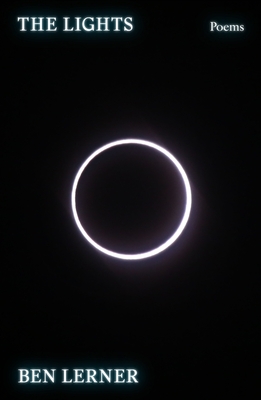 $26.00

Usually Ships in 4-7 Days
Description
---
A New Yorker Essential Read of 2023
Named a Best Book of 2023 by The Washington Post, Vulture, NPR, Financial Times, The Telegraph, and Electric Literature

A formally ambitious and intensely felt new volume from the author of 10:04 and The Topeka School.

The Lights is a constellation of verse and prose, voice mails and vignettes, songs and felt silences, that brings the personal and the collective into startling relation. Sometimes the scale is intimate, quiet, and sometimes the poems are sweeping, Orphic experiments in the animation of our common world. Written over a span of fifteen years, The Lights registers the pleasures, risks, and absurdities of making art and family and meaning against a backdrop of interlocking, accelerating crises, but for all their insight and critique, Ben Lerner's poems ultimately communicate—in their unpredictability, in their intensities—the promise of mysterious sources of lift and illumination.
About the Author
---
Ben Lerner is the author of seven previous books of poetry and prose, as well as several collaborations with visual artists. The recipient of fellowships from the Fulbright, Guggenheim, and MacArthur Foundations, Lerner has been a finalist for the National Book Award for Poetry and the Pulitzer Prize for Fiction, among many other honors. He is a Distinguished Professor of English at Brooklyn College.
Praise For…
---
"The poet Ben Lerner is back! It's not that I don't love his fiction, but I have missed the poet. Lerner is one of the most formidable writers of lyric poetry of my generation – and his particular brand of cynicism edged with vague hope fits my mood at this moment exactly. 'Birds are out of the question,' he writes."
—Craig Morgan Teicher, NPR

"Followers of Lerner's poetry and fiction will recognise elements of The Lights, his rich, reflective, fourth collection. At times it feels like he's leading us into a form of metaphysical poetry for the 21st century — but echoes of Lerner's own body of work, and the intersection of dreamlike and concrete ideas, stymie anything as simple as transcendence."
—Maria Crawford, Financial Times (Best Books of 2023)

"Fans of Lerner's celebrated novels will recognize the intimate, skeptical and visionary speaker of The Lights. Lerner's poems rearrange motifs from his fiction . . . into prismatic lyric constructions that refract story into poem, self into persona and art into utopia."
—Srikanth Reddy, The Washington Post (Best Poetry of 2023)

"Ben Lerner's return to poetry begins with an "Index of Themes" both intimate and grand . . . Lerner searches his personal life for political themes, and seems uninterested in, or incapable of, relating scenes without that extra, analytical layer. The same spirit animates The Lights . . . [which] reaches toward authentic, unfiltered, even unanalyzed feeling."
—Maddie Crum, Vulture (Best Books of 2023)

"It takes a poet to invent characters who argue that 'the voice must be sung into existence.' It takes a novelist to honor so many perspectives, histories and intimacies in one book. 'Which of us, in his moments of ambition, has not dreamed of the miracle of a poetic prose?' Charles Baudelaire asked over a century ago. The poet/novelist of The Lights enlarges Baudelaire's experiments in prose poetry into a multistory dream house for contemporary American readers."
—Srikanth Reddy, The New York Times Book Review

"In Lerner's unexpected, risky, and ultimately profound inclusion of pregnancy and childrearing . . . in [his] references references to genetic tests, C-sections, cord blood banking, and due dates and to his daughter trying to eat the "wine-dark blossoms" growing around a chain-link fence somewhere in Brooklyn . . . there is a genuine "innovation in a minor tradition," a deliberate, defiant break with the sterility of a masculinist Modernism and its forcible contamination by the stuff of living."
—Anahid Nersessian, Poetry Foundation

"Lyric poetry . . . might seem otherworldly, but for Lerner it's better understood as 'our own / illumination returned to us as alien' . . . Uncannily beautiful . . . Astonishing . . . The flickering between worlds—call it reënchantment—that Lerner seeks is, after all, not merely a game . . . This is a speculative mode—and an exceedingly lovely one—that reads "the lights" not as evidence of what's out there but of what's already here, beside us."
—Kamran Javadizadeh, The New Yorker

"The Lights . . . is as allusive and complex, but also as engaged and engaging, as we've come to expect from Lerner's work."
—Brian Dillon, 4Columns

""Ben Lerner's writing shatters space, time and literary borders . . . [His] language [is] nearly synesthetic. You can taste it in your mouth . . . He's also a shape-shifter, moving gracefully between past and present . . . Rhyme as meaning, language as music — and all of it insisting that we remain open, conscious, present in the poem as it unfolds . . . The effect is of a delirious mutability, in which the poems coalesce almost in spite of themselves. 'In the brief window between takeoff and the use of approved / electronic devices I believe great change is possible,' Lerner offers, and that is the space in which The Lights takes shape."
—David L. Ulin, The Los Angeles Times

"[Lerner's] prose poems display a gift for context, layering, juxtaposition and repetition that recalls the Apollinaire of 'Lundi Rue Christine': the reader is positioned to overhear a conversation whose absurd motifs make us feel we are there – in the wine bar or hospital waiting room or subway train where things are really happening."
—Marjorie Perloff, The Times Literary Supplement

"One of the functions of [Lerner's] poems is to create a time machine, his verse serving as a vessel in which the speaker can launch forth from the present, then hurtle himself backward and forward; to imagine the end of the world as we know it and to see the birth of poetry . . . The Lights might be the best showcase for Lerner's set of themes: Here we find a book caught between the puzzle of prose and poetry, public and private speech, past and present . . . He also revels in beauty, allows himself a moment to be optimistic, thinking of a future when we might discover 'tenses to express, what it's like to be alive today,' which for him remains a quest that is at once collective and intimate."
—Kevin Lozano, The Washington Post

"Lerner's fourth collection is a series of dispatches from the 'polycrisis' . . . The dense, ruminative prose poems are balanced by shorter lyrics that have a tense, brittle quality. The overall effect is one of a glitchy sincerity, where abstraction and dislocation are powerful."
—Rishi Dastidar, The Guardian

"Lerner brings new life to familiar fixations: the mediation of experience, contemporary art, fatherhood, and the poet's role as conduit for both individual desire and collective action . . . Syntax and linear narrative are interrupted or twisted just beyond sense to thrilling effect . . . The details of daily life as a father of young daughters during a pandemic appear alongside reflections on Walt Whitman . . . Global and personal crises are cast into a gallery of mirrors, the poems unfolding in a series of echoes and reflections between polarities of experience. Readers are left with a gorgeous artifact of impasse between 'lyric and epic,' and a mournful yet exuberant catalogue of "darker ruminations tinged with gold."
—Publishers Weekly

"[Lerner] strikes an electrifying balance between the personal and the universal, the academic and the sensuous, the brain and the gut. These poems seem to tightly spiral in on themselves while simultaneously unraveling, outlining both the awe and fear that language can inspire."
—Powell's Books blog

"This collection was written over the past 15 years, years in which [Lerner's] career has erupted and his life has changed, all against the backdrop of calamity and chaos, of joy and wonder. Lerner's mind is huge and encompassing, his thoughts rove and leap and sink and stretch; it's a gift that he allows us to be there with him."
—Julia Hass, Literary Hub

"This collection vibrates with interiority and intellection, the author's ruminations merging the observational and existential, a swirling chaos he shapes into calm. His writing is similarly bold, at times expressionistic and acrobatic, while in other moments executed with unadorned, plainspoken clarity…Another stunningly audacious work from Lerner that surveys life through the lens of art and vice versa, intimate and universal, challenging but deeply rewarding."
—Library Journal (starred review)