Jacques Pépin Cooking My Way: Recipes and Techniques for Economical Cooking (Hardcover)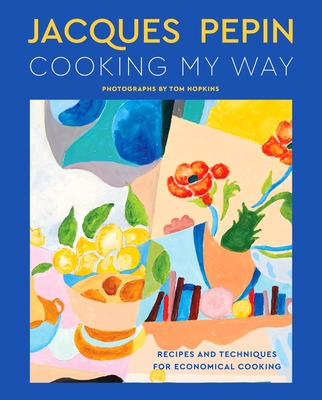 Staff Reviews
---
Sharing how to prepare "high-quality food in minimal time and with minimal effort and money" is a goal for legendary chef Jacques Pépin in his newest cookbook, Cooking My Way. Pépin started his diverse, life-long culinary career in his parents' restaurant in France in the 1940s. Having grown up at the end of World War II when food was scarce, Pépin's family was naturally thrifty. Since then, his accomplishments are notable, far-reaching, and touching. And while Pépin has reached the highest culinary levels, his economical approach to cooking remains at the heart of his way of life. In addition to delicious recipes that Pépin regularly makes at home, he shares some of his cheerful paintings. Smile inducing recipes and artistry; a glimpse into a master's home kitchen… a truly delightful offering. As Jacques always says, "Happy cooking." I took that to heart when I made his New England Clam Chowder this week. It made me feel happy.
— Kimberly
Description
---
Master chef Jacques Pépin shares his expert insights on cooking economically at home—how to save money, time, and effort—in Jacques Pépin Cooking My Way, with over 150 recipes.
All great chefs know not to waste ingredients, time, or effort—and for master chef Jacques Pépin, this means thinking efficiently about cooking, even at home. In Jacques Pépin Cooking My Way, the legendary cooking teacher offers expert insights on cooking economically at home, with techniques that save money, time, and cleanup effort, without sacrificing taste.
Shop for ingredients seasonally when they're the most affordable, flavorful, and full of nutrition. Don't overlook inexpensive cuts of meat and poultry. Use up as much of your ingredients up as possible, like saving your meat and vegetable trimmings for a stock, soup, or eventually, a sauce. Transform leftovers into an entirely new, pleasurable meal.
With more than 150 recipes, along with an illustrated menu for each season, Jacques Pépin Cooking My Way equips you with everything you need to cook the way Jacques Pépin does. Recipes include:
Garlicky Romaine with Croutons
Grits and Cheese Soufflé
Black-Eyed Peas and Kale Ragout
Skillet Butternut Squash
Zucchini-Tomato Gratin
Baked Salmon with Pesto Butter
Clam Fritters
Scaloppine of Turkey Breast in Mushroom Cream Sauce
Strawberries with Sour Cream and Brown Sugar
This beautifully revised, updated, and completely repackaged edition of Pépin Economique is an instant classic and a necessity for any home cook looking to make high-quality dishes with minimal time, effort, and money, now with full-color photographs and Jacques' celebrated paintings.
About the Author
---
The winner of sixteen James Beard Awards and author of over 30 cookbooks, including The Apprentice, Essential Pépin, and Jacques Pépin Quick & Simple, JACQUES PEPIN is a chef, author, television personality, educator, and artist, and has starred in 12 acclaimed PBS cooking series. His dedication to culinary education led to the creation of the Jacques Pépin Foundation in 2016.
Tom Hopkins was a millionaire by the time he was twenty-seven. He began his career as a real estate agent (failing miserably and earning $42 a month). After investing his last few dollars in a sales training seminar, Tom quickly rose to the nation's number one sales position—setting records that still stand today. Believing sales people are made, not born, Tom has dedicated his professional life to training and inspiring people to achieve their highest potential.
Praise For…
---
"In this charming and economically focused 100-plus recipe collection, home chefs and readers get a sense of who the ultimate expert is as a person. . . . [Pépin's] emphasis here on low-cost, in-season ingredients will further win over readers, allowing cooks creativity and freedom with techniques designed to save money. . . . Readers will be amped to cook, simmer, bake, and prepare away. . . . Always a delight." — Booklist (starred review)
"Legendary chef Pépin dishes up valuable advice for saving time, money, and effort in the kitchen. . . . Complete with Pépin's own whimsical paintings, this handy resource demonstrates that efficiency doesn't have to mean sacrificing flavor." — Publishers Weekly
"[A] heartfelt, endearing book…delightful…entertaining…A must for foodies, certain to bring a smile to readers and their dinner guests." — Kirkus Reviews on Jacques Pépin Art of the Chicken
"That old culinary workhorse, the chicken, gets a clever consideration in this delightfully illustrated combination cookbook and memoir…It's a lovely book on its own, and also a winning companion volume to Pépin's memoir, The Apprentice." — Publishers Weekly on Jacques Pépin Art of the Chicken
"You might just learn a few breezy techniques for weeknight French-style dining with this new one from Pépin." — Epicurious on Quick & Simple
"It's very good…I'm now so loyal to him that I've been cooking from it every night." — New York Times on Quick & Simple
"The recipes stand the test of time; this book will become a classic in your kitchen." — Food & Wine on Quick & Simple