Besties: Work It Out (The World of Click) (Paperback)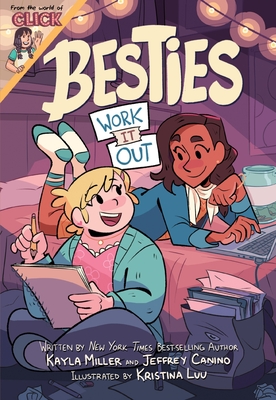 $12.99

Usually Ships in 4-7 Days
Description
---
A fun and fresh graphic-novel series spin-off of the New York Times bestselling Click books, featuring aspiring entrepreneurs Beth and Chanda! When the girls land a lucrative dogsitting gig, they're sure that fame, fortune, and popularity can't be far behind, but nothing can prepare them for the mishap that throws their business plan—and friendship—into chaos!
Meet Beth and Chanda, two stylish best friends on their way to building their fashion empire! An unexpected business opportunity presents itself when the girls are asked to dogsit at Ms. Langford's luxurious house while she's away, but it quickly turns into a disaster after an accident leaves one of Ms. Langford's prized possessions in pieces.
Now Beth and Chanda have to take on as many odd jobs as they can in order to afford a replacement. Car washing, book sales, interior decorating—you name it, Beth and Chanda are there! Will they be able to patch up their mistake in time?
New York Times bestselling author Kayla Miller and co-author Jeffrey Canino deliver a vibrant and honest story about middle school friendships and personal responsibility. Accompanied by Kristina Luu's fizzy, expressive art style, this graphic novel is the perfect companion to Olive's existing stories.
About the Author
---
Kayla Miller is the New York Times bestselling creator of four previous graphic novels, Click, Camp, Act, and Clash, and the coauthor of the Besties series. An author-illustrator and cartoonist with a BFA from the University of the Arts in Philadelphia, Kayla lives and works in New York.
Kristina Luu is a Vietnamese Canadian comic artist and illustrator from Vancouver, BC. Prior to comics, she worked in TV Animation as a character designer and colour stylist. She's the creator of "Intercosmic", an all-ages space fantasy webcomic, and has illustrated for various LGBT+ comic anthologies. She loves creating colourful worlds full of diverse characters and little moments of magic and joy.
Jeffrey Canino is a writer and educator working out of New York's Hudson Valley. He is a coauthor of Besties: Work It Out. He earned his MA in English literature from the State University of New York at New Paltz. 
Praise For…
---
"A spinoff from Miller's Click series, this graphic novel features BFFs whose emotional highs and lows propel the story forward. The full-color cartoonlike illustrations capture the energy and drama of middle school life and, notably, highlight body positivity through Beth's family."—Kirkus