The Antagonist (Paperback)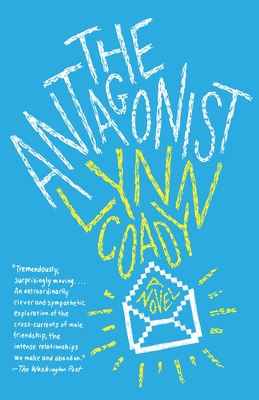 Description
---
A piercing epistolary novel, The Antagonist explores, with wit and compassion, how the impressions of others shape, pervert, and flummox both our perceptions of ourselves and our very nature.

Gordon Rankin Jr., aka "Rank," thinks of himself as "King Midas in reverse"—and indeed misfortune seems to follow him at every turn. Against his will and his nature, he has long been considered—given his enormous size and strength—a goon and enforcer by his classmates, by his hockey coaches, and, not least, by his "tiny, angry" father. He gamely lives up to their expectations, until a vicious twist of fate forces him to flee underground. Now pushing forty, he discovers that an old, trusted friend from his college days has published a novel that borrows freely from the traumatic events of Rank's own life. Outraged by this betrayal and feeling cruelly misrepresented, he bashes out his own version of his story in a barrage of e-mails to the novelist that range from funny to furious to heartbreaking.

With The Antagonist, Lynn Coady demonstrates all of the gifts that have made her one of Canada's most respected young writers. Here she gives us an astonishing story of sons and fathers and mothers, of the rewards and betrayals of male friendship, and a large-spirited, hilarious, and exhilarating portrait of a man tearing his life apart in order to put himself back together.
 

About the Author
---
Lynn Coady is an award-winning writer, editor, and journalist. She was born on Cape Breton Island in Nova Scotia and now lives in Edmonton, Alberta. She is the author of Mean Boy, Play the Monster Blind, Saints of Big Harbour, and Strange Heaven.

Praise For…
---
"Only a writer as wonderfully gifted as Lynn Coady could elicit such extraordinary sympathy for a man as full of self-destructive rage as Rank, her main character.   You won't soon forget either him or this haunting novel." —Richard Russo

"Coady's fluency in the language of the college boy [is] impressive, [as is] her feel for the camaraderie that is inseperable from rivalry and masculine aggression." —The New Yorker
 
"Dear Lynn Coady:  As I said, I love your new book, with its unsettling mixture of comedy and pathos…incredibly funny, sarcastic and profane, right up till the moment when the tragedy below the surface suddenly erupts….  It's an extraordinarily clever and sympathetic exploration of the cross-currents of male friendship, the intense relationships we make and abandon in school.  How ill-fitting those intimacies feel years later whenever a college reunion or some chance encounter forces us to try them on again." —Ron Charles, The Washington Post
 
"A self-justification fueled by rage ends as an endearing journey of self-discovery…  Nominated for Canada's Giller Prize, this very human drama, laced with humor and insight, is strongly recommended." —Barbara Love, Library Journal

"A dramatic and funny confessional in reverse." —Marie Claire
 
 "A genuinely fascinating character [whose] emails evolve from clumsy rages to thoughtful, measured ruminations on crucial events in his life….But it is Coady's ability to realistically portray his teens and university years and empathetically conduct his search for self that makes The Antagonist more than just engertainment." —Booklist
 
"Smartly tuned and as unsettling as it intends to be…. Coady expertly renders a man who's compelled to address his past but not entirely ready to look in the mirror [and her novel] is a caution to tread carefully." —Kirkus

"Coady is an ambitious writer, exploring themes of masculinity, religion, and the perils and promise of the fictional enterprise, and her decision to write from the male perspective is brave and successful….The pathos and humor brought to a challenging life story will appeal to many readers." —Publishers Weekly