The Shadow Land: A Novel (Paperback)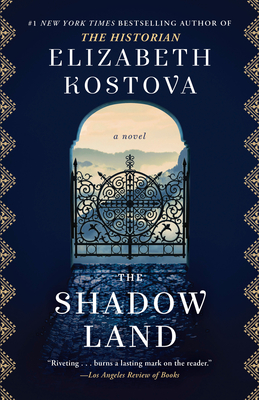 $18.00
Usually Ships in 1-5 Days
Staff Reviews
---
Kostova (she wrote The Historian, about Vlad the Impaler) returns to the Balkans in this mystery/adventure story in which a young American woman, arriving in present day Sofia, Bulgaria, to teach English, finds herself caught up in a dramatic (and sometimes melodramatic) chain of events that starts with a piece of a stranger's luggage that gets mixed up with her own. With the help of a taxi driver, who turns out to be a lot more than just a taxi driver (gay, poet, former police detective, political activist), she spends several days trying to track down the owner of the luggage, which contains an urn with someone's ashes. We learn in bits and pieces that the errant piece of luggage is owned by a family who has evidence of a politician's complicity in the post-WWII Communist regime's persecution of political prisoners, and they and their friends are being harassed--one is killed--as a result. The author is at her best when she describes the details of life in the prison camps in 1949 to 1953. The current day story is romanticized adventure, and our heroine a somewhat weak-kneed character. On the other hand, Kostova does a good job on the setting; it's easy to imagine the villages, mountains, roads of modern Bulgaria as our heroine and her taxi driver crisscross the country, trying find the urn's rightful owners. And there is a dramatic shoot-out at the end. It's a compelling read that will appeal to those who like intrigue and action within an historical context.
— Alice
April 2017 Indie Next List
---
"This is one of the most engrossing novels that I've read in a while. It is ultimately a road trip through the beautiful haunted land of Bulgaria. An American woman arrives to teach English and inadvertently picks up the wrong bag while getting into a taxi. The bag holds a beautiful wooden box containing human remains. Her helpful, enigmatic taxi driver takes her into Bulgaria's unsettled present in search of the family that surely wants the urn back. It is the fleshing out (pun intended) of the person embodied by the ashes that makes this work intriguing and heart-wrenching. This novel about self-discovery and historical reconciliation is thrilling, introspective, and very well paced."
— Dianne Patrick (W), Snowbound Books, Marquette, MI
Summer 2018 Reading Group Indie Next List
---
"In Sofia, Bulgaria, a young American woman mourning the loss of a beloved brother has a chance encounter with an elderly couple. She helps them into a cab; a satchel is left behind. When Alexandra opens the bag, what she finds sets her on a path that will take her into Sofia's charged political past. Kostova plunges the reader into a web of political oppression, horror, and personal danger. As in The Historian, Kostova weaves a page-turner that takes the reader through historic places and darker days while introducing characters that are essential to good storytelling."
— Joanie Goodrow, Where the Sidewalk Ends, Chatham, MA
Description
---
From the #1 bestselling author of The Historian comes a mesmerizing novel that spans the past and the present—and unearths the troubled history of a gorgeous but haunted country.

A young American woman, Alexandra Boyd, has traveled to Sofia, Bulgaria, hoping that life abroad will salve the wounds left by the loss of her beloved brother. Soon after arriving in this elegant East European city, however, she helps an elderly couple into a taxi—and realizes too late that she has accidentally kept one of their bags. Inside she finds an ornately carved wooden box engraved with a name: Stoyan Lazarov. Raising the hinged lid, she discovers that she is holding an urn filled with human ashes.

As Alexandra sets out to locate the family and return this precious item, she will first have to uncover the secrets of a talented musician who was shattered by political oppression—and she will find out all too quickly that this knowledge is fraught with its own danger.

Elizabeth Kostova's new novel is a tale of immense scope that delves into the horrors of a century and traverses the culture and landscape of this mysterious country. Suspenseful and beautifully written, it explores the power of stories, the pull of the past, and the hope and meaning that can sometimes be found in the aftermath of loss.

Praise for The Shadow Land

"A compelling and complex mystery, strong storytelling, and lyrical writing combine for an engrossing read."—Publishers Weekly

"In The Shadow Land, Elizabeth Kostova, a master storyteller, brings vividly to life an unfamiliar country—Bulgaria—and a painful history that feels particularly relevant now. You won't want to put down this remarkable book."—Claire Messud, author of The Woman Upstairs

"In this brilliant work, what appears at first a minor mystery quickly becomes emblematic of a whole country's hidden history. Lyrical and compelling, The Shadow Land proves a profound meditation on how evil is inflicted, endured, and, through courage and compassion, defeated. Elizabeth Kostova's third novel clearly establishes her as one of America's finest writers."—Ron Rash, author of The Risen
About the Author
---
Elizabeth Kostova is the #1 New York Times bestselling author of The Swan Thieves and The Historian. She graduated from Yale and holds an MFA from the University of Michigan, where she won a Hopwood Award for Novel-in-Progress. She is also co-founder of the Elizabeth Kostova Foundation for Creative Writing in Bulgaria.
Praise For…
---
"A compelling and complex mystery, strong storytelling, and lyrical writing combine for an engrossing read."—Publishers Weekly

"In The Shadow Land, Elizabeth Kostova, a master storyteller, brings vividly to life an unfamiliar country—Bulgaria—and a painful history that feels particularly relevant now. You won't want to put down this remarkable book."—Claire Messud, author of The Woman Upstairs

"In this brilliant work, what appears at first a minor mystery quickly becomes emblematic of a whole country's hidden history. Lyrical and compelling, The Shadow Land proves a profound meditation on how evil is inflicted, endured, and, through courage and compassion, defeated. Elizabeth Kostova's third novel clearly establishes her as one of America's finest writers."—Ron Rash, author of The Risen

"The Shadow Land is thrilling, and not just as a gripping tale. It's also thrilling to watch such a talented writer cast her spell. The central character actually begins this deft novel in an urn, only to emerge as one of the most memorable characters I've encountered in a long time."—Richard Russo, author of Everybody's Fool

"Transporting . . . draws us into Bulgarian history and character revelation like an elegant, mysterious labyrinth. Page-turning, evocative, and richly imagined."—Dominic Smith, author of The Last Painting of Sara de Vos

Praise for Elizabeth Kostova's The Historian

"Quite extraordinary . . . Kostova is a natural storyteller. . . . She has refashioned the vampire myth into a compelling contemporary novel, a late-night page-turner."—San Francisco Chronicle

"Hypnotic . . . a thrill ride through history."—The Denver Post

"Part thriller, part history, part romance . . . Kostova has a keen sense of storytelling and she has a marvelous story to tell."—Baltimore Sun

"Kostova's vampire is no campy Lugosi knockoff. . . . Blending history and myth, Kostova has fashioned a version so fresh that when a stake is finally driven through a heart, it inspires the tragic shock of something happening for the very first time."—Newsweek

Praise for The Swan Thieves

"Exquisite."—The Boston Globe

"Engrossing."—O: The Oprah Magazine

"Stunning . . . A beautifully written tale of art, love and an obsession triggered by both."—Associated Press