More Than Just a Pretty Face (Hardcover)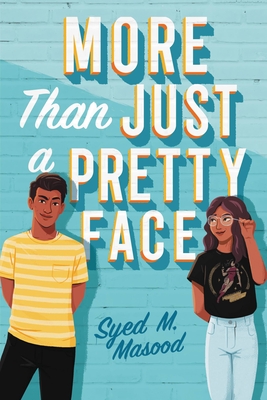 Staff Reviews
---
This novel follows the life of a self-starting teenage chef, Jilani, who struggles heavily in school but makes up for it with his good looks and funny jokes. When he is asked to represent his history class in a highly exclusive academic competition at his academy, everyone is shocked to see Jilani chosen for such a coveted position due to his lack of academic motivation. Enlisting the help of his lifelong crush Kaval and a new marriage prospect Bisma, Jilani embarks on an extensive journey into his identity and cultural heritage, which eventually leads to a better understanding of the future he seeks.
I really enjoyed this book because it was a mixture of different elements including historical opinions, descriptive cooking scenes, romantic encounters, and ancestry. The story had a nice range of characters that all tested Jilani, leading to his strong character development. I also felt that this story was nicely paced and many scenes in this book were rich in detailed description. All of these ingredients fused together to create a story that flowed nicely and led to a swoon-worthy ending.
— Gabriella T.
Description
---
For fans of Becky Albertalli and Jenny Han, a sweetly funny YA debut about falling in love, family expectations, and being a Renaissance Man.
Danyal Jilani doesn't lack confidence. He may not be the smartest guy in the room, but he's funny, gorgeous, and going to make a great chef one day. His father doesn't approve of his career choice, but that hardly matters. What
does
matter is the opinion of Danyal's longtime crush, the perfect-in-all-ways Kaval, and her family, who consider him a less than ideal arranged marriage prospect.
When Danyal gets selected for Renaissance Man, a school-wide academic championship, it's the perfect opportunity to show everyone he's smarter than they think. He recruits the brilliant, totally-uninterested-in-him Bisma to help with the competition, but the more time Danyal spends with her . . . the more he learns from her...the more he cooks for her . . . the more he realizes that happiness may be staring him right in his pretty face.
In this young adult debut full of depth and heart, author Syed M. Masood will have readers laughing, sighing, tearing up, and shouting "YES!" at the top of their lungs.
About the Author
---
Syed M. Masood grew up in Karachi, Pakistan, and now lives with his wife and children in Sacramento, California, where he is a practicing attorney. He wrote a few couplets in Urdu when he was a teenager, and his family still tells everyone he is an Urdu poet. He is not. More Than Just a Pretty Face is his debut young adult novel.
Praise For…
---
"A deliciously entertaining rom-com that delivers genuine cultural insight while questioning societal norms. Danyal is hilarious, authentic, and disarmingly humble, though I thoroughly enjoyed spending time with all the vivid and multifaceted characters in the book."—Nandini Bajpai, author of A Match Made in Mehendi

"A laugh-out-loud yet heartwarming story about familial obligations, friendship, and love. Syed M. Masood has created an unforgettable cast of characters with the utterly charming, hilarious, and most endearing Danyal Jilani at the center of it. A thoroughly enjoyable read and a great addition to any bookshelf."
—Sabina Khan, author of The Love and Lies of Rukhsana Ali

"Funny, open-hearted, and utterly charming, More Than Just a Pretty Face perfectly captures the joys of friendship and first love, as well as all the complexities of identity, faith, and family. This is a spectacular debut."—Katie Henry, author of Heretics Anonymous

"Hilarious and teeming with heart, More Than Just a Pretty Face challenged me, wounded me, made me laugh, and made me love. Danyal has secured his place as a heroic protagonist for the ages who only wants the very best for those he loves. His friends and family are so lucky to have him, and readers will be lucky to have Syed M. Masood's debut. I am a forever fan."—Erin Hahn, author of You'd Be Mine and More Than Maybe

"Fresh, funny, and timely, More Than Just a Pretty Face is a wildly entertaining, stereotype-shattering rom-com debut. Total Netflix movie material."—Sarah Henning, author of Throw Like a Girl and the Sea Witch dulology

"I couldn't have been more charmed by Danyal, the hapless pretty-boy and aspiring chef. One of the most unique and likable characters I've come across. This book has such a kind, expansive heart, and I'm immensely thankful that it exists.—Rahul Kanakia, author of We Are Totally Normal

"Masood deftly explores religion, culture, class, and awkward teenage love in this refreshingly candid 'tell it like it is' desi romantic comedy. You'll root hard for Danyal and will be two-fists-high-in-the-air overjoyed when you get to the end."—Suzanne Park, author of The Perfect Escape and Loathe at First Sight

"More Than Just A Pretty Face is the kind of book I've been searching for my entire life! Not only is it hilarious and heartwarming, with characters you can't help but be charmed by, but it honestly portrays the pressures of living up to family expectations and how history shapes our present and future. This is a must-read for everyone."—Adiba Jaigirdar, author of The Henna Wars

"Entertaining.... [A] broadly relatable story that offers plenty of food for thought. Readers will root for Danyal as he evolves and proves he is more than meets the eye. A charming teen romance with real substance."
—Kirkus Reviews


"A humorous exploration of [the novel's] characters' desi backgrounds, touching upon familial and religious expectations.... Vivid."
—Publishers Weekly


"Danyal's seismic character arc, Bisma and his and evolving love, and fascinating historical insights make for an entertaining read."—Booklist

"[Danyal] grapples with both historical prejudices against India and contemporary prejudices within his own community..... Refreshing.... [A] delightful debut."
—SLJ