As Long as the Lemon Trees Grow (Hardcover)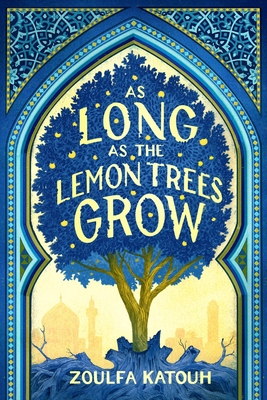 Staff Reviews
---
After the Syrian Revolution destroyed many lives, including Salama's parents and brother, Salama, a pharmacy student, finds herself serving as a doctor at the hospital. Despite her fears, Salama does her best to help those who are brought in before making her way home to her pregnant sister-in-law, Layla. Layla is eager to flee the country, but Salama is stuck between feeling compelled to stay behind to help those who are hurt and wanting to leave in hopes of a better life. Her stress is manifested in an imaginary spirit who tells her what to do, and any decision is further complicated when she meets an attractive young man. This is a compelling story of what the ongoing trauma of war does to individuals and their communities. 
— Ayah and Alice
Description
---
A love letter to Syria and its people, As Long as the Lemon Trees Grow is a speculative novel set amid the Syrian Revolution, burning with the fires of hope, love, and possibility. Perfect for fans of The Book Thief and Salt to the Sea.

Salama Kassab was a pharmacy student when the cries for freedom broke out in Syria. She still had her parents and her big brother; she still had her home. She had a normal teenager's life. 
 
Now Salama volunteers at a hospital in Homs, helping the wounded who flood through the doors daily. Secretly, though, she is desperate to find a way out of her beloved country before her sister-in-law, Layla, gives birth. So desperate, that she has manifested a physical embodiment of her fear in the form of her imagined companion, Khawf, who haunts her every move in an effort to keep her safe. 
 
But even with Khawf pressing her to leave, Salama is torn between her loyalty to her country and her conviction to survive. Salama must contend with bullets and bombs, military assaults, and her shifting sense of morality before she might finally breathe free. And when she crosses paths with the boy she was supposed to meet one fateful day, she starts to doubt her resolve in leaving home at all.  
 
Soon, Salama must learn to see the events around her for what they truly are—not a war, but a revolution—and decide how she, too, will cry for Syria's freedom.
About the Author
---
Zoulfa Katouh is a Canadian with Syrian roots based in Switzerland. She is currently pursuing her master's in Drug Sciences and finds Studio Ghibli inspiration in the mountains, lakes, and stars surrounding her. When she's not talking to herself in the woodland forest, she's drinking iced coffee, baking aesthetic cookies and cakes, and telling everyone who would listen about how BTS paved the way. A dream of hers is to get Kim Nam-joon to read one of her books. As Long As the Lemon Trees Grow is her debut novel. She invites you to visit her online zoulfakatouh.com.
Praise For…
---
Praise for As Long as the Lemon Trees Grow
A Washington Post Best Children's and YA Books of the Year
An Amazon Best Young Adult Books of the Year
A Mary Sue Best YA Novels of the Year
An NPR Best Book of the Year
A NYPL Best Book of the Year

Praise for As Long as the Lemon Trees Grow:

An Amazon Best Book of the Month

"A searing story of war, loss, family and love, of seeking grace in madness and hope in tragedy, As Long as the Lemon Trees Grow is a phenomenal tale, a piercing keen for the Syria that was and the Syria that is. An absolute must read."—Sabaa Tahir, #1 NYT bestselling author of An Ember in the Ashes

"Wrenching and lyrical, As Long as the Lemon Trees Grow heralds a stunning new voice in young adult literature. This heartbreakingly beautiful novel challenges the reader to open their hearts and minds to the ongoing revolution in Syria against a ruthless dictator--one who has taken too many lives and forced nearly 13 million Syrians to flee their homeland. Zoulfa Katouh reminds us of the awesome power of love, hope, and tenacity even in the most desperate circumstances. A gorgeous, compelling read that you will not be able to put down."—Samira Ahmed, New York Times bestselling author of Internment

"Brilliant, beautiful, powerful. As Long as the Lemon Trees Grow will leave a profound mark on your soul, transforming the way you see love, loss, and the human capacity for resilience and hope that soars above all."—S.K. Ali, author of Love from A to Z

"As Long as the Lemon Trees Grow paints a stunning and often chilling portrait of the Syrian Revolution that will stay close to my heart. Zoulfa Katouh's driving narrative, beautifully drawn characters, and thoughtful prose bleed across the page. Resilience, loyalty, and bravery intertwine into the backdrop of war and siege, brutality and terror. Teens Salama and Kenan shine with the kind of hope and love that overcomes the greatest fear. Magnificent and moving."—Laura Taylor Namey, New York Times bestselling author of A Cuban Girl's Guide to Tea and Tomorrow and When We Were Them

"We don't deserve Katouh's gorgeous words and heartbreaking story, but she has blessed us with it anyway. AS LONG AS THE LEMON TREES GROW is not only stunningly written, it's also an incredibly important work of our time, a book that will no doubt touch millions and leave us all broken and aching for more of Katouh's writing."—Jesse Q. Sutanto, bestselling author of Dial A for Aunties

"As Long As the Lemon Trees Grow is hauntingly beautiful. Katouh masterfully tells a story that's both painful and captivating, you won't be able to put the book down. Her characters are so achingly real they'll live with you weeks after you've finished reading. The story manages to embrace fear in the time of war, love in spite of loss, and hope in the face of darkness. I cannot stress it enough, this book is a must read."
 —Huda Fahmy author of Huda F Are You?

"Compassionately and unflinchingly told, As Long As the Lemon Trees Grow is both a transcendent love story and a battle cry. Katouh will make you weep with sorrow, rage, and joy—and you will thank her for it. An unforgettable book from a rising star."—Allison Saft, NYT bestselling author of A Far Wilder Magic.

"As gorgeous as it is groundbreaking, As Long as the Lemon Trees Grow holds many things at once: beauty and ruin; brutality and sweetness; tender love in the midst of shattering violence. Katouh writes with urgency and grace, and while she never shies from the horrors of war, neither does she miss a single note of hope—and there are so many. This book is devastatingly beautiful."—David Arnold, NYT bestselling author of Mosquitoland and The Electric Kingdom

"Life-affirming and poignant, As Long as the Lemon Trees Grow left me speechless more than once.  As characters, Salama and Kenan leap off the page, and my heart ached for them as they bonded over Miyazaki and dared to love in the face of war-torn reality that Katouh rendered unflinchingly but with a human touch."—Joan He, New York Times Bestselling author of The Ones We're Meant to Find

"As Long as the Lemon Trees Grow left me absolutely breathless. Through unflinching--and at times positively devastating--prose, Katouh paints with her words a beautiful story of home and loss, but also of defiant hope. Her pages hold within them something special, something truly rare. My heart will never be quite the same."—Ayana Gray, New York Times-bestselling author of Beasts of Prey

*"Katouh's lyrical prose, combined with a moving portrayal of first love, unflinchingly depicts both the costs of revolution, and the strength it takes to fight for one's beliefs."—Publishers Weekly, starred review

*"Katouh's riveting debut novel reads like the seasoned writing of Ruta Sepetys and Julie Berry and will likely find a shared audience with those titles as well.Elements of this story and facets of the drive shown by the characters will be best respected by an older teen audience. A must-read."—School Library Connection, starred review

"...readers will linger over the many exquisite sentences in this memorable novel that honors the stories of countless Syrians. Searing in its intensity."—Kirkus

"Katouh masterfully weaves many threads together to form a raw, nuanced, and deeply human plot that will make you think, swoon, and brace for impact. AS LONG AS THE LEMON TREES GROW should be on the top of your must-read list."—YA Books Central

"Leaving one's homeland is not an easy thing, and it can be difficult to understand if not for the stories like this, which carefully and thoughtfully account for all the trauma leading to these painful decisions."—Booklist

"...a masterful portrait of the horrific cost of oppression and violence, and gives a compassionate face to an ongoing crisis that is responsible for immeasurable human suffering."—NPR

* "An unflinching representation of the early days of the Syrian revolution that incorporates sophisticated and unexpected narrative techniques and surprising revelations."—Horn Book, starred review

"As Long as the Lemon Trees Grow is a heartrending love letter to Syria from Zoulfa Katouh. This stunning tale follows Salama Kassab, a young woman who lost everything when the crisis of the Syrian Revolution broke out. She has now taken on the role of a doctor and, though haunted by the injured victims of the government, she is torn with whether to leave her country or stay. As Long as the Lemon Trees Grow is equal parts hopeful and heartbreaking as it raises awareness for what is happening in Syria and proves that the country's fight can take place from any part of the world and in any manner."—The Mary Sue