The Witch Hunter (Paperback)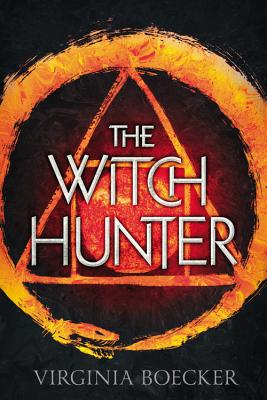 $9.99

Usually Ships in 4-7 Days
Description
---
The magic and suspense of Graceling meet the political intrigue and unrest of Game of Thrones in this riveting fantasy debut.

Your greatest enemy isn't what you fight, but what you fear.

Elizabeth Grey is one of the king's best witch hunters, devoted to rooting out witchcraft and doling out justice. But when she's accused of being a witch herself, Elizabeth is arrested and sentenced to burn at the stake.

Salvation comes from a man she thought was her enemy. Nicholas Perevil, the most powerful and dangerous wizard in the kingdom, offers her a deal: he will save her from execution if she can break the deadly curse that's been laid upon him.

But Nicholas and his followers know nothing of Elizabeth's witch hunting past--if they find out, the stake will be the least of her worries. And as she's thrust into the magical world of witches, ghosts, pirates, and one all-too-handsome healer, Elizabeth is forced to redefine her ideas of right and wrong, of friends and enemies, and of love and hate.

Virginia Boecker weaves a riveting tale of magic, betrayal, and sacrifice in this unforgettable fantasy debut.
About the Author
---
Virginia Boecker is the author of The Witch Hunter series and An Assassin's Guide to Love and Treason. A graduate of the University of Texas, she had a decade-long career in technology before quitting to become a full-time writer. When she isn't writing, Virginia likes running, reading, traveling, and trying new things (most recently: learning to drive a boat). She has lived all over the world but currently resides in beautiful Lake Oswego, Oregon with her husband, children, a dog called George and a cat named Thomas.
Praise For…
---
Praise for The Witch Hunter:
A YALSA 2016 Teens Top Ten Nominee
* "An explosive cocktail of high-stakes adventure... The first-person, present-tense narration is rendered masterfully; coupled with the cinematic vividness of the descriptions, the whole makes for a page-turning delight."
—PW (starred review)

"Debut author Boecker's first-person, present tense narrative creates a suspenseful mood by allowing readers to see Elizabeth's secrets, doubts, and fears...The book has plenty of action-sword fights, battles with monsters, black magic, and betrayal-but there is also camaraderie and romance...Fans of Kristin Cashore's Graceling (Houghton Harcourt, 2008) will see similarities in this story of a girl with deadly skills who begins to question using her services to benefit a brutal ruler. This action-packed tale will be a welcome addition to most YA fantasy collections."—SLJ

"In her debut novel (a sequel is planned), Boecker has created an alternate sixteenth-century world whose characters are as intriguing as the magical world they inhabit...Woven within the complex fantasy is a new understanding of friendship and a tenuous but sweet Romeo and Juliet-like love story that promises to blossom, along with the witchcraft, mystery, and bloodletting."—Booklist

"Elizabeth is a compelling heroine, surrounded by strong supporting characters. Particularly compelling is Elizabeth's uneasy alliance with Fifer as they race to find answers, uncovering dark secrets along the way...First-time novelist Boecker delivers a promising debut. This reviewer is hoping Elizabeth's future adventures prove equally engaging."—VOYA

"The world-building here is comprehensive but concise...Thrilling action scenes combine with a twisting plot to spur readers forward. Perhaps most compelling, however, is Elizabeth's character arc, which moves her from a girl so beholden to the men in her life that she hands her body over both physically and sexually, to an autonomous young adult making decisions for herself....It will satisfy fans of warrior girls who realize their own power."—The Bulletin

"Those who like their stories fast-paced will enjoy this mashup of historical and fantasy. Ghouls, ghosts, magic, and supernatural creatures all appear, lending humor and creepiness in equal measure."—School Library Connection

"[Filled] with everything a good fantasy book needs: swords, poison, black magic, and betrayal. Elizabeth Grey is a tough, feisty protagonist whose fearless heart takes more twists and turns than the narrow city alleys in which the story opens. A fun, corpse-ridden, blood-drenched debut."—April Tucholke, author of Between the Devil and the Deep Blue Sea

"Sassy and smart, this page-turning fantasy is full of action, wit, and magic. I ate it up in one sitting and demand more...now!"—Beth Revis, New York Times bestselling author of Across the Universe and The Body Electric

"Crisp writing, a fast pace with bloody action, and the all-important monster rats make this story of a bold but more-vulnerable-than-she-realizes witch hunter a strong fantasy debut."—Kate Elliott, author of Cold Magic and Court of Fives

"Elizabeth is an endearingly flawed heroine, and the other characters are just as nuanced and delightful. With an immersive world and fast-paced, addictive plot, The Witch Hunter is perfect for those looking for their next fantastical adventure."—Emily Lloyd-Jones, author of Illusive