Peach Blossom Spring: A Novel (Hardcover)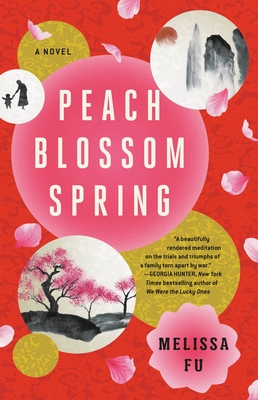 $28.00

Usually Ships in 4-7 Days
Staff Reviews
---
Spanning three generations, Peach Blossom Spring wanders from Japan's invasion of China in 1938 to the United States during the latter half of the 20th century. Young Meilin, a widowed mother and her four year-old son, Renshu, scramble to survive as they leave their home and settle in Taiwan. Living in desperation, Meilin keeps hope alive for her son by sharing stories that are intricately drawn onto a beloved hand scroll that she keeps safe amongst their meager belongings. Later, pursuing a college education, Renshu leaves for America and becomes known as Henry Dao. He marries a girl he meets at university, eventually landing in New Mexico to work at the Los Alamos Scientific Laboratory, and they have one child, Lily. Although he desperately wants his mother, Meilin, to join them in the U.S., a mix up with paperwork and many political difficulties prevent this from ever occurring. As Lily grows, she tries to find out more about her Chinese heritage and is met with fierce resistance from her dad. Closing off from his Chinese-ness is the only way Henry has been able to survive all that he has been through. The ancient fables from the scrolls surface from time to time in Henry's life, especially part of the story about a peach orchard. An artfully written novel that fans of historical fiction will love!
— Liz
Description
---
A "beautifully rendered" novel about war, migration, and the power of telling our stories, Peach Blossom Spring follows three generations of a Chinese family on their search for a place to call home (Georgia Hunter, New York Times bestselling author).

"Within every misfortune there is a blessing and within every blessing, the seeds of misfortune, and so it goes, until the end of time."

It is 1938 in China and, as a young wife, Meilin's future is bright. But with the Japanese army approaching, Meilin and her four year old son, Renshu, are forced to flee their home. Relying on little but their wits and a beautifully illustrated hand scroll, filled with ancient fables that offer solace and wisdom, they must travel through a ravaged country, seeking refuge.

Years later, Renshu has settled in America as Henry Dao. Though his daughter is desperate to understand her heritage, he refuses to talk about his childhood. How can he keep his family safe in this new land when the weight of his history threatens to drag them down? Yet how can Lily learn who she is if she can never know her family's story?

Spanning continents and generations, Peach Blossom Spring is a bold and moving look at the history of modern China, told through the story of one family. It's about the power of our past, the hope for a better future, and the haunting question: What would it mean to finally be home?

A BOOK OF THE MONTH CLUB PICK

"Left me pondering how the stories we choose to pass down have the power not only to define us, but to buoy us." —Georgia Hunter, author of We Were the Lucky Ones

"I absolutely adored this novel . . . During moments of deep sadness and loss, there is also beauty." —Christy Lefteri, author of The Beekeeper of Aleppo

"Inspired by her father's real-life experiences, Melissa Fu has gifted us with a timely, moving, and universal novel."―Nguyễn Phan Quế Mai, author of The Mountains Sing

"Expansive, atmospheric, and affecting. Peach Blossom Spring shows just how much the human heart can hold." —Susie Yang, author of White Ivy

 
About the Author
---
Melissa Fu grew up in Northern New Mexico and has lived in Texas, Colorado, New York, Ohio and Washington. She now lives near Cambridge, UK, with her husband and children. With academic backgrounds in physics and English, she has worked in education as a teacher, curriculum developer, and consultant. She was the 2018/19 David TK Wong Fellow at the University of East Anglia. Peach Blossom Spring is her first novel.
Praise For…
---
"Fu's accomplished first novel documents Henry's diligent attempts to put down roots in New Mexico, but it's strength lies in its portrayal of the many places—Changsha, Chonquing, Shanghai, and points in between—where his mother, Meilin, sought refuge with her only child."—New York Times Book Review

"Magical, and powerful, Peach Blossom Spring brings to life the costs of wars and conflicts while illuminating the spirit of human survival. Inspired by her father's real-life experiences and her determination to comprehend her family's past, Melissa Fu has gifted us with a timely, moving, and universal novel."—Nguyen Phan Que Mai, author of The Mountains Sing

"A beautifully rendered meditation on the trials and triumphs of a family torn apart by war, Peach Blossom Spring left me pondering how the stories we choose to pass down have the power not only to define us, but to buoy us—to help us persevere through the most challenging of times."—Georgia Hunter, New York Times bestselling author of We Were the Lucky Ones

"Expansive, atmospheric, and affecting. Peach Blossom Spring shows just how much the human heart can hold, and it left me breathless."
 —Susie Yang, New York Times bestselling author of White Ivy

"I absolutely adored this novel about love and war, migration and belonging. . . . During moments of deep sadness and loss, there is also beauty - the beauty of enduring love, of identity, of hope. Melissa Fu portrays the time, the culture, the place and the struggles of this family so vividly, with nuance and color and life. Her writing is subtle and powerful, it stays with you, it follows you like the smell of the peach blossoms, it evokes emotions and questions and enlightens you. This is such a stunning achievement!"—Christy Lefteri, author of The Beekeeper of Aleppo

"Richly described . . . deeply compassionate . . . a haunting tribute to immigrant families and a gorgeous meditation on how stories can shape identity."—Shelf Awareness

"A rich, sprawling saga straddling continents, decades and fractured histories, Melissa Fu has written a gorgeous book of family love and loss. Fu braids together historical details with characters whose hopes and fears pull you along on every page, and leave you wanting more."—Te-Ping Chen, author of Land of Big Numbers

"Peach Blossom Spring is a sweeping epic that transports the reader from war-torn China, where a mother consoles her son with ancient fables, through to modern-day America, where a little girl searches for her identity and the secrets of her father's history. Melissa Fu effortlessly conjures a world rich in texture, taste and detail in this gentle, heartfelt, and moving story. It's glorious and tender, exquisitely written and beautifully nuanced. I finished it with tears in my eyes and will be recommending it to everyone I know." —Jennifer Saint, author of Ariadne

"Melissa Fu chronicles a tumultuous period in Chinese history with stunning grace, while also offering us a fresh and important take on the immigrant story. In Dao Renshu's family journey—fleeing from China during WWII, then finding and refinding himself in America—I recognized so many pieces of my own. Captivating from beginning to end." —Mira T. Lee, author of Everything Here is Beautiful

"A brilliant multigenerational tale that stretches across the decades from pre-WWII China to post-Cold War America. Fu's novel is full of dynamic characters whose lives fill the pages with beauty and tragedy. . . . It's a timely story of displaced Chinese immigrants searching for home and identity after war and revolution ravage their homeland." —Mary Lynn Bracht, author of White Chrysanthemum

"This intricately woven journey of four generations of a family buffeted by the complex tectonics of 20th century China and the US is so well told that I often paused to admire Fu's poetic magic in bringing her characters and real historical moments to life."—Helen Zia, author of Last Boat Out of Shanghai: The Epic Story of the Chinese Who Fled Mao's Revolution