The Way to Bea (Hardcover)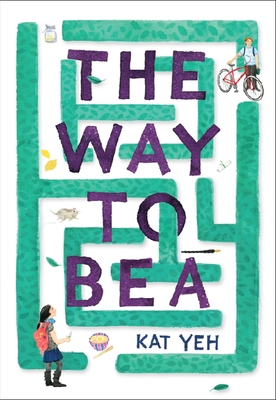 Staff Reviews
---
Bea is a happy go lucky middle grader who returns from summer vacation to find her best friend forever is no longer talking to her. By eating lunch in the newspaper class, she befriends Will, an ostracized boy dealing with Asperger's. Will is obsessed with labyrinths. The fun mystery begins when Will announces he wants to walk the mysterious labyrinth on the Leland estate. Bea is eager to help her new friend. It's a mystery wrapped up with some thought about those awkward middle years. Loved it.
— Valerie
Description
---
With a charming voice, winning characters, and a perfectly-woven plot, Kat Yeh delivers a powerful story of friendship and finding a path towards embracing yourself. Everything in Bea's world has changed. She's starting seventh grade newly friendless and facing big changes at home, where she is about to go from only child to big sister. Feeling alone and adrift, and like her words don't deserve to be seen, Bea takes solace in writing haiku in invisible ink and hiding them in a secret spot. But then something incredible happens--someone writes back. And Bea begins to connect with new friends, including a classmate obsessed with a nearby labyrinth and determined to get inside. As she decides where her next path will lead, she just might discover that her words--and herself--have found a new way to belong.
About the Author
---
Kat Yeh is the author of the critically acclaimed middle grade novels The Truth About Twinkie Pie and The Way to Bea. She grew up reading, writing, and dreaming in Westtown, Pennsylvania. She currently lives with her family on Long Island. Learn more about Kat at katyeh.com.