Texas Blood: Seven Generations Among the Outlaws, Ranchers, Indians, Missionaries, Soldiers, and Smugglers of the Borderlands (Hardcover)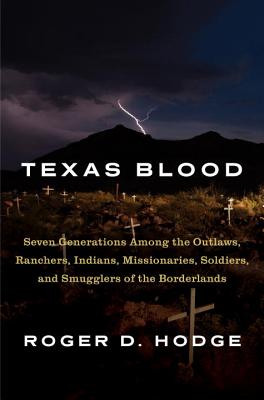 Staff Reviews
---
The subtitle says it all. This comprehensive study is both memoir and history of South Texas. Hodge meanders through family history and Texas history in his report on first, why his ancestors came to southwest Texas in the 19th century and second, how the region has changed over the last 200 years. He begins with the conquistadors and Native American tribes and then the settlers from the eastern United States and Mexico who ranched in the unforgiving land west of what is now Big Bend National Park. From the U.S. Cavalry to the Texas Rangers to the modern Border Patrol, he explores issues of law enforcement and illegal immigration. It's a revealing exploration of current conditions that made me very aware of my surroundings as we traveled recently down the Rio Grande road from El Paso to Big Bend.
This will, I think, be a good holiday gift book for anyone interested in Texas history and Texas current events. It reads like a travel log with the author's family history interspersed with his observations on regional history, with lots of stories about famous and not-so-famous historical figures. One doesn't mind when he goes off on tangents -- it's highly entertaining reading. Recommended.
— Alice
Description
---
In the tradition of Ian Frazier's Great Plains, and as vivid as the work of Cormac McCarthy, an intoxicating, singularly illuminating history of the Texas borderlands from their settlement through seven generations of Roger D. Hodge's ranching family. What brought the author's family to Texas? What is it about Texas that for centuries has exerted a powerful allure for adventurers and scoundrels, dreamers and desperate souls, outlaws and outliers? In search of answers, Hodge travels across his home state--which he loves and hates in shifting measure--tracing the wanderings of his ancestors into forgotten histories along vanished roads. Here is an unsentimental, keenly insightful attempt to grapple with all that makes Texas so magical, punishing, and polarizing. Here is a spellbindingly evocative portrait of the borderlands--with its brutal history of colonization, conquest, and genocide; where stories of death and drugs and desperation play out daily. And here is a contemplation of what it means that the ranching industry that has sustained families like Hodge's for almost two centuries is quickly fading away, taking with it a part of our larger, deep-rooted cultural inheritance. A wholly original fusion of memoir and history--as piercing as it is elegiac--Texas Blood is a triumph.
About the Author
---
ROGER D. HODGE is deputy editor of The Intercept and author of The Mendacity of Hope: Barack Obama and the Betrayal of American Liberalism. Formerly he was the editor of the Oxford American and Harper's Magazine. Hodge's writings have appeared in many publications, including Texas Monthly, the London Review of Books, Popular Science, The New Republic, and Harper's. His essay "Blood and Time: Cormac McCarthy and the Twilight of the West" was a finalist for the National Magazine Award for criticism. He lives in Brooklyn.