Revolutionary Founders: Rebels, Radicals, and Reformers in the Making of the Nation (Paperback)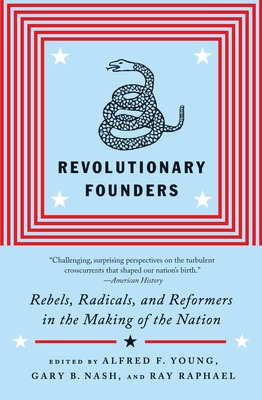 Description
---
In twenty-two original essays, leading historians reveal the radical impulses at the founding of the American Republic. Here is a fresh, new reading of the American Revolution that gives voice and recognition to a generation of radical thinkers and doers whose revolutionary ideals outstripped those of the "Founding Fathers."
 
While the Founding Fathers advocated a break from Britain and espoused ideals of republican government, none proposed significant changes to the fabric of colonial society. Yet during this "revolutionary" period some people did believe that "liberty" meant "liberty for all" and that "equality" should be applied to political, economic, and religious spheres. Here are the stories of individuals and groups who exemplified the radical ideals of the American Revolution more in keeping with our own values today. This volume helps us to understand the social conflicts unleashed by the struggle for independence, the Revolution's achievements, and the unfinished agenda it left to future generations to confront.
About the Author
---
Alfred F. Young was professor emeritus of history at Northern Illinois University and was a senior research fellow at the Newberry Library in Chicago. He lives in Durham, North Carolina. He passed away in 2012.

Gary B. Nash is professor of history emeritus and director of the National Center for History in the Schools at UCLA. He lives in Pacific Palisades, California.

Ray Raphael is the author of A People's History of the American Revolution, Founding Myths, and several other books on the nation's founding. He lives in northern California.
Praise For…
---
"The best essays are small gems of exposition, providing both the context and detail necessary to enable readers to recognize the important contributions of these previously unappreciated and largely unknown individuals. . . . In short, Revolutionary Founders is one step, but only one, toward a comprehensive account of the nation's origins." —Mary Beth Norton, The New York Times Book Review

"In these 22 provocative essays, leading historians highlight Revolutionary-era people and movements that textbooks and standard accounts skip. . . . Revolutionary Founders aims to test the parameters of what we think we know with new and reinterpreted data and fresh theories. . . . [T]hey offer challenging, surprising perspectives on the turbulent crosscurrents that shaped our nation's birth." —American History

"[A] uniformly strong collection, [by] an impressive array of historians—among them, T.H. Breen, Eric Foner, Jill Lepore and Alan Taylor. . . . Editors Young, Nash, and Raphael have solicited wisely, with each contributor adding an important dimension to the controlling theme: 'We cannot have too much liberty.' Adds immeasurably to our understanding of the Revolution's full meaning." –Kirkus Reviews

"Fast-paced and readable, this remarkable book captures an American Revolution that has long been hiding in plain sight.  I emerged with a new set of heroes, a fresh appreciation for complex stories, and a new sense of our own connection to a revolutionary past." –Linda K. Kerber, author of No Constitutional Right to Be Ladies:  Women and the Obligations of Citizenship

"Revolutionary Founders brilliantly restores the struggle for social equality to the central place in the history of American Revolution, and explains how the 'spirit of leveling' shaped the making of the new American Republic. For anyone interested in the sources of popular democracy in the United States, Revolutionary Founders is required reading." –Ira Berlin, author of The Making of African America: The Four Great Migrations

"Revolutions free the imagination, making many things seem possible that once were deemed wild visions. Revolutionary Founders introduces into the pantheon of the American Revolution those rebels, radicals, and reformers who passionately committed themselves to act on the conviction that 'all men are created equal.'" –Joyce Appleby, author of The Relentless Revolution: A History of Capitalism