Americanah (Paperback)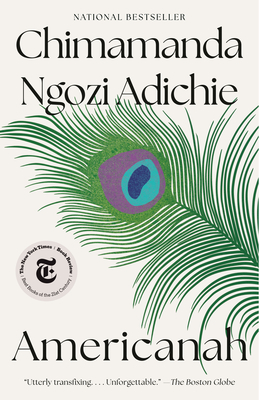 Staff Reviews
---
Ifemelu and Obinze have been inseparable since they were teenagers and assume that they will always be together. But Ifemelu gets a visa to attend college in the U.S., and Obinze doesn't. After she has a traumatic experience, Ifemelu distances herself from Obinze, first dating a wealthy, white man and then an American black college professor. These distinctions are important because Ifem starts a blog from the perspective of a non-American black person. She observes Americans' unspoken caste system of discrimination as well as American blacks' prejudice against others with darker skin.
Eventually feeling a deep homesickness, Ifemelu returns to Nigeria and meets again with Obinze, who is now a wealthy, married man. She also begins to blog about Nigerians, noting the ways they have advanced and the ways they have stayed the same. Adiche has a brilliant eye for truth, whether it is about people's biases and conceits or about the hair treatment alternatives for women with "kinky" hair.
— Cynthia
Description
---
From the award-winning, bestselling author of We Should All Be Feminists and Half of a Yellow Sun—the story of two Nigerians making their way in the U.S. and the UK, raising universal questions of race, belonging, the overseas experience for the African diaspora, and the search for identity and a home.

Ifemelu and Obinze are young and in love when they depart military-ruled Nigeria for the West. Beautiful, self-assured Ifemelu heads for America, where despite her academic success, she is forced to grapple with what it means to be black for the first time.

Quiet, thoughtful Obinze had hoped to join her, but with post-9/11 America closed to him, he instead plunges into a dangerous, undocumented life in London. Fifteen years later, they reunite in a newly democratic Nigeria, and reignite their passion—for each other and for their homeland. 
About the Author
---
Chimamanda Ngozi Adichie grew up in Nigeria. Her work has been translated into thirty languages and has appeared in various publications, including The New Yorker, The New York Times, Granta, The O. Henry Prize Stories, Financial Times, and Zoetrope: All-Story. She is the author of the novels Purple Hibiscus, which won the Commonwealth Writers' Prize and the Hurston/Wright Legacy Award; Half of a Yellow Sun, which was the recipient of the Women's Prize for Fiction "Winner of Winners" award; Americanah, which won the National Book Critics Circle Award; the story collection The Thing Around Your Neck; and the essays We Should All Be Feminists and Dear Ijeawele, or A Feminist Manifesto in Fifteen Suggestions, both national bestsellers. A recipient of a MacArthur Fellowship, she divides her time between the United States and Nigeria.


Praise For…
---
Winner of the National Book Critics Circle Award for Fiction

"Dazzling. . . . Funny and defiant, and simultaneously so wise. . . . Brilliant." —San Francisco Chronicle

"A very funny, very warm and moving intergenerational epic that confirms Adichie's virtuosity, boundless empathy and searing social acuity." —Dave Eggers, author of A Hologram for the King

"Masterful. . . . An expansive, epic love story. . . . Pulls no punches with regard to race, class and the high-risk, heart-tearing struggle for belonging in a fractured world." —O, The Oprah Magazine

"[A] knockout of a novel about immigration, American dreams, the power of first love, and the shifting meanings of skin color. . . . A marvel." —NPR

"A cerebral and utterly transfixing epic. . . . Americanah is superlative at making clear just how isolating it can be to live far away from home. . . . Unforgettable." —The Boston Globe

"Witheringly trenchant and hugely empathetic . . . a novel that holds the discomfiting realities of our times fearlessly before us. . . . A steady-handed dissection of the universal human experience." —The New York Times Book Review

"Adichie is uniquely positioned to compare racial hierarchies in the United States to social striving in her native Nigeria. She does so in this new work with a ruthless honesty about the ugly and beautiful sides of both nations." —The Washington Post

"Gorgeous. . . . A bright, bold book with unforgettable swagger that proves it sometimes takes a newcomer to show Americans to ourselves." —The Dallas Morning News

"Americanah tackles the U.S. race complex with a directness and brio no U.S. writer of any color would risk." —The Philadelphia Inquirer

"So smart about so many subjects that to call it a novel about being black in the 21st century doesn't even begin to convey its luxurious heft and scope. . . . Capacious, absorbing and original." —Jennifer Reese, NPR

"Superb . . . Americanah is that rare thing in contemporary literary fiction: a lush, big-hearted love story that also happens to be a piercingly funny social critique." —Vogue

"A near-flawless novel." —The Seattle Times

One of the Best Books of the Year
The New York Times • NPR • Chicago Tribune • The Washington Post • The Seattle Times • Entertainment Weekly • Newsday • Goodreads 
One of Time's 10 Best Fiction Books of the 2010s