Seed to Plate, Soil to Sky: Modern Plant-Based Recipes using Native American Ingredients (Hardcover)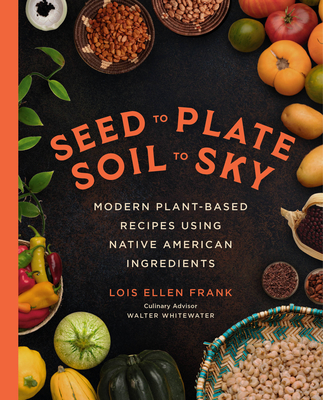 Staff Reviews
---
Years ago, I read a novel set in the Midwest in a restaurant where the the protagonist's parents had separate kitchens: One only cooked with ingredients from the "old world" and the other only cooked with ingredients from the "new world." Fast forward a few years, and I fell in love with Robin Wall Kimmerer's Braiding Sweetgrass. So I was immediately drawn to this in-depth study of using native plants in cooking. Frank provides lengthy, fascinating introductions to different foods that were part of the Native diet — from the harvesting to the seed saving. From this book, we have enjoyed two healthy bowls (zucchini, quinoa, and pinon salad, and sweet potato, kale and wild rice). Both were easy to make. My good friend Marta just recently brought us chile powder from her New Mexico trip. And I went to the intensive resource guide in the back to order Bineshii Ghost Wild Rice. What a treat. For the staff birthdays, it was pumpkin and ginger scones. Get adventurous, learn things, and eat well!
— Valerie
Description
---
This enriching cookbook celebrates eight important plants Native Americans introduced to the rest of the world: corn, beans, squash, chile, tomato, potato, vanilla, and cacao—with more than 100 recipes.
When these eight Native American plants crossed the ocean after 1492, the world's cuisines were changed forever. In 
Seed to Plate, Soil to Sky
, James Beard Award-winning author and chef Lois Ellen Frank introduces the splendor and importance of this Native culinary history and pairs it with delicious, modern, plant-based recipes using Native American ingredients. Along with Native American culinary advisor Walter Whitewater, 
Seed to Plate, Soil to Sky
 shares more than 100 nutritious, plant‑based recipes organized by each of the foundational ingredients in Native American cuisine as well as a necessary discussion of food sovereignty and sustainability.  
 A delicious, enlightening celebration of Indigenous foods and Southwestern flavors,
Seed to Plate, Soil to Sky
 shares recipes for dishes such as Blue Corn Hotcakes with Prickly Pear Syrup, Three Sisters Stew, and Green Chile Enchilada Lasagna, as well as essential basics like Corn Masa, Red and Green Chile Sauces, and Cacao Spice Rub. The "Magic 8" ingredients share the page—and plate—to create recipes that will transform your world.
About the Author
---
Lois Ellen Frank, PhD, is a Santa-Fe based, James Beard Award-winning author, chef, Native foods historian, educator, and photographer. Dr. Frank has spent over 30 years documenting foods and life ways of Native Americans from the Southwest. She received her PhD from the University of New Mexico in Cultural Anthropology focusing on the discourse and practice of Native American cuisine and was a Culinary Ambassador Diplomat with the U.S. State Department and Office of Cultural Affairs.

Walter Whitewater is from the Diné (Navajo) Nation. He is now a chef with Red Mesa Cuisine, specializing in Native American Cuisine using ancestral foods with a modern twist. The Culinary Advisor on the James Beard Award-winning cookbook, Foods of the Southwest Indian Nations, Chef Whitewater won the James Lewis Award for his work as a Native chef.
Praise For…
---
"Seed to Plate honors the practical side of growing Indigenous heirloom seeds to fruition. Lois demonstrates how to respect the whole life cycle of these foods by processing and cooking them with reverence, so when they end up on our plate and in our bellies, they are true medicine. This book honors Native American food wisdom and transforms the way we think about daily nourishment." —from the foreword by Melissa K. Nelson, (Anishinaabe/Métis [Turtle Mountain Chippewa]), Professor of Indigenous Sustainability, Arizona State University; President of the Cultural Conservancy"

"Seed to Plate, Soil to Sky is more than a beautiful and empowering book. It is a landmark in the culinary world, helping us remember timeless traditions and put them to use at a time when healthful traditions are needed most. It is a treasury of historical context, key botanical information, and practical tips for the kitchen that will allow us to use the bounty of nature for health and vitality."—Neal D. Barnard, MD, FACC, adjunct professor of medicine, George Washington Univ. School of Medicine & Health Sciences, president, Physicians Committee for Responsible Medicine

"Lois is and has been such an inspiration to myself and my own work with Native American foods. Her research, writing, and ongoing passion for teaching and practicing the art of Indigenous foods of North America has proven her to be a role model for generations to come!  Her first book was an instant classic, and I am so excited for this new and important work! Pilamayeyelo Lois and Walter for all that you do!"—Sean Sherman, Oglala Lakota, founder, The Sioux Chef, NATIFS, Indigenous Food Lab, Owamni

When I came across Lois Ellen Frank's Native American Cooking, and I finally found a book that spoke my language of simple, pure ingredients. With Seed to Plate, Soil to Sky, Lois continues sharing the goodness and grace of Indigenous foods and their importance to heal a people and a nation.—Crystal Wahpepah, owner and chef, Wahpepah's Kitchen

the recipes are exciting and clever: a butternut squash puree incorporates apple and coconut milk; black beans are simmered with chipotles and chocolate; and sweet potatoes are used to make masa for tamales with no added fat—an outgrowth of work the author does to combat diabetes. Thoughtful and informative, this is a strong addition to a long under-published category.—Agent: Leigh Eisenman, Wolf Literary