Hope in Hard Times: Norvelt and the Struggle for Community During the Great Depression (Paperback)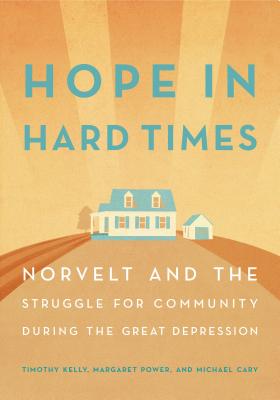 Description
---
Of the many recipients of federal support during the Great Depression, the citizens of Norvelt, Pennsylvania, stand out as model reminders of the vital importance of New Deal programs. Hoping to transform their desperate situation, the 250 families of this western Pennsylvania town worked with the federal government to envision a new kind of community that would raise standards of living through a cooperative lifestyle and enhanced civic engagement. Their efforts won them a nearly mythic status among those familiar with Norvelt's history.
Hope in Hard Times explores the many transitions faced by those who undertook this experiment. With the aid of the New Deal, these residents, who hailed from the hardworking and underserved class that Jacob Riis had called the "other half" a generation earlier, created a middle-class community that would become an exemplar of the success of such programs. Despite this, many current residents of Norvelt--the children and grandchildren of the first inhabitants--oppose government intervention and support political candidates who advocate scrutinizing and even eliminating public programs.
Authors Timothy Kelly, Margaret Power, and Michael Cary examine this still-unfolding narrative of transformation in one Pennsylvania town, and the struggles and successes of its original residents, against the backdrop of one of the most ambitious federal endeavors in U.S. history.
About the Author
---
Timothy Kelly is Professor of History at St. Vincent College. His most recent book is The Transformation of American Catholicism.Margaret Power is Professor of History at Illinois Institute of Technology. She is the coeditor of New Perspectives on the Transnational Right and author of Right-Wing Women in Chile, the latter also published by Penn State University Press.Michael Cary is Professor of History and Political Science at Seton Hill University and the author of This American Courthouse.