Searching the Heart: Women, Men, and Romantic Love in Nineteenth-Century America (Paperback)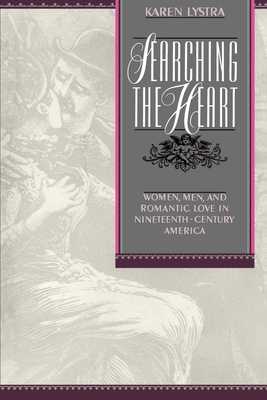 Description
---
In January 1862, Charles Godwin courted Harriet Russell, ultimately unsuccessfully, with the following lines: "Like cadences of inexpressibly sweet music, your kind words came to me: causing every nerve to vibrate as though electrified by some far off strain of heavenly harmony." Almost ten years later, Albert Janin, upon receiving a letter from his beloved Violet Blair, responded with, "I kissed your letter over and over again, regardless of the small-pox epidemic at New York, and gave myself up to a carnival of bliss before breaking the envelope." And in October 1883, Dorothea Lummis wrote candidly to her husband Charles, "I like you to want me, dear, and if I were only with you, I would embrace more than the back of your neck, be sure."
In Karen Lystra's richly provocative book, Searching the Heart, we hear the voices of Charles, Albert, Dorothea, and nearly one hundred other nineteenth-century Americans emerge from their surprisingly open, intimate, and emotional love letters. While historians of nineteenth-century America have explored a host of private topics, including courtship, marriage, birth control, sexuality, and sex roles, they have consistently neglected the study of romantic love. Lystra fills this gap by describing in vivid detail what it meant to fall in love in Victorian America.
Based on a vast array of love letters, the book reveals the existence of a real openness--even playfulness--between male and female lovers which challenges and expands more traditional views of middle-class private life in Victorian America. Lystra refutes the common belief that Victorian men and women held passionlessness as an ideal in their romantic relationships. Enabling us to enter the hidden world of Victorian lovers, the letters they left behind offer genuine proof of the intensity of their most private interactions, feelings, behaviors, and judgments. Lystra discusses how Victorians anthropomorphized love letters, treating them as actual visits from their lovers, insisting on reading them in seclusion, sometimes kissing them (as Albert does with Violet's), and even taking them to bed. She also explores how courtship rituals--which included the setting and passing of tests of love--succeeded in building unique, emotional bonds between lovers, and how middle-class views
of romantic love, which encouraged sharing knowledge and intimacy, gave women more power in the home.
Through the medium of love letters, Searching the Heart allows us to enter, unnoticed, the Victorian bedroom and parlor. We will leave with a different view of middle-class Victorian America.

About the Author
---
Karen Lystra is Professor of American Studies at California State University, Fullerton.