Three Cups of Tea: One Man's Mission to Promote Peace . . . One School at a Time (Paperback)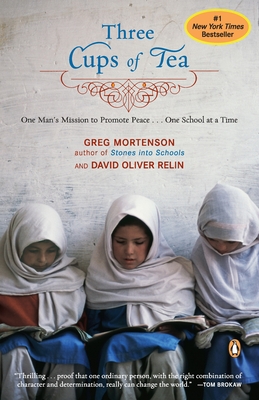 Spring/Summer '09 Reading Group List
---
"Greg Mortenson's story and his work in establishing schools in Pakistan and Afghanistan show the power of a passion to make a difference, particularly in the lives of women living in abject poverty with no previous access to education. A great book to remind us that we, as Americans, take many things for granted."
— Cathy Berner, Blue Willow Bookshop, Houston, TX
Description
---
The astonishing, uplifting story of a real-life Indiana Jones and his humanitarian campaign to use education to combat terrorism in the Taliban's backyard

Anyone who despairs of the individual's power to change lives has to read the story of Greg Mortenson, a homeless mountaineer who, following a 1993 climb of Pakistan's treacherous K2, was inspired by a chance encounter with impoverished mountain villagers and promised to build them a school. Over the next decade he built fifty-five schools—especially for girls—that offer a balanced education in one of the most isolated and dangerous regions on earth. As it chronicles Mortenson's quest, which has brought him into conflict with both enraged Islamists and uncomprehending Americans, Three Cups of Tea combines adventure with a celebration of the humanitarian spirit.
About the Author
---
Greg Mortenson is the director of the Central Asia Institute. A resident of Montana, he spends several months of the year in Pakistan and Afghanistan.
David Oliver Relin is a contributing editor for Parade magazine and Skiing magazine. He has won more than forty national awards for his work as a writer and editor.
Praise For…
---
"Greg Mortenson's dangerous and difficult quest . . . is not only a thrilling read, it's proof that one ordinary person, with the right combination of character and determination, really can change the world."-Tom Brokaw

"An inspiring chronicle . . . this is one protagonist who clearly deserves to be called a hero."-People

"Mortenson's mission is admirable, his conviction unassailable, his territory exotic."-The Washington Post