Everything Leads to You (Paperback)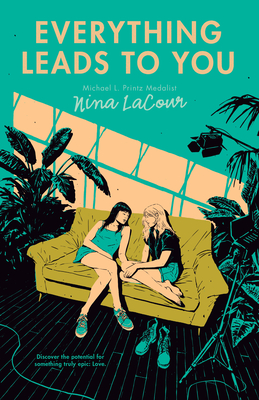 $10.99

Usually Ships in 4-7 Days
Staff Reviews
---
Emi has a fabulous internship as a set dresser in Hollywood, and she's only just graduated from high school. When she and her best friend Charlotte discover an unsent letter written by a Hollywood star, they attempt to deliver it. Sleuthing leads them to Ava, who utterly enchants Emi and may be the ingenue the producers on her new film are looking for. The behind-the-scenes look at film production is fascinating and fits naturally into this story, which. its heart, is a story of love and loss and longing. For grades 9 and up.
— Cathy
Description
---
The award-winning author of We Are Okay and Hold Still returns with another beautifully crafted coming-of-age journey about embracing your past, and finding love when you least expect it; set within the Los Angeles film world. (Cover may vary)

Just out of high school, Emi Price is a talented young set designer already beginning to thrive in the L.A. film scene. But her artistic eye has failed her in one key area: helping her to design a love life that's more than make-believe. Then she finds a mysterious letter at an estate sale, and it sends her chasing down the loose ends of a movie icon's hidden life. And along the way, she finds Ava, and at long last, Emi's own hidden life begins to bloom.
About the Author
---
Nina LaCour (www.ninalacour.com) is the author of the award-winning Hold Still and widely acclaimed The Disenchantments. Formerly a bookseller and high school English teacher, she now writes and parents full time. A San Francisco Bay Area native, Nina lives with her family in Oakland, California.
 
Praise For…
---
Praise for 
Everything Leads to You
:
"But underneath the privilege surges
real pain, longing, and feeling
in a way that makes it easy to imagine this novel as a film." 
–
Publishers Weekly, 
starred review
"This sensitive, multifaceted novel creates an authentic portrayal of the ups and downs of life. . . . An absorbing Hollywood read." –
Kirkus Reviews
"This is summer love for the ages."
–
Booklist

Accolades for The Disenchantments:

YALSA Best Books for Young Adults (2013); Kirkus Best Teen Book of 2012; A Publishers Weekly Best Summer Book

"This is about the inside and outside of characters, the past and future of their lives—and it is astonishing." –Booklist, starred review

"Quietly compelling...well rendered, bittersweet and hopeful." –Los Angeles Times 

"A rich tapestry that will make readers confident that they are in the hands of a master storyteller. ... Hauntingly beautiful." –Kirkus Reviews, starred review

"Each roadtripper has his or her own artistic way of chronicling the individual journeys they are on together, and that introspection draws the reader into this intimate novel." –NPR.org

"LaCour skillfully draws connections between art and life as she delves into the heart of her characters." –Publishers Weekly, starred review

"LaCour's writing style is laid-back, low key, and totally on point." –VOYA, starred review

"Enchanting in its depiction of the cusp of young disenchantment, this realistic novel will hit home with many thoughtful YAs." –School Library Journal, starred review


Accolades for Hold Still:

2010 William C. Morris Honor Book; YALSA Best Books for Young Adults (2010); Publishers Weekly Flying Start

"Hold Still may be the truest depiction of the aching, gaping hole left in the wake of a suicide that I've ever read. But it's anything but depressing and gloomy—it's also about the tender shoots of new relationships that grow unexpectedly out of tragedy. A haunting and hopeful book about loss, love, and redeption." –Gayle Forman, author of If I Stay

"A beautifully written, gently moving account of a long goodbye that will resonate with anyone who has ever had to let go before they were ready." –Sara Zarr, author of Once Was Lost 

"LaCour makes an impressive debut with an emotionally charged young adult novel about friendship and loss." –Publishers Weekly, starred review

"A poignant and beautifully crafted depiction about the grief that a person goes through after a profound loss.... A fresh voice to the world of young adult literature." -–VOYA, starred review