The Miracles of Jesus (Paperback)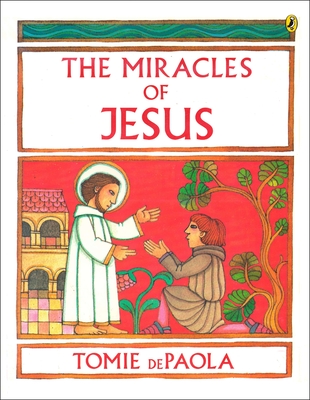 $8.99

Usually Ships in 4-7 Days
Description
---
After Jesus of Nazareth was baptized, he began his public life, and he performed many miracles. Inspired by Romanesque art, Tomie dePaola brings the New Testament to life as he retells the stories of twelve miracles in the Bible. The Miracles of Jesus begins with "the Wedding at Cana," the first miracle, when Jesus turned water into wine at a wedding feast. This is followed by other miracles Jesus performed, such as his calming of a storm, walking on water, and raising the dead to life. This delightful collection filled with memorable illustrations is perfect for sharing and reading aloud.
About the Author
---
Tomie dePaola was born in Meriden, Connecticut, in 1934, to a family of Irish and Italian background. His determination to create books for children led to a BFA from Pratt Institute in Brooklyn, New York, and an MFA from the California College of Arts & Crafts in Oakland, California. His particular way with color, line, detail, and design have earned him many of the most prestigious awards in his field, among them a Caldecott Honor Award for Strega Nona, the Smithsonian Medal, the Kerlan Award from the University of Minnesota for his "singular attainment in children's literature," the Catholic Library Association's Regina Medal for his "continued distinguished contribution," and the University of Southern Mississippi Medallion. He was also the 1990 United States nominee for the Hans Christian Andersen Medal for illustration, and received the Children's Literature Legacy Award for lifetime contribution to children's literature in 2011.
DePaola has published almost 200 children's books in 15 different countries over the past 30 years. Among his most well-known titles are the Strega Nona series, 26 Fairmount Avenue, and The Legend of the Indian Paintbrush.
DePaola lives in an interesting house in New Hampshire with his four dogs. His studio is in a large renovated 200-year-old barn.