Westmark (Mass Market)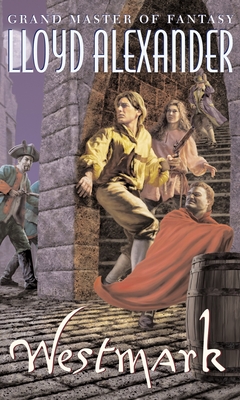 Description
---
Winner of the American Book Award (now known as the National Book Award)
An ALA Best of the Best Books for Young Adults
A School Library Journal Best Book of the Year

When Theo agrees to print a traveling showman's pamphlet, he only thinks of the money it will bring in. Instead, it sets off a chain reaction that results in the smashing of the press and the murder of his master. Caught on the wrong side of the law, Theo must flee the city. Soon, he has teamed up with the traveling showman Count Las Bombas (who is actually a con artist) and his servant. The trio is soon joined by Mickle, a clever, strong-willed girl with a mysterious past. Performing feats that astound and amaze, the motley crew falls into a trap set by Chief Minister Cabbarus, who is determined to wrest power from the grief-stricken king. Now they must not only save themselves-they must save the kingdom...

This is the first volume in Lloyd Alexander's classic Westmark trilogy.
About the Author
---
Lloyd Alexander (1924-2007) was the author of numerous books for children and adults, including highly acclaimed, classic fantasy series The Chronicles of Prydain and The Westmark Trilogy. His books have won numerous awards and accolades including the Newbery Medal, the Newbery Honor and the National Book Award.
Praise For…
---
"The wisdom of this book lies in its difficult solution: Good does not triumph over evil simply because it is good... Lloyd Alexander does not answer questions; he raises them... He keeps his adventures spinning and in the end we are happy in how it all turns out." —The New York Times

"As always, Alexander peoples his tale with a marvelous cast of individuals, and weaves an intricate story of high adventure that climaxes in a superbly conceived conclusion, which... is reached through carefully built tension and subtly added comic relief." —Booklist, starred review