A Woman of Independent Means (Paperback)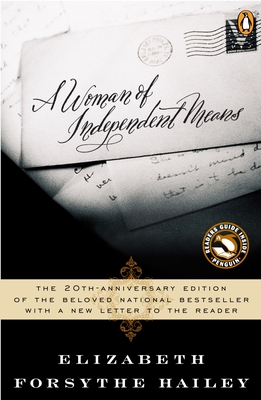 Description
---
A bestselling sensation when it was first published by Viking in 1978,
A Woman of Independent Means
has delighted millions of readers and was the inspiration for the television miniseries starring Sally Field.
At the turn of the century, a time when women had few choices, Bess Steed Garner inherits a legacy—not only of wealth but of determination and desire, making her truly a woman of independent means. From the early 1900s through the 1960s, we accompany Bess as she endures life's trials and triumphs with unfailing courage and indomitable spirit: the sacrifices love sometimes requires of the heart, the flaws and rewards of marriage, the often-tested bond between mother and child, and the will to defy a society that demands conformity. Now, with this beautiful trade paperback edition, Penguin will introduce a new generation of readers to this richly woven story. . .and to Bess Steed Garner, a woman for all ages.
About the Author
---
Inspired by her grandmother's life, Elizabeth Forsythe Hailey wrote A Woman of Independent Means for her daughters, Brooke and Kendall. Since its publication, Hailey has had the pleasure of seeing Brooke make her TV acting debut in the miniseries, portraying the eldest grandchild, as well as the publication of Kendall's first book. The author of Home Free, Life Sentences, and Joanna's Husband and David's Wife, Hailey lives in Studio City, California.