Mother-Daughter Murder Night: A Reese Witherspoon Book Club Pick (Hardcover)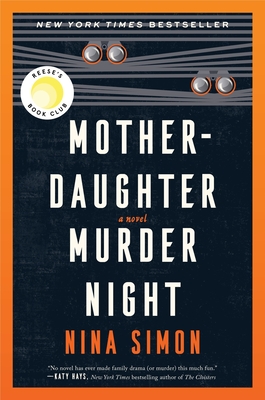 Staff Reviews
---
When a dead body is discovered by her granddaughter, Lana starts to focus less on her cancer recovery and nagging of her daughter and more on what is going on in her daughter's small California town. In the process of solving the mystery, she, her daughter Beth, and granddaughter Jack forge a new relationship together.
— Sandra
September 2023 Indie Next List
---
"I adored this twisty thriller set in the beauty of the marshlands of California. A grandmother, mother, and daughter try to solve a murder while also healing their troubled relationships. Highly recommend!"
— Elizabeth Barnhill, Fabled Bookshop & Café, Waco, TX
Description
---
NEW YORK TIMES BESTSELLER - REESE'S BOOK CLUB PICK 
Nothing brings a family together like a murder next door.
"I just loved how intriguing the mystery is but also the dynamics between a grandmother, a mother, and a teenage daughter." —Reese Witherspoon
Think: Gilmore Girls, but with murder.
High-powered businesswoman Lana Rubicon has a lot to be proud of: her keen intelligence, impeccable taste, and the L.A. real estate empire she's built. But when she finds herself trapped 300 miles north of the city, convalescing in a sleepy coastal town with her adult daughter Beth and teenage granddaughter Jack, Lana is stuck counting otters instead of square footage—and hoping that boredom won't kill her before the cancer does. 
Then Jack—tiny in stature but fiercely independent—happens upon a dead body while kayaking. She quickly becomes a suspect in the homicide investigation, and the Rubicon women are thrown into chaos. Beth thinks Lana should focus on recovery, but Lana has a better idea. She'll pull on her wig, find the true murderer, protect her family, and prove she still has power.
With Jack and Beth's help, Lana uncovers a web of lies, family vendettas, and land disputes lurking beneath the surface of a community populated by folksy conservationists and wealthy ranchers. But as their amateur snooping advances into ever-more dangerous territory, the headstrong Rubicon women must learn to do the one thing they've always resisted: depend on each other.
About the Author
---
Nina Simon writes crime stories about strong women. A former NASA engineer, slam poet, and museum director, Nina lives with her family in an off-grid community in the Santa Cruz Mountains. Mother-Daughter Murder Night is her first novel.
Praise For…
---
"Simon's dazzling debut delivers everything a mystery fan could crave, including a realistically nuanced cast of characters, a vividly evoked coastal California setting, writing imbued with a deliciously desiccated sense of wit, and a perfectly plotted murder with enough red herrings deftly dropped in to confound the most experienced mystery reader. Insightful and frequently funny analysis of family dynamics wrapped up in a cleverly crafted cozy crime novel." — Library Journal (starred review)
"I loved the concept—three generations of the Rubicon family, all women, team up to solve a murder in their Northern California coastal town. But a novel can't succeed on concept alone, and I'm pleased to say that Simon crafted an endearing trio of fully fleshed out characters." — New York Times
"Clever…An endearing tale about how something so unexpected can be the thing that repairs old family wounds and broken hearts." — Shondaland
"With all the right touches of heart, humor and whodunit, Mother-Daughter Murder Night is the murder mystery that I didn't know I was longing for. Nina Simon combines compelling, easy-to-root-for characters with a cozy mystery, then amplifies and elevates both with complicated, tightly woven family dynamics and timely connections to real-world issues that will resonate with readers of all backgrounds." — Bookreporter.com
"Three women bond while investigating a homicide in Simon's spirited debut…. Simon stocks her layered plot with plausibly motivated suspects and convincing red herrings, but it's her indomitable female characters and their nuanced relationships that give this mystery its spark. Readers will be delighted." — Publishers Weekly
"Simon mixes a light, breezy style with a harder-edge story with domestic suspense at its heart. The plot of Mother-Daughter Murder Night never lags as Simon also maintains the emotional growth of her strong characters…. Mother-Daughter Murder Night marks the advent of a new author to watch." — South Florida Sun Sentinel
"Sleuthing is a family affair in this novel featuring strong women and even stronger motives for murder…. Simon knows how to build an intriguing plot with lots of suspects, plenty of red herrings, and a handful of jaw-clenching attacks on the Rubicons designed to stop their investigation…. Nancy Drew meets Columbo in this feisty-female–driven whodunit." — Kirkus Reviews
"As a reader, I inhaled this book hungrily, captivated by the truly delightful characters that Simon has created. The relationship between Lana and Beth is perfectly complex—hilarious, heartwarming, and frustrating because of how real it was. As an author, the writing made me clench my fist and go, "How dare a debut be THIS GOOD?"  — Jesse Q. Sutanto, national bestselling author of Dial A for Aunties and Vera Wong's Unsolicited Advice for Murderers
"Nina Simon's wildly entertaining debut mystery Mother-Daughter Murder Night is an ode to strong women everywhere. The coastal California setting, complete with a bootleg drive-in and the aptly named 'Kayak Shack,' serves as the perfect proving grounds for the fiercely independent Rubicon women. I sure hope to see Lana, Beth, and Jack in many more books to come." — Eli Cranor, author of Don't Know Tough and Ozark Dogs  
"Mother-Daughter Murder Night is the perfect mix of family drama and murder mystery. Nina Simon's debut is a spot-on look at the complicated relationship between parents and their children. I can't wait to spend even more nights with her characters. Simon is a writer to watch." — Kellye Garrett, award-winning author of Like a Sister
"Nina Simon's Mother-Daughter Murder Night is the rarest of novels. A lively and tender story of family that Simon deftly transforms into an edge-of-your-seat murder mystery set against the polarizing backdrop of land conservation, no novel has ever made family drama (or murder) this much fun. One part The Maid and one part family drama à la The Nest, Mother-Daughter Murder Night is a resounding and impressive triumph. I fell in love with Tiny, Lana, and Beth immediately, and so will you." — Katy Hays, New York Times bestselling author of The Cloisters
"Equal parts charming and chilling: a fine mystery." — Benjamin Stevenson, author of Everyone in My Family Has Killed Someone
"With a clear-eyed blend of family stresses and furtive schemes, the author produces a classic whodunit and embraces the strength that is often nurtured among multiple generations of women. Celebrate Simon's success." — Richmond Times-Dispatch
"As much a story about the complicated love between a mother and daughter as it is a sublime whodunnit, Nina Simon's Mother-Daughter Murder Night is sure to enthrall any reader who likes their mystery with equal doses of humor, family intrigue, and surprises." — Rob Osler, MWA Award-winning author of Devil's Chew Toy
"On the cozy side, this debut mystery is woven around family rifts and redemption, and will leave readers with warm fuzzies." — Booklist
"In the appealing Mother-Daughter Murder Night, first-time novelist Nina Simon integrates spirited family dynamics with the intricacies of a complex whodunnit…. This skillfully crafted multigenerational study of disparate characters will keep mystery readers guessing with its surprising, immensely well-plotted cries and clues." — Shelf Awareness