Riley Weaver Needs a Date to the Gaybutante Ball (Hardcover)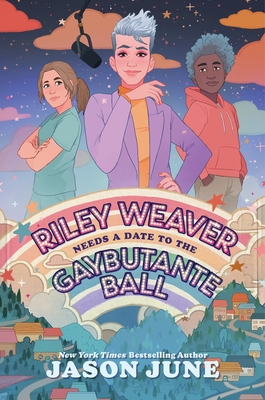 Staff Reviews
---
All Riley Weaver wants is to become a member of the Gaybutante Society along with Sabrina, his lesbian best friend. Riley is femme and proud until obnoxious gay jock Skylar bets him that no masc cis gay man would ever want to date a femme like Riley. As his Gaybutante project, Riley decides to create a podcast detailing the dare, which his best friend Nick produces. Of course, complications arise, feelings are hurt, and the story cleverly resolves itself. Like Riley, this novel is clever, funny, and full of acceptance. I loved it!
— Cathy
Description
---
The next LGBTQ+ young adult rom-com from New York Times bestselling author Jason June (author of Jay's Gay Agenda and Out of the Blue). 
Femme, gay teen podcaster Riley Weaver has made it to junior year, which means he can finally apply for membership into the Gaybutante Society, the LGBTQ+ organization that has launched dozens of queer teens' careers in pop culture, arts, and activism. The process to get into the society is a marathon of charity events, parties, and general gay chaos, culminating in the annual Gaybutante Ball. The one requirement for the ball? A date.
Then Riley overhears superstar athlete, Skylar, say that gay guys just aren't interested in femme guys or else they wouldn't be gay. Riley confronts Skylar and makes a bet to prove him wrong: Riley must find a masc date by the time of the Ball, or he'll drop out of the Society entirely. Riley decides to document the trials and tribulations of dating while femme in a brand-new podcast. Can Riley find a fella to fall for in time? Or will this be one massive—and publicly broadcast—femme failure?
This new novel from Jason June explores how labels can limit and liberate us and shows just what can happen when you bet on yourself. 
About the Author
---
Jason June (it's a two-name first name, like Mary-Kate without the hyphen or the Olsen twin) is a bestselling author of young adult contemporary rom-coms that celebrate queer love and lust and chaotically gay shenanigans. His works include Jay's Gay Agenda, Riley Weaver Needs a Date to the Gaybutante Ball, and the instant New York Times bestseller Out of the Blue. When not writing, JJ zips about Dallas, Texas, with his husband and their Pomeranian, Pom Brokaw. JJ is a tried and true Laura Dern stan, and he is actively looking for an Andalite friend. Find out more about JJ and his books at heyjasonjune.com.
Praise For…
---
Jason June (Out of the Blue, 2022) has written an important, entertainingly busy book with a welcome, character-driven focus on a femme teen. Intelligently and smoothly written, the book makes a much-needed contribution to queer literature. An excellent companion to L.C. Rosen's Camp (2020) that proves, as Riley would say, it's hearts over parts! — Booklist (starred review)
An incredible coming-of-age story about embracing yourself, combatting problematic standards, and love in all its shapes and ways all wrapped into something so campy, dramatic, queer, and so uniquely and beautifully Jason June. — Jonny Garza Villa, author of Pura Belpré Honor Book Fifteen Hundred Miles from the Sun
Fierce and fearless, Jason June's rainbow explosion of queer coming of age is pure joy. RILEY WEAVER will leave you feeling seen in ways you didn't know you needed and inspire you to make your own gay chaos. Thank the queer gods that RILEY WEAVER exists in the world!! — Stephan Lee, author of K-Pop Confidential
Hilarious and bursting with heart, Riley Weaver is sure to dazzle readers in this story about love, identity, and self-discovery! — Robby Weber, author of If You Change Your Mind
A laugh-out-loud gender euphoric dream, RILEY WEAVER serves zany 90s teen romcom realness that made me gay-gasp with glee! Riley's journey is a fabulous tapestry that adeptly weaves threads of important commentary about gay culture and identity discourse, as well as inter-community support (and the inevitable lack thereof), with a glittery patchwork of self-love that had me rooting for all the gaybutantes out there who need this story. Jason June's books always make me feel seen while speaking truth to queer power, and RILEY WEAVER is no exception. Femme, fierce, and ferocious, you simply cannot miss Riley's fabulous debut! — Steven Salvatore, critically acclaimed author of AND THEY LIVED…
Full of humor, honesty, and a cast of characters colorful enough to rival your favorite eyeshadow palette, Riley Weaver proves there's no one way to be queer and the things that set us apart are the things that make us beautiful.  — Emery Lee author of MEET CUTE DIARY
This coming-of-age story deftly handles complex social themes of identity, social media fame, and discrimination within queer communities while maintaining a lighthearted tone. Amid the antics of fulfilling his pillars and pursuing love, Riley wrestles with jealousy, makes mistakes, and learns about meaningful apologies. A surprise twist brings the drama to a satisfying resolution. Fierce and fabulous fun. — Kirkus Reviews